Find out how ClickThrough Marketing helped Missguided achieve a 16% increase in their ROAS during the highly competitive Black Friday period and beyond, whilst coping with the changing consumer habits threatening the world of fast fashion.
Our partnership with Missguided was built on the shared goal of improving the efficiency of their paid marketing activity at a time when brands within the industry are facing seasonal and business-wide challenges. Our goals for Missguided were;
Increasing the account ROAS whilst,
Maintaining their spend and
Keeping session volume consistent.
The result? We achieved a 16% increase in PPC ROAS.
Missguided also wanted to ensure that their PPC strategy was designed to promote both old and new stock, to combat the global supply challenges being faced and to reduce product or profit wastage.
With consumer habits quickly changing following the last of a seemingly never-ending period of national lockdowns in the UK, this meant we were going to have to think outside of the box to counteract a declining demand in online in online clothing purchases and decisions shoppers are making to become increasingly conscious of sustainability around clothing.
Missguided required an agile and adaptable approach to PPC that would account for the fast-changing world of fast-fashion and ensure their ROAS remained high during the highly competitive Black Friday sales.
The strategy
We began the partnership with account audits across the United Kingdom, United States, and several European markets. This international strategy was developed in collaboration with Missguided in-house team of PPC professionals that had inherited the accounts from their predecessors and were keen to work closely with ClickThrough on our upcoming activity. We used multiple onboarding sessions to ensure both ClickThrough and Missguided were aligned and working to a common goal.
With fast fashion being competitive at the very best of times, our biggest initial challenge was tackling the fast-approaching peak period of Black Friday sales. Following this, our goal was to maintain this uplift in sales and ROAS.
To solve these challenges, we looked to new strategy pieces and upcoming technology that would help us broaden our reach across only the most qualified users.

Solution
Our strategy fell into three segments;
Transitioning the standard shopping structure into smart shopping campaigns,
Aiming to achieve a significant increase in non-brand & DSA coverage,
Designing new bid strategies through SA360's floodlight tracking capabilities.
The team at Missguided had historically worked to lofty sales and ROAS targets. Our overall goal was to drive incremental change and uplift in sales and ROAS - with multiple accounts delivering a significant volume of media spend through PLA each month, we identified that expanding the account's use of automated bidding solutions would help make effective optimisations at a fraction of the time.
Following our initial work on the Black Friday period, we engaged the support of the product marketing platform ROI Hunter to help manipulate the feed using custom labels, giving us access to additional campaign options aside from the archetype product category splits you would see within a traditional ecommerce PPC account.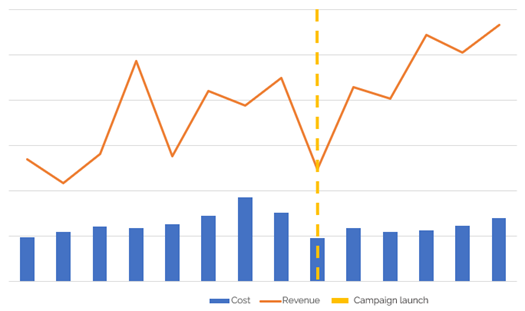 Account comparison of 14-day period following 'Best Sellers Campaign' Launch (+32% Revenue PoP)
Whilst our freshly designed smart shopping campaigns ran through their learning periods, we set to analysing the generic search and dynamic search ad coverage across the accounts. Partnered with a robust audience strategy, we launched a staggered roll out of 50k+ keywords and product category page DSA's to support upper funnel new customer acquisition, utilising multiple tROAS strategies to keep things as efficient as possible. With broad match testing in the mix, a strategy we'd been using across numerous clients with extraordinary effects, their activity was in safe hands.
Whilst impressive strategic pillars are critical to any success, we also wanted to test new tracking models to maximise potential success for these strategies. As with all our paid media accounts, we ensured the attribution models used were in line with Missguided's aims for the activity, designing two bespoke data-driven attribution models to utilise across the different sections of our marketing activity.
Results
Due to some change in business directives, including the stock and warehousing issues that come part and parcel with fast-fashion retail, we had to be agile with account changes week by week and ensure we were collaborating closely with the team at Missguided. Due to factors outside of the marketing function's control (such as stock movement of new lines, increased competition within the market and changes in suppliers), our targets became flexible, depending on both these factors and the contribution of other marketing channels to these goals.
The business goal was always to retain high levels of margin-rich sales - we focused on being able to push both new and old lines of Missguided's stock, to maximise sales and reduce potential wastage of product. We accomplished this through dedicated campaign splits with tailored bid strategies, resulting in a much more effective marketing funnel for both categorisations of stock. Though there may have been movement in the scale of our goals, one thing we held onto was the core objective of driving tROAS improvements: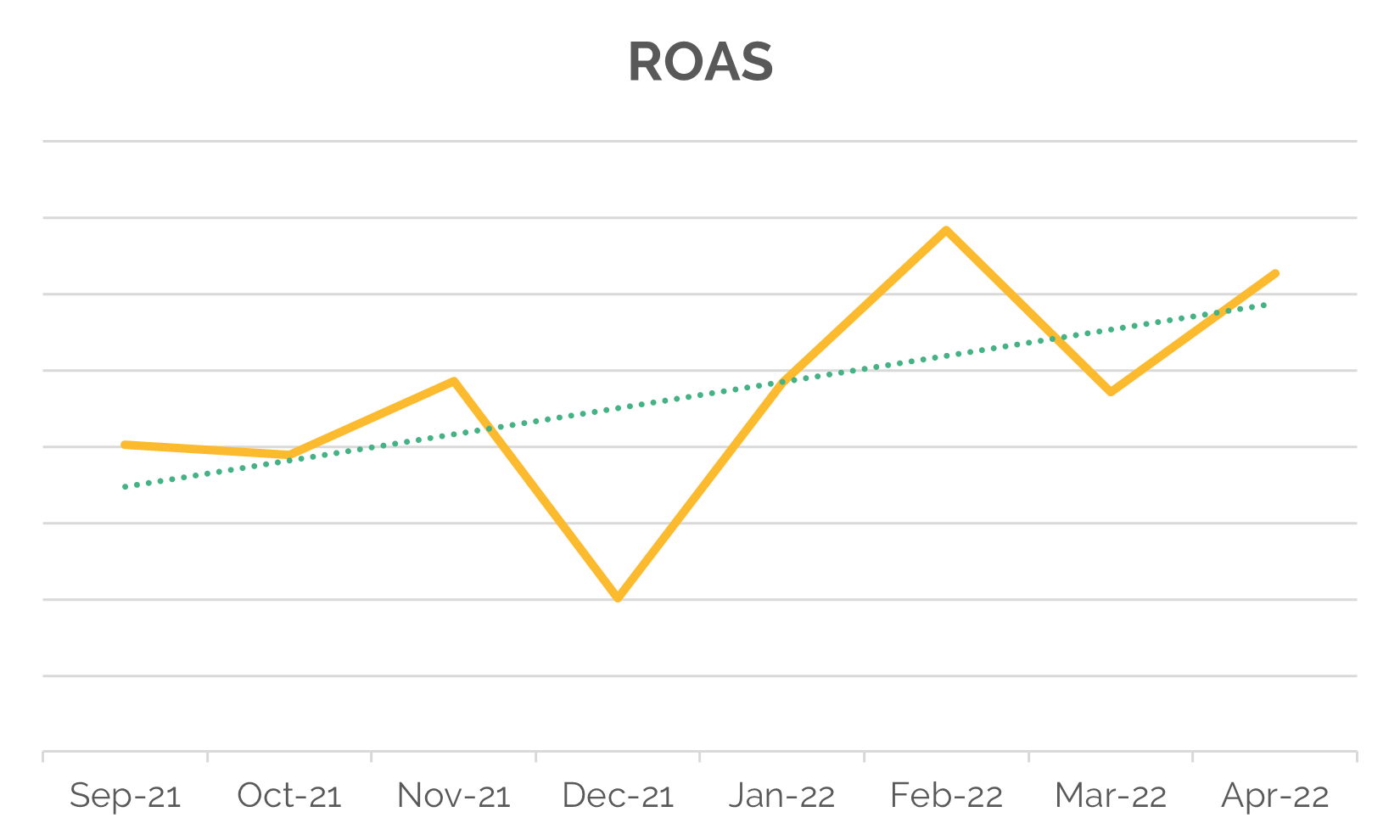 Not only did ROAS increase by 16% over the last eight months, but we also drove further efficiency in CPC and conversion rate as we worked through a significant drop in stock on site. Naturally volume dropped in line with the reduction in available products, but we were able to not only maintain profitability, but improve the Missguided return on investment through their Google Ads account.
Client feedback
"The team at CTM were a pleasure to work with and supportive during the busiest period of the year for our industry. Our challenge was to meet up to the demand increase over this period. Our business had a low number of individuals managing the channel internally for the scale of our annual investment so that additional help really benefited what we could deliver. We worked collaboratively for 8 months to maximise the opportunity of Black Friday. They delivered on executing improved ROAS before and after the seasonal event but adapted well to sales levers when most beneficial to business. We would work with them again when needed for similar challenges."
Tom Coad - Head of Performance Marketing