Tom Williams runs through the latest in search engine optimisation news, including Google & Bing's Sitemap file size increase, new site move recommendations from Google, a new feature to Google's mobile friendly test tool, and more.
Google and Bing Increase Size Limit of Sitemap Files
On 30 November, both Google and Bing announced that they would be increasing the Sitemap file size limit from 10MB to 50MB.
Until the update on 30 November, Sitemap files were limited to 50,000 URLs with an uncompressed file size of 10MB or below. Now, Sitemap files must still contain a maximum of 50,000 URLs, but the size that the Sitemap file has increased significantly - from 10MB to 50MB.
Bing announced the information in a blog update in which Bing's Principal Program Manager, Fabrice Canel, said that it is rare that a site exceeding 10MB shows up but it does happen on occasion - which is why the Sitemap file limit has been increased.
While most sitemaps are under this 10 MB file limit, these days, our systems occasionally encounter sitemaps exceeding this limit. Most often this is caused when sitemap files list very long URLs or if they have attributes listing long extra URLs (as alternate language URLs, Image URLs, etc), which inflates the size of the sitemap file.
Google announced the information in a small Twitter update.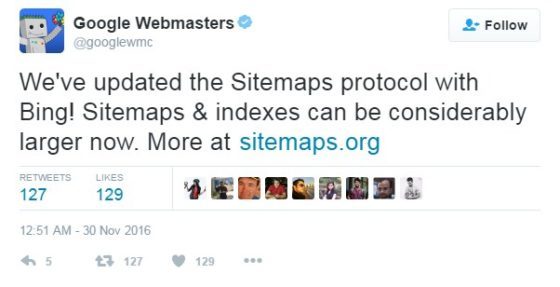 Content Keywords Report Removed From Google Search Console
Google has officially removed the content keywords report from the Google Search Console.
In an official Google webmasters blog posted on 29 November, it was announced that they would be removed.
In the past, the content keyword report was the only way to see what Googlebot found when it crawled a site, making it an important tool to let webmasters know whether their site could be crawled, and if it had potentially been hacked.
Now Google automatically alerts webmasters of any risks of site hacks, and it's possible to see how Googlebot fetches pages on your site immediately. This, along with the keywords section of the Google Search Analytics report, means that Google no longer sees significant value in the content keywords reports.
Google's Machine Learning Selects Reliable Featured Snippets
Google's machine learning is advancing, and is now capable of selecting reliable information snippets from publisher articles for use as relevant featured snippets.
This information was announced in an article on Wired in which staff writer, Cade Metz, explains how Google's advanced machine learning is clever enough to collect relevant, reliable information from sites across the web and use them as SERP featured snippets when asked questions in the Google search app.
Google's 'sentence-compression algorithms' collect information from a range of publisher sources across the web, and compress the information into a featured snippet to answer users' questions.
In the Wired article, Cade Metz said:
Ask the Google search app "What is the fastest bird on Earth?," and it will tell you.

"Peregrine falcon," the phone says. "According to YouTube, the peregrine falcon has a maximum recorded airspeed of 389 kilometres per hour."

That's the right answer, but it doesn't come from some master database inside Google. When you ask the question, Google's search engine pinpoints a YouTube video describing the five fastest birds on the planet and then extracts just the information you're looking for.
Google is increasing its use of Google Home and Google Assistant, as well as the frequency of featured snippets users will see in the search results. They are also updating the machine learning capabilities, which helps to streamline each of these features.
Google's Mobile Friendly Testing Tool Lets You Submit Pages
Google's revamped mobile friendly testing tool lets users submit their pages to Google's index. This feature was noticed and mentioned on Twitter by Jeremy Waszak, an SEO specialist.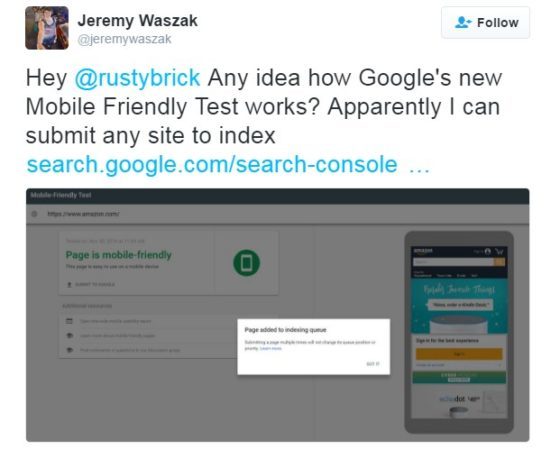 The tool allows users to submit any pages to the Google index, and when a page is initially indexed, a pop up lets webmasters know that submitting a page multiple times will have no effect on page position.
After indexing a site using the mobile friendly testing tool, the page won't show up in search, but it will be added to a queue of pages ready for indexing.
Google Updates Webmaster Site Move Recommendations
Google has updated its webmaster site move recommendations, giving site owners advice on moving to new URL structures or domains.
The newly added section gives advice specifically on when a site should be moved in one go, and when it should be moved in sections.
To read the full new advice section, visit Google Webmasters support.
Whiteboard Friday - Which Page Markup and Tags Still Matter for SEO?
<iframe allowtransparency="true" frameborder="0" scrolling="no" class="wistia_embed" name="wistia_embed" src="https://fast.wistia.com/embed/iframe/cx5rryebcs" width="480" height="92"></iframe>
In this week's episode of Whiteboard Friday, Rand Fishkin talks through the topic of Page Markup and Tags, and which ones still matter.
More Search Engine Optimisation News and Advice
Read last week's SEO News Roundup: Google Reverses 10 November Update
Want to improve your site's rankings? Find out how with a Technical SEO Audit from our experts.