JourneyCraft - UX & CRO on Steroids
Identify the conversion killers that you can't see across your digital channels.
JourneyCraft is for Marketing & Digital Professionals that want maximum growth at the lowest possible cost.

Identify spend wastage in paid media channels

Predict the conversion rate uplift of removing pages

Identify conversion leakages in user journeys

Protect against rising cost per clicks and reducing ROAS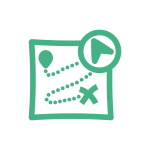 Optimise user journeys and conversion from all channels

Maximise returns, leads, and sales from less spend
For Marketing & Digital Leaders that want to;
Drive revenue and growth, more efficiently (drive more from less)
Give their in-house teams the technology to supercharge conversion performance across channels
Inspire and upskill their internal team or benchmark their UX or digital agency to accelerate innovation.
For brands that are;
Using Universal Analytics (GA3) or GA4 and want to improve conversion performance
Experiencing unexplained drops in conversion performance from paid or organic channels
Spending 20k+ per month budgets across paid search and paid social platforms
Generating at least 1000 conversions in 3 months, or typically around 100,000 visits per quarter.
What are the benefits of JourneyCraft?
Reduce Spend Wastage - based on our work with high-spending brands, we estimate we will identify at least a 15% saving on overall media spend from your PPC and paid social campaigns.

Predictive Analysis - the world's first tool that predicts and forecasts the conversion rate impact of removing pages or changing your website navigation.

Pathfinder Tree - our completely unique 'pathfinder tree' visualisation helps you easily navigate nodes to interpret different journeys and see the percentage likelihood to convert from each step of the user journey.

Testing Prioritisation - JourneyCraft identifies and prioritises where to start with your UX and conversion testing programme by highlighting specific pathways that would immediately drive more conversions.

User Journey Visualisation - easily visualise how your users are interacting with your website and identify the optimal user journey and fastest flow to conversion.
Navigation Loops - find and eliminate user journey navigation loops that are limiting your website conversion rate to leads.

Audience Type Segmentation - quickly identify by audience the page types that are hindering conversion performance.
New Versus Returning - visualise visitors by a new versus returning audience, on top of their audience type.

What If Analysis - ask 'what if' questions, to help make decisions on removing pages from key audiences, to improve conversions.

Leverage Big Data - leverage big data through artificial intelligence and machine learning technology to enable informed, faster, low risk decisions on what needs to change on your website user journeys.
What are the costs and expected return on investment?

The expected return on investment depends on your paid media spend, existing conversion performance and commercial model.

One example is a mattress retailer generated an estimated extra £2m revenue per year from changes that made that were identified in JourneyCraft.

The cost of JourneyCraft is £500 per month, with a £1,000 onboarding fee (subject to a 12 month minimum contract).
What is the sign-up and onboarding process for JourneyCraft?
You can sign up using the following steps;
Book a demo - our team will present the technology and how to utilise it
Get onboarded - it will take up to 2 weeks to setup and connect to your existing analytics data
Sign your contract - a minimum of 12 months is required for an initial sign-up.
See your opportunities - our team will present to you the findings from the initial evaluation
Since 2004, 100's of brands have experienced the growth and cost efficiency benefits of our fully integrated, conversion-centric approach. Case Studies

We grow your business as if it's our own

Find out how we've helped brands grow their conversions across their digital marketing strategies.