We welcome 2015 with a look at Google's New Year Doodles, stretching all the way back to 2000!
Since the first Google Doodle was published in 2008, these holiday- or anniversary-themed variations on the Google logo have become an expected part of the search experience.
There have now been thousands of Doodles published around the world, honouring occasions as varied as Christmas Day, the anniversary of the fall of the Berlin Wall, and Italian author Italo Calvino's birthday.
In fact, they're now so ubiquitous it's easy to forget they're even there. A sad fact, considering the hard work Google's Doodlers put into the logos.
But if there's one Doodle we always get excited about, it's Google's effort for New Year's Day.
The search giant didn't disappoint this year, with a fun animated gif created by guest artist Cindy Suen.

Although Doodles have become more elaborate in recent years – with the famously playable Pacman doodle being an obvious example – Google has published New Year Doodles since the dark ages (in Internet terms).
Join us as we track the history of Google's New Year Doodles, starting in the 'very Web 1.0' days of the early noughties…
2000: A Simple Way to Start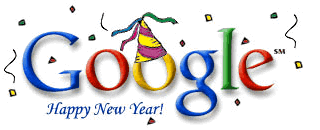 Google's New Year Doodle for 2000 was a simple affair, providing little indication of the elaborate logos that would follow.
(To be fair, once you've put the Google logo in a party hat, you've put the Google logo in a party hat. The Doodlers would have to start thinking outside the box from now on.)
According to Google's Doodle Archive, this is only the ninth Doodle ever published!
2001: The Animal Themes Begin

For 2001, Google sidestepped the "we've-already-put-Google-in-a-party-hat" problem by giving the aforementioned headwear to an anthropomorphic polar bear.
This Doodle would kick off a few years of animal-themed New Year logos, and provides the first clues to Google's upcoming zoological preoccupations (Panda and Penguin anyone?).
2002: A Trend Continues...

Google goes all Hallmark on us for its 2002 New Year Doodle, with soft pastel colours and a cute rabbit/bird combo.
2003: ...And Continues…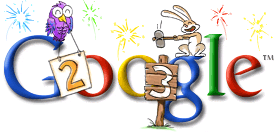 Google yawns all the way into 2003 with this effort. This is so similar to 2002's Doodle that it could well be a rejected effort from that year.
The Doodlers would have to try harder from now on.
2004: A Prescient Penguin?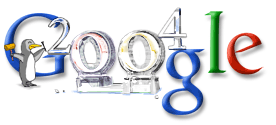 Google's Penguin algorithm wouldn't launch until 2012. Was Google trying to tell us something with this Doodle, published more than six years earlier?
2005: An Understated Start to the Year

New Year's Day searchers in 2005 were greeted with this understated Doodle. The visual pun – the logo's shadow forming the characters '2005' – was so discreet it could potentially have gone unnoticed. However, it's an interesting concept that anticipates some of the search engine's later, more creative efforts.
2006: The Animals are Back…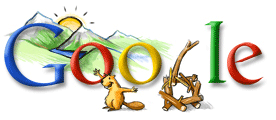 In what can only be described as a big step backwards, Google welcomes 2006 with its faithful clipart animal characters. We can only guess the Doodlers were recovering from their New Year's Eve party when they made this one.
2007: An Arty Attempt

Google gets back to form with 2007's Doodle, with an artistic depiction of fireworks forming the letters of the Google logo.
Perhaps the most interesting thing about this is that it shows Google is more comfortable with abstract Doodles that obscure the original Google logo – a sign of the search engine's powerful brand recognition.
2008: Happy New Year to Our Favourite Internet Protocol!

Google tries to kill two birds with one stone with its 2008 Doodle, which celebrates the 25th anniversary of TCP/IP, as well as the New Year.
2009: The Start of Something Special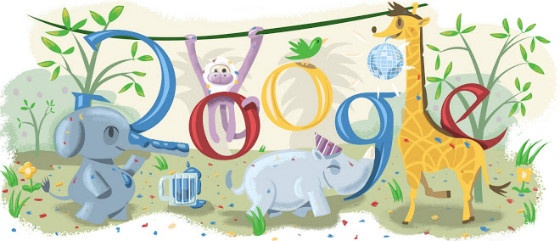 2009 marked a sea change in Google's New Year Doodles. The animals are back, but this beautiful effort shows a level of artistic prowess that previous years couldn't match. This is reflected in Google's other Doodles from around this era – from 2009 onwards, Doodles stopped being a momentary distraction and could be real treats for the eyes.
Most of the world saw this Doodle, but searchers in Slovakia were greeted with a much more mundane logo celebrating the country's entry into the Eurozone.

2010: Another Great Way to Welcome the New Year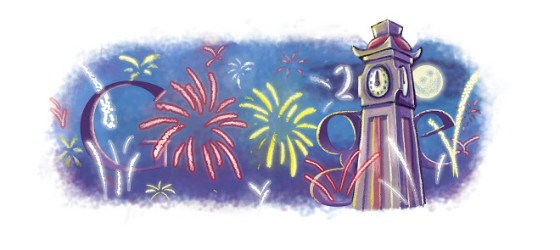 In our opinion, 2010's New Year Doodle wasn't quite as awesome as 2009's, but this soft, pastel take on the Google logo was still a welcome site on the morning of January 1.
2011: MMXI What?

We have no doubt this Doodle confused a few people on first glance. After all, what does 'Gmmxle' even mean?
Of course, it's '2011' in Roman Numerals.
Google is clearly now very happy to obscure its original logo with artistic abstraction – although the final 'L' and repeated 'Ms' (which echo Google's double 'Os') aid recognition.
2012: Did You Keep Yours?

This lovely effort from 2012 celebrated the longstanding tradition of New Year's resolutions. Unfortunately, I think most of ours lasted about as long as this Doodle.
2013: A Weird and Wonderful Start to the Year

2013's logo wins the award for the strangest New Year Doodle yet published.
In essence, it's quite simple – it shows anthropomorphised letters of the Google logo cleaning up after a New Year's party. Oddly, though, it also features Auguste Rodin's The Thinker hard at work on a computer in the corner, several historical relics/souvenirs, an old-fashioned synthesiser, and what appears to be a wolf.
2014: Let's Party!

New Year's Day 2014 featured what might be our favourite Doodle so far. This animated logo features the numbers '2', '0', '1' and '4' grooving on the dance floor, with an exhausted '3' standing to one side. Fun, original and very, very Google.
Unfortunately, the version available at Google's Doodle Archive doesn't feature animation, so for now, you'll just have to imagine it.
All images from the Google Doodle Archive.