Google has unveiled its biggest expansion of Google Trends since 2012, announcing a number of updates, including real-time data and a redesigned homepage, as data-driven storytelling continues to court favour with media around the world.
Google claims users can now explore 'minute-by-minute, real-time data behind the more than 100 billion searches that take place on Google every month'. This means that during major events, users will be able to track the stories most people are searching for and where interest is peaking.
Further highlighting the changes is a new google.com/trends homepage, which shows a ranked, real-time list of trending stories that are gaining traction across Google. In addition to Search, Trends also now tracks YouTube and Google News to show what topics and stories are trending across the web right now.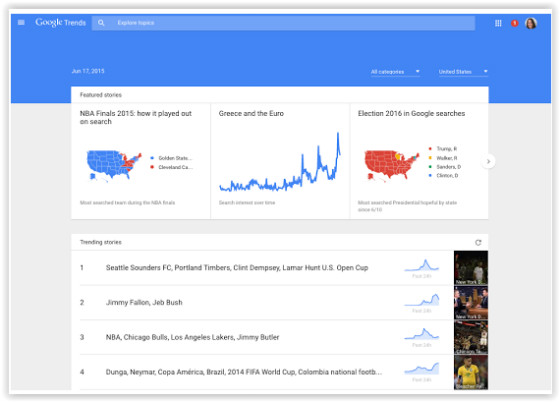 Google says it has also increased the breadth and coverage of Google Trends data to allow for in-depth research on more niche topics in smaller geographies. Meanwhile, Google's News Lab team is now examining trending topics on a daily basis to find data journalists can use to bring news stories to life. For journalists wanting to mine their own data, Google has also started publishing data sets on specific topics on its Github page.
The redesigned Google Trends homepage is currently available in 28 countries, with more locations to be added in the coming months.