Dr Dave Chaffey looks at the impact of Google's recent mobile-friendly update, and asks: "Was it worth the hype?".
If you work in search marketing you can't fail to have missed the build-up to Google's Mobile-friendly update since it was announced in November. More recently, the hype has been building towards the April 21 rollout, with Google's Zineb Ait Bahajji saying at SMX Munich that the upcoming mobile-friendly algorithm update will "impact more sites than their Panda or Penguin algorithms".
Even the mainstream media got in on the act with the The Guardian and The Telegraph calling it Mobilegeddon and predicting turmoil.
So What Has the Impact Been?
I've been following the WebmasterWorld thread since the April 2015 update, and the initial consensus was there was little impact - although as usual on WMW there's a lot of chatter about individuals/smaller businesses seeing changes, which are likely normal fluctuation. Even by the following week a typical comment was:
No change on one of the sites I monitor, though we've already been mobile-friendly for some time, and mobile has completely surpassed desktop+tablet organic traffic combined within the last year.
Here's another typical comment:
[UK] If it's rolled out - then it looks like a very small ranking factor indeed.

I have [...] sites that are mobile friendly and sites that aren't - and I can't detect any traffic changes whatsoever on a Google + Mobile segment.
And:
The joke is nothing has changed.

My sites have seen zero change. I have responsive sites and old school html sites using tables and ZERO change for any of them.

Was expecting a boost for the responsive sites and getting dinged for non mobile friendly sites.

After one week nothing has happened.
There are some comments talking about small positive changes for websites that are mobile-friendly and some negative changes for sites that aren't. But overall the shared view seems to be that this isn't a major ranking factor - and it may have been in place before April 21, and has been upweighted and maybe increased further.
What Does Google Say?
It's good that Google has given plenty of warning and education on this update. On April 21 they issued this clarification in a blog post that downplays the importance of the mobile-friendly ranking factor:
While the mobile-friendly change is important, we still use a variety of signals to rank search results. The intent of the search query is still a very strong signal -- so even if a page with high quality content is not mobile-friendly, it could still rank high if it has great content for the query.
This information would have been useful before and might have prevented the 'mobilegeddon' hype... but it does explain why the impact has been less than expected.
In their post Google lists the tools and FAQ available to learn more if you haven't seen these
What Do Tracking Surveys Show?
Surveys of keywords across websites are useful for seeing the overall impact. Searchmetrics is a useful service to review the impact of these changes across keywords and its review of winners and losers shows some sites such as this non-mobile-friendly Songlyrics site being hit: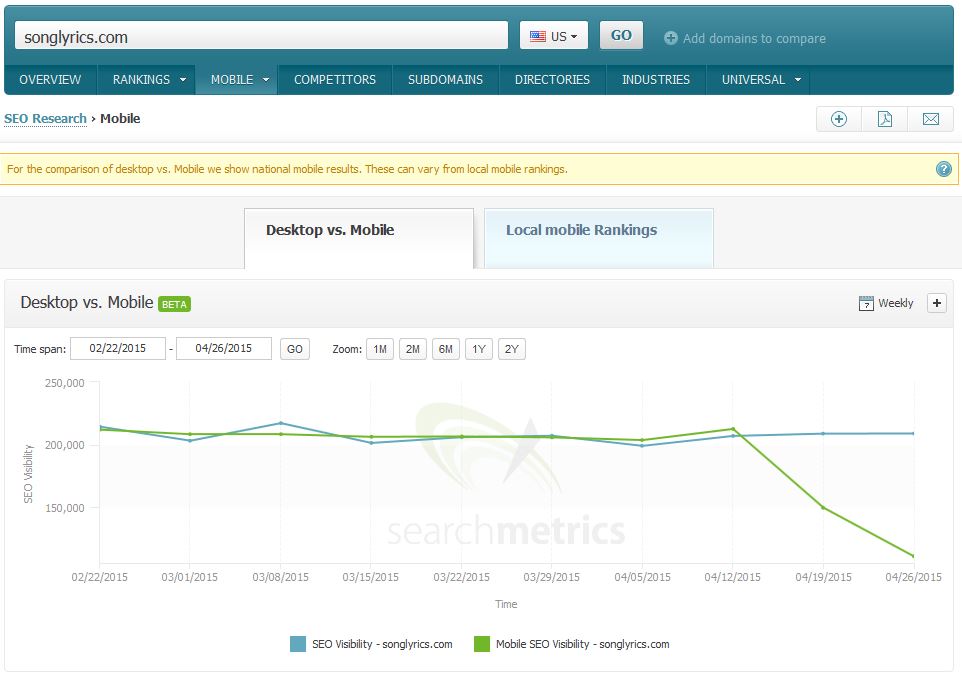 and some positive changes such as GQ: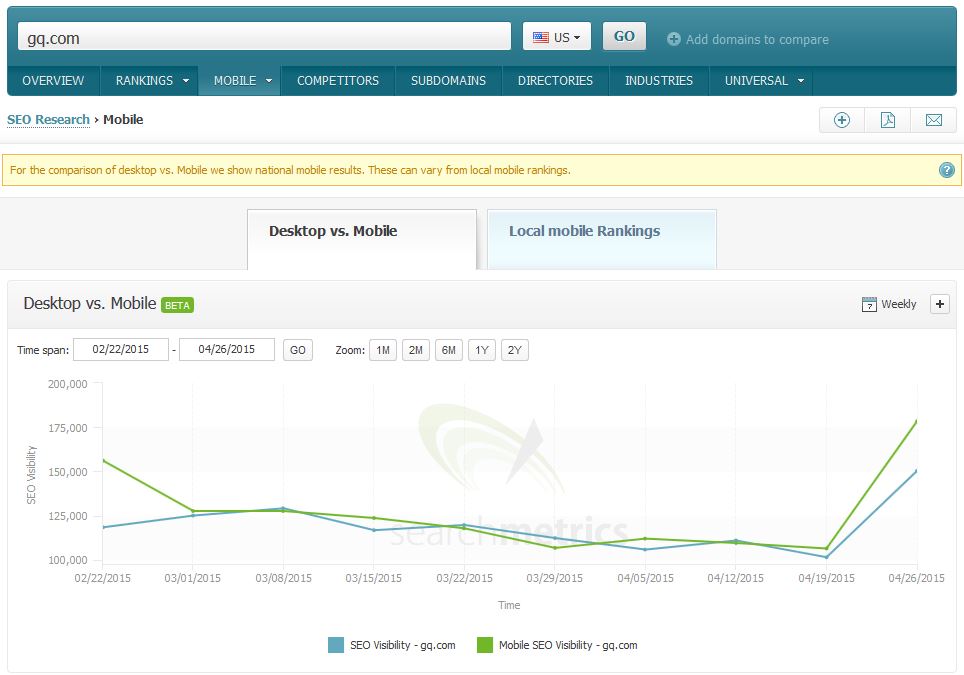 SeoClarity has been tracking the change since April 21 for the top ten results in Google for 50,000 keywords and over 60,000 domains in the e-Commerce segment. They have simply compared the rankings for mobile and non-mobile sites.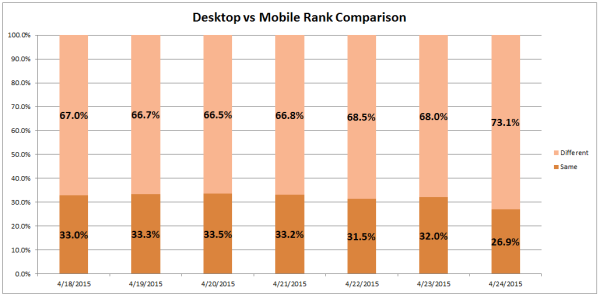 What is the Impact of Mobile-Friendly On Your Site?
Of course, this is what really matters! Here Google Analytics is your friend. You can check the impact by isolating mobile traffic, through creating a custom Segment (formerly Advanced segments) by choosing '+Add Segment' from the bar at the top. I've called the segment 'Smartphone - organic' in this example.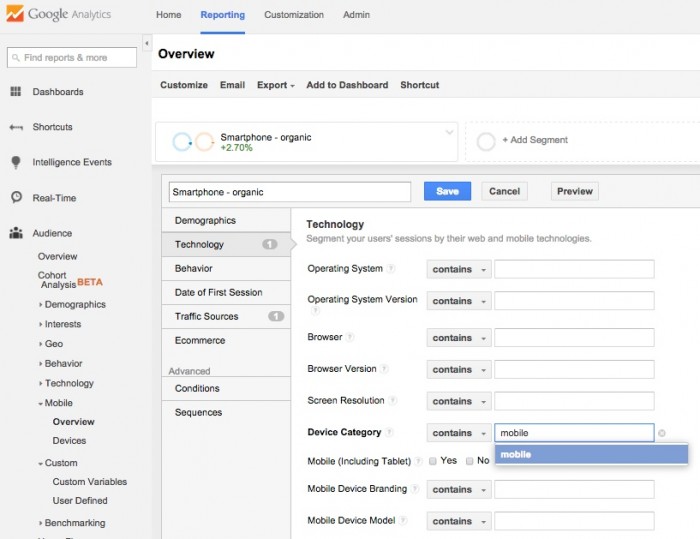 You'll need to choose the 'Technology' segment options and then choose 'Mobile' from the device category. Confusing since this is actually the Smartphone visits - Tablet and Desktop are the other options.
You'll also need to make sure that the segment just shows organic traffic - Organic traffic is in the 'Traffic sources' segments tab, so you'll need to click this and then choose a Medium of organic which are 'SEO' visits.
I hope this review is helpful! How does 'Mobilegeddon' look for you? I'm pleased we've reverted to calling it "Mobile-friendly" now the impact has been less than expected for most.