As we all end up with more and more social profiles, it can become increasingly difficult to manage something as simple as changing your profile picture so that all sites are consistent eg if you re-brand. Sometimes, just navigating to the right area of complex settings eg on Facebook can be a bit of a nightmare and time-consuming.
Blisscontrol is a provocatively simple idea, providing a directory of links to all the settings pages, and supports the following networks: Facebook, Twitter, StumbleUpon, Pinterest, Tumblr, Foursquare, YouTube, LinkedIn, Google+, Meetup, Path, Instagram and Flickr.
As an aside, if you wish to deploy a successful social media strategy, at least 75% of the above sites should be on your radar in some form or other.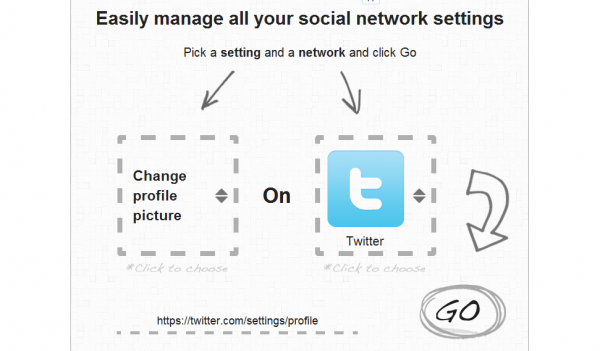 There is no need to sign up or share any password details, you simply choose which action you wish to take on a specific network and it will take you either to the log in page, or if you have the social site already open in another tab, it will take you to the correct settings page to make the change.
There is far more that needs to be considered when managing social accounts, but being able to easily change your password, profile pic, third party and mobile settings, or updating your bio can be a slog, so Blissontrol.com is very cute.