Senior SEO Specialist Rory Tarplee talks us through the latest news in the world of SEO, including the most anticipated Google update in recent history.
SEO NEWS: page experience update roll out begins
With lots going on in the world of SEO, continue reading to find out about the most-anticipated Google update in recent history, how data from search is being used to gain insight into the UK's wellbeing, and a privacy-first search engine with big ambition!
The page experience update is here!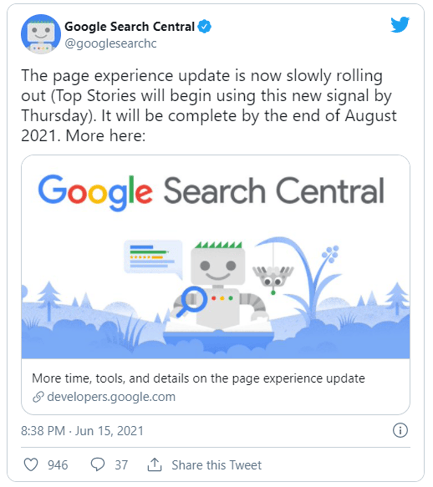 When you think of the hottest topics in SEO in 2021, it's likely that the Page Experience update and Core Web Vitals are one of the first things you'll think of. A subject on the minds of every SEO, this update was announced way back in May 2020 by Google themselves and websites have been working hard ever since to improve page loading metrics to pass the parameters set by Google. Well, the update is now upon us, with Google announcing that Page Experience has begun roll-out, with it's completion expected by the end of August.

If you still don't know your CLS from your LCP, then it's not too late - these metrics aren't going away anytime soon, so ongoing monitoring is a necessity. Working on your Core Web Vitals to stay ahead of competitors should be a priority task!
Mental Health Support Searches At Lowest Since April 2020
Throughout the COVID-19 pandemic and national lockdowns, mental health has been a central theme. The lack of social interaction and many other factors has had a profound effect on our well-being. However, Champion Health shared some positivity recently - search data gathered by the wellbeing company shown that searches for mental health support were at their lowest since the peak of the first wave. Although there is a very long way to go, we found this news uplifting.
bRAVE sEARCH - pRIVACY-fIRST sEARCH eNGINE
Privacy is a huge deal, and striking a balance between experience, data and privacy has been a challenge for search engines for years. Introducing Brave, a search engine that hopes to compete with Google using it's privacy-first focus to build trust with searchers.

It's currently in testing mode, but appears to have it's very own search algorithm, and shows some really visual SERP's. Certainly one toe watch - view a sneak preview here.
And that takes us to the end of this week's SEO News. If you'd like to discuss any of the news covered - please do not hesitate to get in touch.