Senior SEO Specialist Rory is sharing the insights that caught our SEO team's interests this week!
SEO NEWS: ZERO CLICK SEARCHES INCREASE TO 65% AND GOOGLE FIRES BACK!
As another week draws to a close, take some time to discover what has been happening in the world of SEO! 😊
GOOGLE CASE STUDY: CLS OPTIMISATIONS DRIVE PAGEVIEWS PER SESSIONS BY 15%

Core Web Vitals and the Page Experience update coming in May are on the minds of SEOs everywhere – but it's important we recognise the purpose of these metrics. Sure, you're better optimised for search engines, but you're also optimising for users by improving these metrics – and that should always be the goal.

In this case study, Google highlight how optimising a core web vital (in this case CLS) can have a strong positive impact on how your users engage with your site. Yahoo! JAPAN is the site being studied – specifically the news section. and with 79 billion page views per month, a 15% impact on a site this size equate to enormous gains.

Read more here: https://web.dev/yahoo-japan-news/
GOOGLE HAVE ALMOST COMPLETELY MOVED TO MOBILE-FIRST INDEXING
Google's John Mueller mentioned that the final batch of URL's will be moved over to mobile-first indexing in the coming months.

What does this mean for us? Mobile-first isn't new, but with this announcement, it's clear that websites need to be fully conditioned to cope with a mobile user-agent crawling its site. In other words, mobile-friendliness needs to be at the top of your priority list. Issues that are particularly impactful like broken content and links need to be addressed. If you're not already using structured data then you're already missing out (you can get to grips with that here)

Source: https://www.seroundtable.com/google-last-batch-mobile-first-indexing-31116.html
ZERO-CLICK SEARCHES INCREASED TO 65% IN 2020 – BUT GOOGLE FIRES BACK!
A SimilarWeb study published by Rand Fishkin found that zero-click searches rose from 50% in 2019 to 65% in 2020. As Google aims to serve more information directly in the SERP's, zero-click searches have increased due to users' questions being answered in the SERP. It's important for businesses to consider the implications of this.

Although tracking becomes tougher, it's all about market dominance. It's much better that your brand is served as the thought leader within the SERP rather than a competitor. Fishkin's thoughts on this: "Rich information appearing in Google's results may be, like billboard ads or press mentions, harder to track than website traffic, but it's still exposing your brand name to an audience, building familiarity, and sharing information,".

Source: https://searchengineland.com/zero-click-google-searches-rose-to-nearly-65-in-2020-347115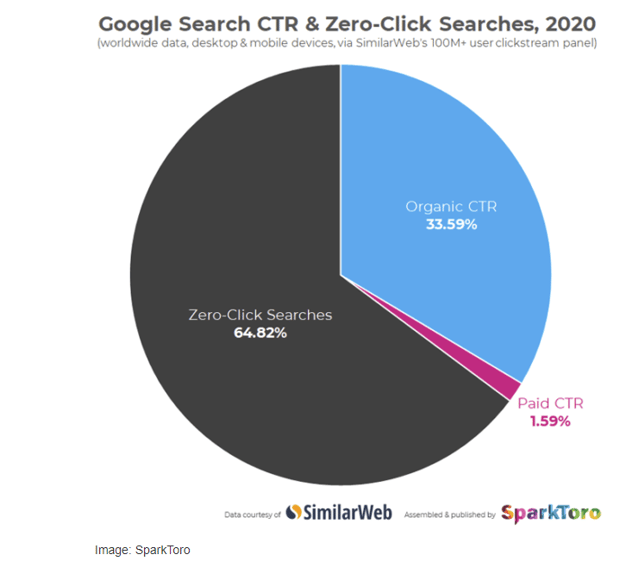 However, Google have since said "To set the record straight, we wanted to provide important context about this misleading claim". As well as Google pointing out that overall they are sending more visitors to websites overall, there has also been an availability bias pointed out, meaning that it is perhaps flawed to use a limited dataset to assume it is representative of the entire situation.
Read more here: https://www.searchenginejournal.com/zero-click-claims-are-misleading/399940/#close

Thanks for reading, we'll be back with more next week!
Looking for an expert team to help improve your SEO? Get in touch with our team!