Head of International, Alison Booth, is back with another roundup of this week's most important international marketing developments. This week she's sharing updates on Airbnb's move away from performance Marketing, the changing face of offline checkouts, Google search query trends, virtual gifting and scrutiny of H&Ms supply chain.
INTERNATIONAL MARKETING NEWS:
GOOGLE SEARCH QUERY TRENDS FOLLOWING A YEAR IN AND OUT OF LOCKDOWN
What's new, important and interesting in international marketing? This week we look at Airbnb's Marketing strategy changes, the development of frictionless checkout options, top trending global search terms on Google, how people are choosing to give gifts and insights into the latest reveal on H&Ms supply chain analysis.
WILL AIR BNB'S BREAK FROM PERFORMANCE MARKETING HERALD SUCCESS?

Campaign has been debating Airbnb's switch away from performance marketing to brand marketing and whether it will provide a profitable path out of lockdown.

Airbnb's marketing spend was cut by 58%, investing $662 m in 2020 vs. $1.14 bn in 2019, yet traffic only fell by 5%. The largest part of the cut was search marketing falling by $541m vs. brand Marketing spend, which only fell by $121m. B

rian Chesky, co-founder and chief executive emphasised that Airbnb learnt that its brand recognition is very strong and as such, it will not base budget on a percentage of revenue as it had previously done, in the future
While it will be unsustainable to reduce brand and performance spend in the long term once competitors start spending again, continuing to invest in PR and TV to retain brand presence in the market, coupled with sophisticated SEO strategies, this will help to reduce the overall reliance on performance based Marketing.
A purposeful promise, a legendary founding story and investment in its community, buzz-generating experiences and share-worthy content all ensure that the brand remains front of mind
Keeping budget fluid between all channels of the Marketing mix should lead to longer term success, as Airbnb could find that competitors erode its market share in the future and will need to review the channel split of its Marketing spend.
FRICTIONLESS CHECKOUTS LOOK SET TO LEAD THE WAY FOR THE FUTUIRE
This week, eMarketer evaluates the shift of the high street away from legacy retailers, who have closed their doors due to the pandemic towards frictionless, digitally enabled retail experiences.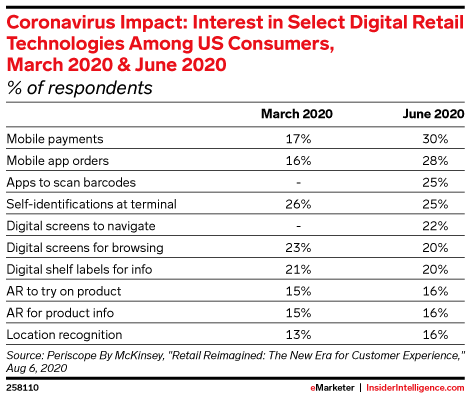 The former time consuming queues at checkouts are already being replaced by curbside pickup and where physical checkouts are needed, these have swiftly evolved to being quick, frictionless and contactless.
Amazon is always evaluating and enhancing its checkout processes with the launch of AmazonGo through the JustWalkOut technology is on its way to a wider rollout and the new "Dash Carts" that automatically scan and charge items in the shopping cart are now also being trialled in LA and Chicago.
The Amazon One handprint scan to identify customers upon arrival at the store was rolled out in Chicago in September.
Starbucks have also embraced frictionless commerce with the launch of their pick up only store in Manhattan in November 2019.
Walmart is revitalising four stores with plans to turn them into digital laboratories with digital integrations to streamline the checkout, speed up ecommerce fulfilment, empower in store staff and enhance signage in store.
TOP GOOGLE SEARCH QUERIES ONE YEAR INTO THE PANDEMIC
After a year like no other, Think with Google reveals how our search priorities have evolved one year into the pandemic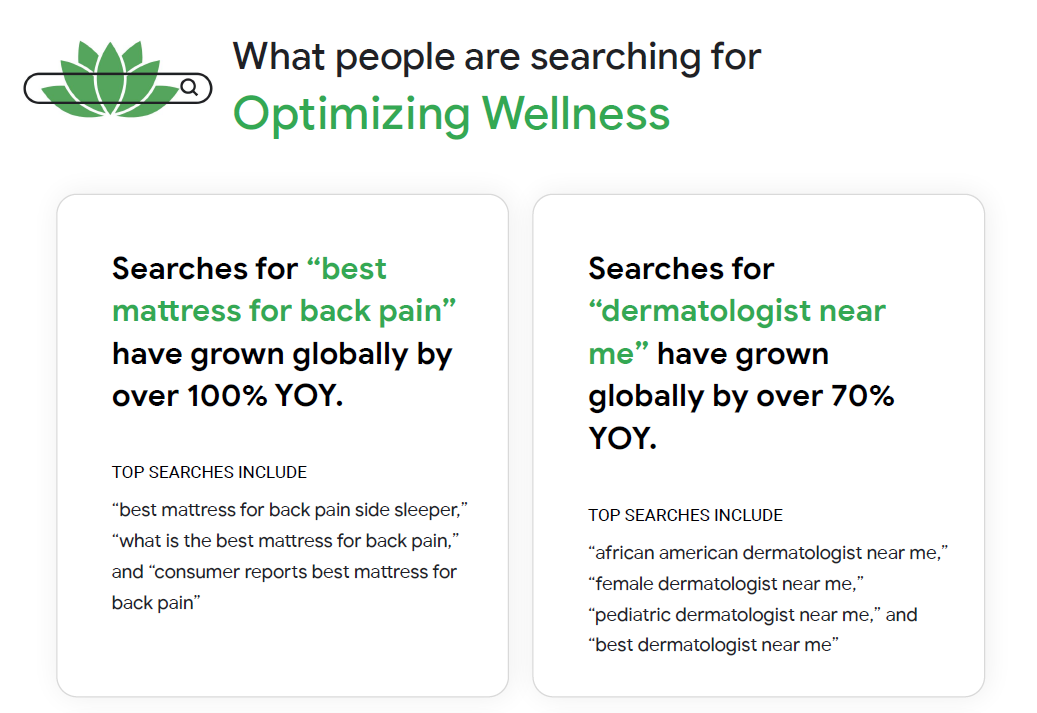 Consumers remain cautious one year into lockdown with evidence of their plans to spend, while ensuring that their purchases are affordable without sacrificing quality through focusing their searches around "low budget" e.g. "affordable health insurance" and "outlet online"
The quest to unearth wellness advice continues evidenced in queries like "best time to take vitamin" or "best mattress for back pain,"
While local searches for self-care businesses continue to generated a high level of interest e.g. dermatologist near me" and "massage places near me."
Remote working and studying has paved the way for many people looking to find the answers to "how to merge pdf files", "how to share screen," and "how to record video."
Making optimal usage of people's living spaces has become a priority as indicated with "ideas for small spaces," "storage units near me," "furniture shop near me"


THE EVOLUTION OF GIFT GIVING
Think with Google have also been observing how gift giving has changed over the past year and establish behavioural traits that could remain post pandemic:
The keyword "online gift" increased by 80% in 2020 vs. 2019.
Before even considering gifts, people were searching for ways to replace events and occasions that has been cancelled through queries like "how to celebrate birthday during quarantine", "anniversary video maker" etc.
The desire to support others, who are heavily, negatively impacted by the pandemic was clearly evidential in queries such as "volunteer opportunities near me" or "donation centers near me"
Providing emotional support has been a top priority as searches for "long distance miss you quotes" grew by 700% YoY
Practical thinking has influenced many gift purchase decisions as searches for "gift card online" grew by 100% YoY globally while the delivery proposition was also a key part of the decision to purchase as searches for "shipping rates" increased by 90% YoY.
H&M MAKES A MIRACULOUS DEPARTURE FROM THE CHINESE HIGH STREET

Following the unprecedented move of H&M being completely removed from the Chinese high street Jing Daily is providing its take on the disappearance:
Following the announcement that H&M will cease to source cotton from the Xinjiang region due to human rights concerns, the retailer was removed from all e-commerce platforms including Taobo, Tmall, JD.com, and Pinduoduo, second hand marketplace Xianyu and Huwaei has banned H&M's apps from its downloads.
The Clean Clothes Campaign found that many fashion names like H&M have been violating working contracts by failing to pay wages
China has made its stance on not being lectured to and standing up for ethical practices
Cases of brands previously in similar situations like Burberry and Puma are now being referenced through Weibo shares of other brands that no longer use cotton from Xianyu
And that's our international marketing news round-up! If you would like to discuss any of the stories included in this week's International Marketing Round-up, book a conversation with us today.