In the latest DPM update, Jack takes us through some key changes in the world of advertising, including updates from Twitter, Facebook, and Instagram.
THE DPM UPDATE: TWITTER GOES PREMIUM AND FACEBOOK IMPORT BECOMES AVAILABLE ON MICROSOFT ADVERTISING
As usual, us DPM Masters Of The Universe are on hand to give you all the news and updates from our marketing world in the past week!
This week's interesting fact could go towards explaining why airline foods always seem a bit lacking: did you know that you lose up to 30 percent of your taste buds during a flight? It might seem on the bland side in the flight, but those meals could well have a mighty flavour on ground level!
In the world of DPM, we've seen some exciting updates come from three key social media channels. Read on to find out more!
Facebook Import is now available in Microsoft Advertising
Microsoft Advertising is now rolling out Facebook Import, enabling advertisers to carry over their campaigns, ad groups, budgets, creative assets and more from Facebook into the Microsoft Audience Network. This will help advertisers better segment their audience and serve more highly targeted ads. Advertisers can import up to 10,000 campaigns for each of their accounts, giving lots of scope to use the new feature.
Twitter Launches 'Twitter Blue', its New, Paid Subscription Offering for Add-On Tweet Features
Twitter has officially launched its new 'Twitter Blue' subscription service, which will enable users to pay a monthly fee to gain access to a range of additional tweet features and tools. Features include an 'Undo' feature, which could be a game changer for users still begging for an 'edit' feature.

Twitter Blue will give users access to a range of new tools to enhance their experience on the app, with screenshots shared by Twitter showing some promising sounding features;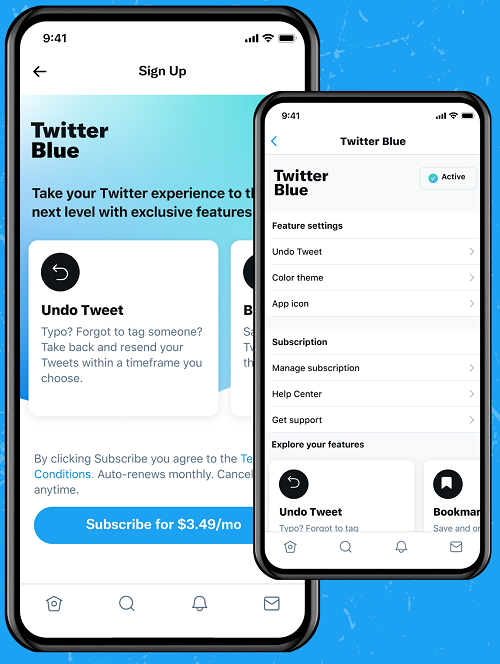 Instagram Adds New 'Drops' Product Showcase To Help Boost eCommerce Activity
Instagram is continuing to move further into an eCommerce platform by facilitating more direct-purchase processes within the app. Instagram has launched a feature to specifically showcase new products, called 'Drops', which highlights recent launches and new products from brands users have frequently engaged with (or may show an interest in) at the very top of the 'Shop' tab.
That's all for our latest DPM update! Join us next time for news in the world of paid media.
Want Jack and the team to work on your advertising campaigns? Get in touch.