For his featured post this month, Dr Dave Chaffey reveals the results of his recent survey looking at businesses' use of CRO. His findings show that many brands are missing out...
When did your organisation last update its website? In terms of new content, for most mid-size or larger businesses, I would expect you can answer 'within the last day' or at least 'within the last week'. Regular content updates have become the norm given the focus on engaging audiences and gaining awareness through content and social media marketing.
But what about the design, messages or customer journeys on a site? Are businesses reviewing and updating these continuously in a similar way to content? It would be expected, with the company website now one of the major methods of influencing or generating direct leads and sales, that different types of page templates such as for the home, category, product or landing pages are also being regularly reviewed and improved as part of the process of "Conversion Rate Optimisation".
CRO initiatives involve running structured tests on pages and customer journeys with the aim of increasing the marketing effectiveness of a site to generate value for a business. While aimed at improving conversion, the impact of changes on KPIs related to value such as average order value, revenue per visitor and lifetime value will be tested too. CRO isn't just about conversion, it should also involve qualitative reviews of customer intent and opinion too.
I've been following the growth in use of CRO for a long time - at least since 2004 when I attended the first E-metrics Marketing Optimization summit where I listened to how Amazon were using it - blazing the way as usual. So, it's not a new approach, but I was interested to learn how popular it has become.
When I was designing the the recent Ecommerce Expo-Smart Insights research on Managing Customer Journeys, I had an opportunity to find out approaches companies were using. This is what we found: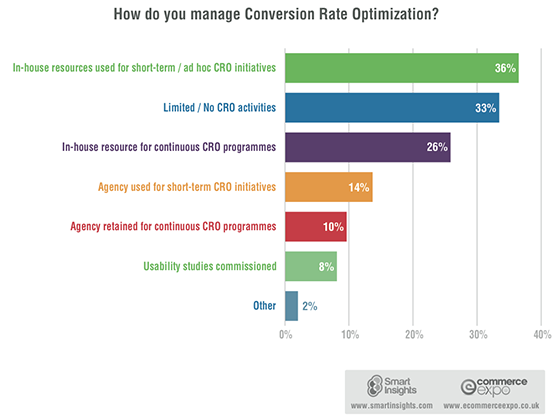 Overall, in the businesses surveyed, which were mainly transactional Ecommerce sites, there was a good level of use of some form of CRO. However, one third of businesses had not run CRO projects, so there are many missing out on the opportunity of CRO it seems.
What about the type of CRO? I was looking to see how many businesses managed CRO on a continuous 'always-on' basis. Here just 10% used an agency for continuous CRO with 26% using this approach in-house. A sizeable proportion (over one third of businesses) used more ad hoc CRO approaches, again showing opportunities for improving website effectiveness.
For those businesses who are not continuously managing CRO, here's a question… How does your investment in CRO compare to your marketing budget that goes into online marketing techniques to drive visits to your web site?