Wondering how to apply conversion-centric marketing to your advertising strategies? Dr. Dave Chaffey explores why this is essential for growing business.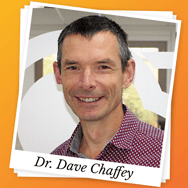 Does your business or your agency practice conversion-centric advertising? It may not be a concept you're familiar with, but we think it's an important mindset to introduce into all types of businesses investing in digital media. Without adopting this mindset and techniques you just can't compete, given the way the biddable marketing platforms from Google and Meta work, so you're likely to be burning £££.
The best way to understand the benefits of conversion-centric advertising are to think through what you may be missing if you don't have it. Problems typically arise because larger businesses will naturally have different teams working on different marketing activities including both in-house teams and agency teams. It's a natural division of work to have teams responsible for managing paid media and separate teams responsible for managing digital experiences and optimizing conversion rates for website and apps.
Most media-buying teams today will do a decent job of reporting on digital media effectiveness for their clients in reports showing results for different types of digital ads including paid search, paid social and digital display advertising. These will be broken down further by different ad formats and placements. You will be familiar with the classic last-click media reports created showing the reach of media (impressions), clickthrough rates, conversions with hopefully return on investment (ROI) or return on advertising (ROAS) also included. All's well, so far, and this insight can certainly help determine future investments by reviewing what's effective at a top level. The problem is that media reports often aren't integrated with reports on what happens on and beyond the landing pages as people click on the ads and don't consider what happens across more complex customer journeys.
The missed opportunities include:
Limited analysis of analytics or research into variance in landing page effectiveness across customer journeys and customer journey to identify improvements
Limited use of attribution to understand ad effectiveness when someone clicks multiple times from different media through to a landing page or for viewthroughs where a visit occurs subsequently
No evaluation of the effectiveness of looking to increase multiple touchpoints, e.g. through ad retargeting
No effort to improve conversion through structured testing since no or limited budget for conversion rate optimization (CRO)
Limited use of personalisation based on anonymous or profile-based insight about website visitors


Challenges will grow in the post-cookie world
These problems will e compounded in future since we will no longer be able to rely on third-party tracking via cookies. Research from Mapp suggests that companies lack a strategy for a world without third-party cookies. They surveyed 700 companies from industries such as finance, media, telecommunications, and retail took part in the survey in January 2022 in Germany, the UK, and Italy. They found that only a few companies have prepared themselves for this post-cookie world: only 28 per cent say they already have an alternative strategy in place. Seventy-one per cent have no strategy in place, although 61 per cent are in the process of developing a strategy. When it comes to implementing more marketing activities, almost half (48 per cent) of UK companies surveyed say they would do more, but a lack of resources prevents this from happening.
Are you investing sufficiently in conversion rate optimization?
Yet, despite these missed opportunities and future challenges, research suggests that investment in CRO remains low, particularly in comparison to media budgets. Research by Econsultancy and Decibel reveals the link between optimization of digital experience and commercial performance.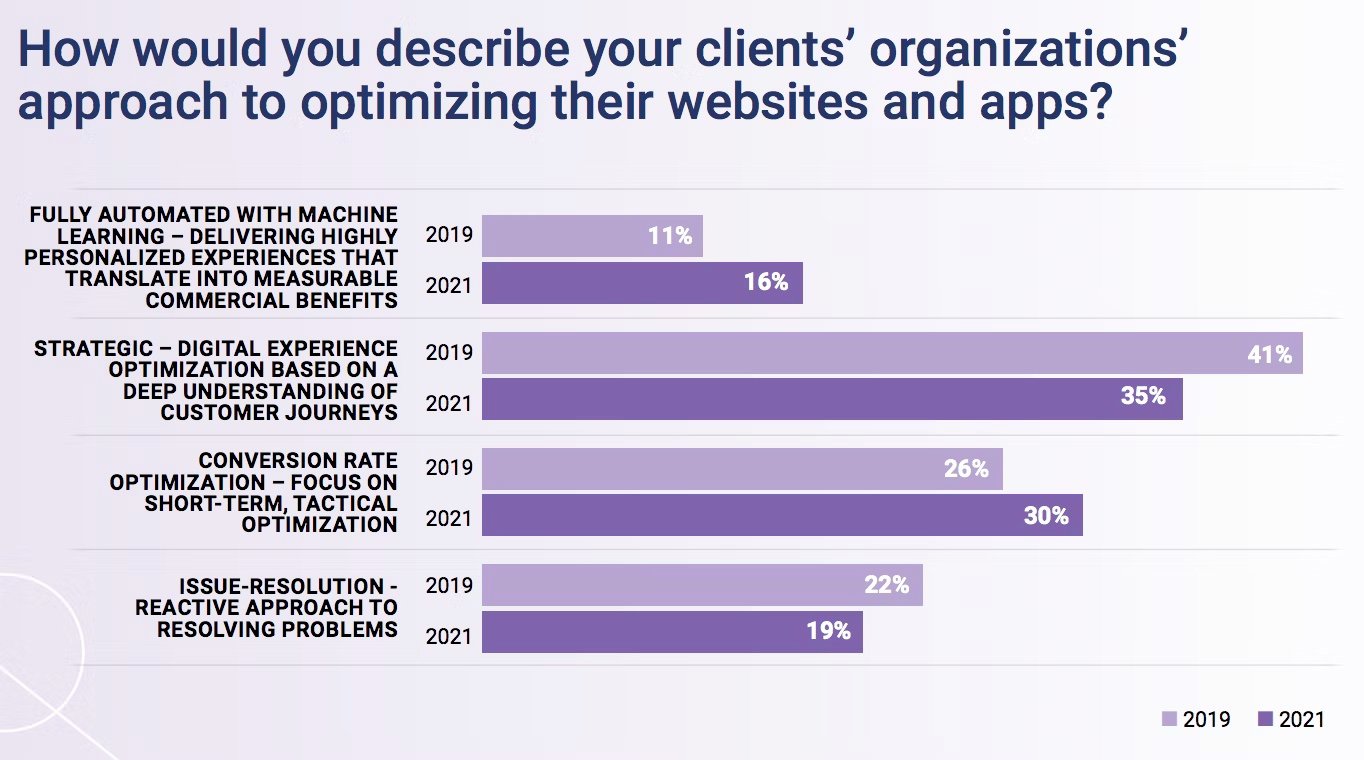 This showed that less than a third of the businesses surveyed (30%) were investing in tactical, short-term website optimization. However, slightly more (35%) were taking a strategic approach to digital experience optimization based on a deep understanding of customer journeys
The website engagement measures provide a simple example of insights available which should be leveraged in conversion-centric advertising, but sometimes aren't. When I have used Google Analytics on consulting projects to review the bounce rates and dwell times for destination pages for Google Ads, I have often seen bounce rates of 50 to 80%, when an integrated approach hasn't been taken and the insight hasn't been acted upon. This is is a huge missed opportunity since this is effectively wasting over half of the media budget. With a conversion-centric process and resource dedicated to optimizing these pages, people can ask the tough questions to determine why the landing pages aren't effective and run tests to improve them.
The questions to ask to optimize these pages are detailed in our guide to Data-led design by Al Rowe, Director of Conversion Strategy at ClickThrough Marketing.
Al gives the example of this typical scenario where there is a Google Ads budget of £30,000 pcm and yet there is no focus on conversion. He points out that this example is quite a tough situation as the average order value is quite low and this client is struggling to make a profit with this average conversion rate.

What would be the impact if we invested 5% of the media spend in CRO activity and after a few months achieved a 33% improvement in conversion rate? A 33% improvement across the board is quite a big ask, but the monthly increase in revenue is already covering the investment in CRO as shown.

Are you investing enough in conversion-centric advertising? Given its importance to your future success we will be running a series of webinars recommending techniques you should be using to maximise conversions across your full marketing strategy. In my next articles I'll drill-down to explore techniques that can be applied to give a conversion-centric approach to the main media channels, such as PPC, SEO, Content, and Paid Social.
Can't wait for the next installment? Get in touch with our conversion experts to find out how you can use conversion-centric marketing to grow your brand.