Our Head of International Marketing, Alison Humphries, is back with another roundup of the global marketing stories you need to know about. From the digital transformation of museums to eCommerce success in China, read more.
International Marketing News:

A Spotlight on Museums
What's new, important and interesting in international marketing? This week we look at how museums have pivoted to attract their virtual visitors, reasons behind the recent boom in eCommerce in China, TikTok's livestreaming launch, government funding to support SMEs with reducing their challenges with EU exports and imports, and successful promotional strategies targeting Gen Z customers of luxury brands operating in China.
DIGITAL TRANSFORMATION OF MUSEUMS TO ATTRACT VIRTUAL VISITORS
Econsultancy reveal how museums are innovating to provide virtual experiences for 'would-be' visitors:
Metropolitan Museum of Art, New York, uses AR technology to develop virtual art and gaming experiences based on its collections, which 4 and 5G users can use at home

Google Arts and Culture App – the equivalent of Google Street View leverages virtual reality to allow people to explore the highlights or whole floors of the museums

The Forbidden City/Palace Museum in Beijing used live streaming to deliver three two-hour long live guided tours. One featured on livestreaming platform Xinhaunet and attracted 34 million viewers

The Natural History Museum offers online lessons and talks, and has just launched the #OurBrokenPlanet series to increase awareness of environmental impacts and how to reduce them, which have been timely for home schooling
CHINA'S ECOMMERCE SUCCESS DWARFS ONLINE SALES ACROSS ALL MARKETS WORLDWIDE
eMarketer investigates the speed of China's eCommerce sales success after reaching 52.1% in 2021. The comparison with the rest of the world is stark; South Korea ranks in second place with 28.9%, the US only reached 15% and the Western European average was 12.8%.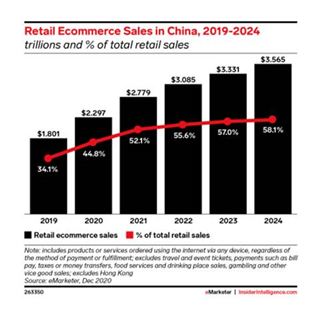 Interestingly, the pandemic wasn't the driver of this trend. Rapid growth of online marketplaces, wide adoption of digital payment systems and really low delivery costs were principle factors. Growth continues at a globally advanced level due to:
A boom in social commerce

WeChat Mini Programs leveraging WeChat's user base more effectively

The arrival of Pinduoduo enabling users to invite their social networks to form a shopping team with them to enjoy bulk buy discounts
The uptake of livestreaming "live commerce"

The pandemic drove a surge of online grocery sales, which could be set to stay in the future
TIKTOK TAKES ECOMMERCE BY STORM WITH LIVESTREAM SHOPPING
Pandaily unveil TikTok's plans to enter into the eCommerce world.
The Beta test with Walmart to run live-streamed shopping in the US last year was a success

The recent political changes enabled US consumers to become more familiar with the app and campaign views were in the billions
Partnership with Shopify to capitalise on in-app shopping features
UK GOVERNMENT IS RELEASING £20M TO SUPPORT SMES IN TRADING WITH THE EU
The Institute of Export and International Trade alert SMEs to the potential offer of funding to support organisational changes needed to adjust to new EU trade deals.
Businesses are advised to apply for £2k grants to ease EU import and export

The aim of the funding is to provide SMEs with training to adapt their import/export processes in readiness for new customs controls coming into transition in April-June
The SME Brexit Support Fund seeks to ensure that their trade is as seamless, friction-free and as compliant as possible
ANALYSIS OF CHINESE LUXURY BRAND SECTORS TO EXEMPLIFY HOW TO GROW YOUR GEN Z CUSTOMER BASE
JingDaily use Chinese luxury brands as a case study to recommend how to grow your Gen-Z customer base.
Inspire and create value by standing out from the crowd offering and emphasise benefits of the brand that competitors are unable to offer

Have clarity about your value creation model. Tell a consistent story through all touchpoints with the customer that outlines the brand values

Balance time and resources spent on product development and creating end-to-end brand experiences

Homegrown brands are close to the customers' hearts – ensure this features in your campaign messaging

Develop a real rational and emotional identity coupled with phenomenal brand experiences to achieve success
If you want to discuss any of the stories included in this week's international marketing roundup, book in a conversation with us today.