ClickThrough's Head of International Marketing is back with another roundup of the global news stories you need to know about. From the success of Adidas' Chinese New Year campaign to US adults spending more time consuming digital media, read more.
International Marketing News: Adidas Hits the Mark with Their Chinese New Year Campaign
What's new, important and interesting in the world of international marketing? This week we look at why Adidas' 2021 Chinese New Year campaign was so successful, the rise in engagement with digital media throughout lockdown in the US, development plans for social networking app, Clubhouse, an evaluation of potential changes required to increase the uptake of Reels, a shift to EU warehousing for UK to EU exporters and a summary of the current challenges restricting UK-US trade.
ADIDAS' CHINESE NEW YEAR 2021 CAMPAIGN EXEMPLIFIES SUCCESSFUL LOCALISATION
Jing Daily highlight the key features of the Make Auspicious CNY Wishes Come True campaign to portray how Adidas achieved such success:
Telling a story of how young people spend their time over Chinese New Year by bringing to life scenes typically seen in many small Chinese town New Year celebrations

Using gamification to bring their message into their target audience's favourite past-time space through rolling out physical and virtual coins that consumers can collect with their purchases in order to win prizes
2020 HERALDED AN EXTRA HOUR OF DIGITAL TIME AMONGST US ADULTS
eMarketer have found that US adults spent 7 hours 50 mins a day consuming digital media in 2020 vs. 6 hours 49 mins in 2019. This accounted for 57% of time spent consuming media, which is set to increase to 60.2% by 2022.
Social network time increased by 11 minutes per day up from 56 minutes in 2019.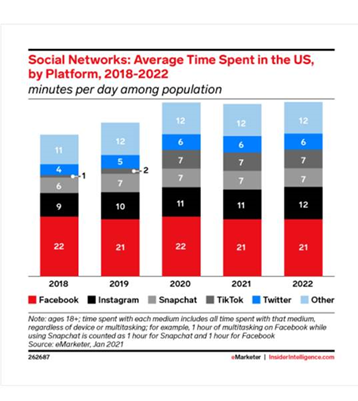 Smartphone digital time raced beyond 3 hours to 3:13 in 2020 – a huge upswing from 2:45 in 2019.
Time spent engaging with digital media is estimated to increase beyond 8 hours in 2022.
CLUBHOUSE SECURES FUNDING TO FUEL AMBITIOUS GROWTH PLANS
TechCrunch investigates plans for additional funding for audio-based social networking app, Clubhouse, encompassing a "Creator Grant Program" to enable new creators to get a foothold on the platform.
Plans are underway to monetise the platform, initially considering tipping, tickets for virtual events and subscriptions

It's no secret that Android users are currently missing out on being able to use the platform and work is currently underway to resolve this

Weekly active users have now reached 2 million
INSTAGRAM LEADER, ADAM MOSSERI, FORMULATES ACTIONS TO GAIN GROUND ON TIKTOK
The Verge evaluate the enhancement opportunities Reels have to improve services for its users. There is a lack of differentiation of video format output unlike TikTok, which offers creative tools like filters and effects to facilitate new video meme formats.
Head of Instagram, Adam Mosseri, is keen to provide people who make content for a living the tools to create truly engaging video content. He went on to outline his concerns that users struggle to differentiate between videos posted to Instagram and IGTV, indicating a need to consolidate and simplify ideas, which is a complete turnaround from initial statements that Reels could be the "future of video".
UK COMPANIES FLOCK TO SET UP EUROPEAN WAREHOUSES WITH NETHERLANDS AS A FORERUNNER FOR THE IDEAL LOCATION
The Institute of Export & International Trade outlines a popular resolution to ease customs and tax administration for British firms through opening warehouses in the EU with the Netherlands seemingly a mecca to seek to resolve the current challenges.
Customs warehouses located in the EU are seen as a potential solution to businesses facing challenges to export non-EU products into the bloc

Logistics companies like KWL are advocating the use of European warehousing. Meanwhile, exporters like Leon Paul with £7m of sales from Europe, Hornby and JD Sport amongst many others are already going ahead with this plan

Some government advisers are even encouraging companies to open European warehouses, like Cheshire Cheese Company, who found that their £30 gift boxes required certification of £180 to ship to Europe. This is at the expense of plans to open a new £1 warehouse in the UK
The drinks industry is seeking for the Airbus-Boeing dispute to be resolved to ensure the heavy tariff on Scotch can be dropped.
UK AND US COMPANIES MAKE A PLEA TO NATIONAL GOVERNMENTS TO REMOVE CURRENT TRADE RESTRICTIONS
The Institute of Export & International Trade raise awareness of the plight small UK and US companies face to continue their transatlantic trade.
The 'Making A Difference' report produced by the British-American Business (BAB) trade association identified three priority areas to be addressed:
Reduction of trade barriers, including extremely restrictive tariffs

Eliminating current trade disputes and ease travel for business personnel

Increasing support and guidance on issues such as state level regulation variations
If you want to discuss any of the stories included in this week's international marketing roundup, book in a conversation with us today.