From COVID-19's impact on eCommerce to China's online sales growth in 2021, you'll find all of the latest international marketing news in our round-up. Find out more.
International Marketing News: COVID-19's Impact on eCommerce
This week in the International Newsletter: things to keep in mind in 2021 US Back-to-school, China's online sales growth during this year, how eCommerce impacted by the pandemic and the UK government postponing UKCA until January 2023.
The Impact Of COVID-19 On eCommerce
According to Salesforce's Q2 Shopping Index, digital commerce growth began to level out in the second quarter of 2021. After a 63% increase in the first quarter of 2021, global eCommerce sales growth fell to low single digits (3%) in the three months to June 30th.
Despite a global slowdown in growth, Salesforce claims that consumers "stayed online and continued to boost sales for retailers." This is reflected in an increase in Average Order Value, which increased by 17% year over year to $90.64, despite a 1% decrease in the number of products ordered.
As some populations throughout the world return to socialising and travelling, online sales of luxury clothes, luxury handbags, and general handbags and luggage grew at the fastest rate this quarter. Meanwhile, Internet sales in the cosmetics and food and beverage industries have plummeted.
Online sales of health, beauty and personal care products will grow three times faster than in-store sales.
Following the pandemic, 56% of global consumers are more influenced by images on social media when making purchases.
JD.com has uncovered China's new night-time shopping tendencies.
In July 2021, online retail sales in the United Kingdom set a new high of £10 billion.
In Q2 2021, eBay's gross merchandise value (GMV) was down 7%, and active purchasers were down 2%.
As the eCommerce boom continues, Shopify sales increased by 57% year over year in Q2 2021.
In June 2021, online prices rose 2.3% year over year, bucking a long-term trend of deflation.
Trends To Consider in 2021's US Back To School Season
While analysts had projected a positive back-to-school (BTS) season for retailers and brands earlier this year, many parents still want their children's back to school to be as "normal" as possible.
Clothing and accessories are important categories.
Clothing is expected to be the most popular category during BTS, according to various reports coming up to the second-largest shopping season of the year. According to Deloitte's June 2021 predictions, clothes and accessories will account for roughly 38% of the $32.5 billion BTS spending this year. Furthermore, according to Sensormatic Solutions, 70% of US internet users polled in June expected to spend the most on clothing when BTS shopping. The wild card: over 40% stated they want to spend the most money on backpacks.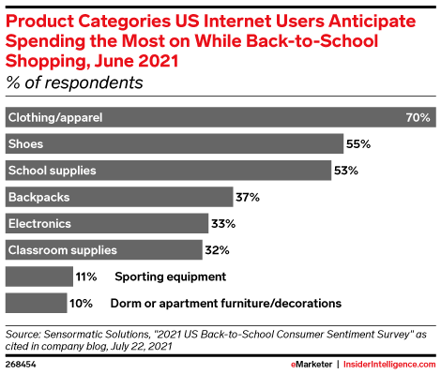 When deciding where to go, convenience takes precedence. According to Deloitte, the vast majority of buyers want to purchase at mass shops for their BTS needs, with online-only stores (probably Amazon) coming in second. These channels bring together all of the things on school supply lists under one "roof," making it incredibly convenient for time-crunched customers.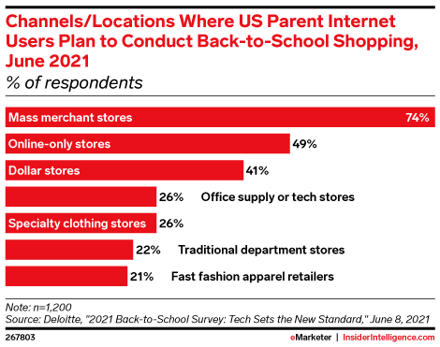 It's safe to say that new buying habits are here to stay. When Tinuiti asked US parents in March of this year, 30.3% indicated they planned to purchase online for their BTS requirements, with another 8.1 % saying they planned to use curbside service. We think that as weekly coronavirus instances continue to rise, the number of in-person shoppers will fall slightly due to the concern surrounding the Delta variety.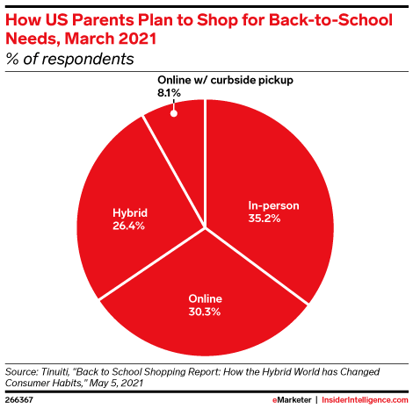 China's Internet Retail Sales Increase By 22% From January To July 2021
Total consumer goods retail sales in China reached 3,492.5 billion Yuan in July 2021, up 8.5% year on year or 7.2% compared to June 2019, with an average growth rate of 3.6% over the previous two years.

Consumer goods sales, excluding autos, increased by 9.7% to 3,157.8 billion yuan. In July, overall retail sales of consumer products climbed by 6.4% excluding price effects.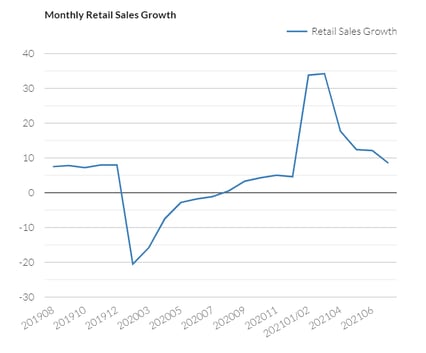 In July, retail sales of urban consumer goods increased by 8.4% year on year to 3,037.9 billion Yuan, while retail sales of rural consumer goods increased by 8.8% to 454.7 billion Yuan.

Retail sales of products increased by 7.8% year on year to 3,117.4 billion Yuan, while catering revenue increased by 14.3% to 375.1 billion Yuan.
From January to July, total retail sales of social consumer goods reached 24,682.9 billion Yuan, up 20.7 % year on year, with an average growth rate of 4.3% over the two years.

Among them, retail sales of consumer goods other than automobiles increased by 20.2% to 22,163.1 billion Yuan.
UK Government Postpones UKCA Requirement For A Year
The obligation for manufacturers to use the UK Conformity Assessment (UKCA) mark for items sold in the UK market has been postponed by the government.
The UKCA mark, like the CE mark, is required for a wide range of products, including building materials, electrical goods, and toys. It demonstrates that the goods comply with British safety regulations.
According to gov.uk, items will be required to bear the mark starting January 1
st
2023 if all of the following conditions are met:
The product is aimed towards the British market.
It is governed by regulation that necessitates the use of the UKCA branding.
It necessitates the use of a third-party conformity assessment service.
The conformity evaluation was carried out by a conformity assessment body in the United Kingdom.

The CE mark will continue to be required for goods entering the EU market, which means that businesses trading goods in both the UK and the EU may need both marks.

According to The Times, the new adoption deadline (1 January 2023) will be a "final date," with the government claiming that the postponement was necessary due to the impact of the Covid-19 outbreak on businesses.
If you've got any questions surrounding the news in this week's round-up, please do not hesitate to get in touch.