International Digital Marketing Executive, Andrea Diaz, discusses all of the news in international marketing, from the EU shelving digital tax plans to China's luxury playbook. Read more.
international marketing news: eu puts digital tax plan on hold
In this week's International Marketing News Round-Up, there's coverage of the EU putting digital tax plans on hold, Western brands needing to take a look at China's new playbook, working circumstances for truckers and seamen and Chinese direct-to-customer brands.
Amid Talks on Global Tax Reform, EU Puts its Digital Tax Plan on Hold
The European Commission announced that it would postpone plans for a new tax on tech giants. The decision comes as the US put pressure on the G20 to abandon the tax plan, after the G20 agreed on a worldwide company tax reform.
EU Commission spokesman Daniel Ferrie said to reporters in Brussels: "We have decided to put on hold our work on our new digital levy as a new EU own resource".
A draft OECD/G20 agreement on a minimum global company tax rate of 15% includes an agreement "to deconstruct existing digital levies that the United States has seen as discriminatory and to refrain from imposing comparable measures in the future," according to US Treasury Secretary Janet Yellen. "So the European Commission and the European Union members will have to determine how to proceed," she added on Sunday.
The Biden administration is afraid that it will make it more difficult for Congress to approve the larger G20 agreement if the digital levy passes. Three EU countries have so far refused to sign the proposed agreement: Ireland, Hungary, and Estonia.
Ireland has been successful in luring several large American corporations to its shores, including Google and Apple. Dublin wants to maintain its 12.5% business tax rate.
What is the background to the EU's tech tax?
The plan is to levy a 0.3% tax on goods and services supplied online by companies with an annual turnover of €50 million or more that are based in the EU.
Western Luxury brands Need To Learn From China's New Playbook
Western luxury companies have strengthened their presence in China, but as Chinese Gen-Z customers fully emerge, there will be more catching up to do.
The techniques that work in Paris, New York, Tokyo, or Sydney are probably three to five years behind what Chinese clients anticipate today.
It is no longer sufficient to consider digital acceleration or omnichannel excellence alone. Instead, organisations must build an ecosystem around their customers in which they can service them with great speed, competency, and proactivity at their preferred brand access points.
Gen Zers in China are distinct from those in other parts of the world. Extreme optimism and patriotism are two distinct characteristics they display. As a result, people have a great urge to buy Chinese products.


If China has taught us anything, it is that previous success does not ensure future success. Many Western businesses are still battling to keep up with China's rapid growth, and a move to Chinese brands may appear to be a long way off. However, that transition will impact brands within the next decade, and for many, it will be a watershed moment.
Supply Chains Jeopardised as Working Circumstances Push Truckers and Seamen to Limit
Lorry drivers in the United Kingdom are quitting the profession in search of better pay and working conditions in other industries, compounding the country's persistent driver shortage. With a 100,000-driver shortage in the UK, the government has lowered driver working hours and is rumoured to be exploring a Visa system to entice European drivers who departed following Brexit to return.
According to Bloomberg, the sluggish vaccination of sailors is also endangering supply networks on a worldwide scale. As the number of diseases in the shipping business rises, the industry is raising the alarm. More than half of the world's 1.6 million mariners are from developing countries like India, the Philippines, and Indonesia, where vaccinations are frequently delayed.
"With this new delta strain, there's no doubt it's setting us behind, and the situation is growing worse," said Esben Poulsson, chairman of the International Chamber of Shipping.

According to the World Economic Forum, thousands of sailors are being left stuck on their ships after their contracts have expired, due to increased regulations that prevent them from returning home.

It claims that this will force them out of the industry. It has also urged countries to do more to ensure that crew changes are carried out safely.
Direct-To-Consumer brands Are Replacing Global Brands in China
Despite being almost unknown outside of China, a new generation of Chinese direct-to-consumer firms is building a name for themselves at home—and even surpassing some of the world's biggest names. According to Alibaba, Chinese company Babycare outsold Procter & Gamble's Pampers during the country's recent 618 shopping holiday, which takes place every year around June 18.
In the first half of June 2021, Tmall revealed that 459 new brands (those that had been on the platform for less than three years) had the highest sales in their divisions. Last year, local beverage company Genki Forest outsold Coca-Cola and Pepsi on Tmall.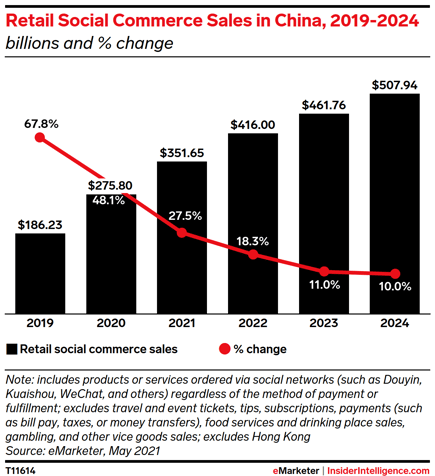 Direct-to-consumer (D2C) brands in China rely extensively on digital, while standalone apps are less common. Instead, they rely on the country's internet behemoths' digital ecosystems to reach consumers where they already are.

Some direct-to-consumer businesses outperform multinational giants by offering lower prices or adapting their products to local tastes and demands. In contrast to Nike and Adidas, premium athleisure company Sylphlike Loli keeps its costs below the RMB 300 ($43) mark. Perfect Diary, a Chinese cosmetics brand that caters to Chinese consumers' skin tones and concerns, has been snatching market share from L'Oréal's Maybelline in recent years.
And that brings us to the end of this week's International Marketing News. If you'd like to discuss any of the news covered - please do not hesitate to
get in touch
.