Head of International Marketing Alison Booth returns with another round-up of the important global marketing stories from the past week. From export opportunities for products made in Britain to the top four COVID era impacts on marketing, read more.
International Marketing News: Export Opportunities For Products Made In Britain
What's new, important and interesting in the world of international marketing? This week we take a look at export demand for 'Made in Britain' products, how the U.S. stimulus package could impact U.S. retailers, insights into localisation successes for Western fashion and beauty brands operating in China, a decline in the number of Chinese students wishing to study in the U.S. and an analysis of the top COVID-era impacts on products and consumer experiences.
the made in britain report highlights potential export price premiums of up to $3.5bn per year
The Institute of Export and International Trade provides a brief synopsis of the 'Made in Britain' report published by Barclays on 11th March. Key product categories featured in the report included: food products, alcohol, soft drinks, fashion, high precision tools, automotive products, homeware and video games.
Consumers in India, UAE, US, South Africa and China are willing to pay more for British-made products.

15% of survey respondents said they would pay a premium of 10.2% for British-made cars.

Respondents cited that B

ritish goods offer good value for money in terms of quality, longevity, innovation and craftsmanship.

Boosting exports in markets where British products are more sought after could help to overcome challenges from heavy domestic competitor saturation.
THIRD ROUND OF CORONAVIRUS STIMULUS PAYMENTS COULD BOOST RETAIL SALES
eMarketer summarise how the coronavirus relief package could help to boost consumer spending.
The first and second rounds of stimulus payments were likely to have contributed heavily to a growth in retail sales and the latest stimulus package of $1,400 could drive further growth.

The expanded unemployment benefits included within the package could also contribute to further increases in retail purchases, which are likely to be dominated by groceries.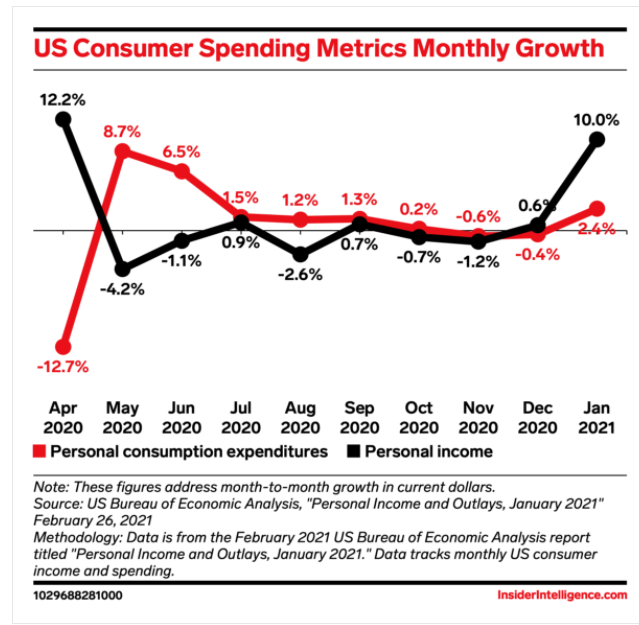 top western brands succeeding with localised strategy in china
Jing Daily outline the successful Digital Marketing strategies executed by three high profile Western brands:
Gucci's recent localisation accolades include : the New Year collaboration with the Japanese Manga character 'Doraemon', which drove word of mouth marketing successfully, in addition to a successfully localised strategy targeted to lower tier cities to increase reach.

Burberry harnessed the art of storytelling with a short film entitled "A New Awakening" launched on Weibo and increased the scope of its already successful influencer Marketing strategy to encompass Chinese mega celebrity Kris Wu.

Louis Vuitton co-ordinated its KOL partnerships, product drops on WeChat Mini Programs, livestreaming and unique capsule collaborations like organising prestigious exhibitions in partnership with museums.
CHINESE STUDENT ENROLMENTS AT U.S. UNIVERSITIES SEE A DECLINE
Yahoo! News investigate the reasons behind the decline in enthusiasm for Chinese students to enrol at U.S. universities.
A report by Beijing Think Tank outline that the US handling of the pandemic and American visa restrictions have had a detrimental impact with Chinese students declining to less than 1% of the total students attending US universities.

The report also found that the restrictions the Trump administration placed on government sponsorship for Chinese students had a negative impact on international education and exchanges.

The top 3 study destinations for international students were the US, Britain and China according to the report.
4 COVID-ERA TRENDS WITH LASTING IMPACTS ON PRODUCTS AND CONSUMER EXPERIENCE
Think with Google allude to the top standouts executed through many Digital Marketing strategies last year.
The "phygital retail" – the blurring of the lines between physical and digital retail encompasses the changes to the consumer journey to convert that have emerged from our extended tine in the home including contactless payments, curb side pickup, AR enabled experiences like matching your lipstick to your skin type.

Consumers have pivoted to having a more enhanced awareness of the value of local communities.



A shift in values has influenced consumer purchase decisions, mindless buying is neither financially viable nor personally fulfilling and a focus on minimalism and buying products people actually need have been the main motivations to purchase.

The transparency of marketers' own-at-home experiences is likely to inject an empathic angle into future communications.
And that's our international marketing news round-up! If you would like to discuss any of the stories included in this week's International Marketing Round-up, book a conversation with us today.