From Gen Z's favoured social platforms to China's Singles Day, there's lots to cover in our international marketing news.
International marketing news: gen z's preffered social platforms reviewed
This week in the international newsletter we see China's Singles Day Shopping 2021, Gen Z favourite social platforms, DropshippingXL intentions to expand to Europe and US-China in talks about their trade disputes.
a rEVIEW OF aMERICAN gEN z'S pREFERRED SOCIAL PLATFORMS
In the United States, Gen Zers use a variety of social networks to connect with others, consume multimedia, play games, and share content.
Snapchat (42.0 million), TikTok (37.3 million), and Instagram have the most monthly Gen Z users (33.3 million). According to our estimates, these will continue to be the most popular among Gen Z over the next four years.
This hierarchy will remain in place until 2025, but the top three platforms will grow at different rates. TikTok will overtake Instagram to take the #2 spot in 2021 and will continue to close the gap with Snapchat during our forecast period.
Facebook, Pinterest, Twitter, and Reddit have sizable followings as well. As Gen Z transitions out of popular teen platforms, its reach will expand steadily.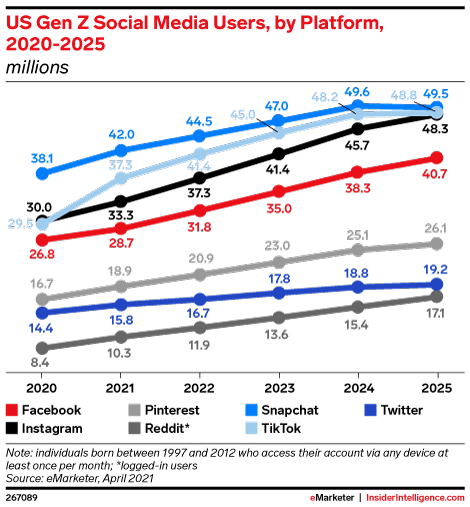 When iPhone users aged 18 to 25 first picked up their devices in March 2021, Snapchat, Instagram, Discord, and TikTok were among the most frequently used apps (Measure Protocol).
While heavy social media usage is associated with Generation Z, this generation's preferred social platforms are likely to differ by age.
The Measure Protocol study focused on the upper end of the Gen Z age range and reflected expected usage patterns, such as a preference for Snapchat and Instagram over platforms like Facebook, whose audience is older. Users aged 26 and up were also included in the study, and their preferences were more in line with the general population.

As members of Generation Z get older, their habits will change. Within a few years, Gen Z users who expressed a strong preference for, say, Instagram or TikTok, may find themselves frequently using Facebook.
How Luxury Businesses Innovated For CHina's Singles Day Shopping Frenzy
China has one of the world's largest luxury goods markets. According to a forecast by strategy consulting firm Bain & Co., China's luxury market, which is currently second only to the United States in size, is expected to become the world's largest by 2025. China's luxury market was even more resilient to the Covid-19 pandemic, growing by 48% in 2020 as Chinese consumers shifted their spending to local brands.
Mark Zuckerberg's recent announcement that he plans to refocus Facebook (now rebranded as "Meta") on the establishment of a "metaverse" - an online virtual world for work, socialization, and entertainment – has sparked a flurry of speculation and discussion about our potential virtual future.

However, while Zuckerberg's metaverse is a long-term project that, according to Zuckerberg, "doesn't fully exist yet," Alibaba has wasted no time in bringing its version of the metaverse to life. In celebration of its historic shopping festival, Alibaba launched a "Double 11 Metaverse Art Exhibition" on the Tmall/Taobao mobile app, hosted by Ayayi, Alibaba's hyper-realistic virtual influencer. The exhibition featured eight limited-edition collections in the form of NFTs – another current trend – from companies such as British luxury brand Burberry and deluxe skincare brand Kiehl's. Other high-end brands included in the collection were car manufacturer XPeng Motors and gaming hardware manufacturer Alienware.

Burberry and Kiehl's both attached unique digital goods to the purchase of a limited-edition product as part of the show. Burberry produced 1,000 NFTs – known in China as "digital collectables" – with a 3D, interactive rendition of its deer mascot that can also be used as smartphone wallpaper and an emoji to dodge regulatory inspection. An actual, limited-edition scarf worn by the deer was also sent to buyers. Kiehl's related its NFT to Ultra Face Cream purchases, with an art piece depicting the company's skeletal mascot, Mr Bones, reclining on a liquid metal flying carpet.
While these virtual characters may appear a little odd for luxury goods, it is to the benefit of firms like Burberry and Kiehl's to be viewed as on the cutting edge of technology – especially when seeking to attract the attention of tech-savvy Chinese consumers.

Despite a legal restriction on mining, trading, and exchanging cryptocurrencies into fiat money, the NFT mania is still going strong in China. Companies such as Alibaba, JD.com, and Tencent have circumvented the restriction by developing their own NFT infrastructure that does not require cryptocurrencies. JD.com recently gave a series of seven limited-edition NFTs to anyone who signed up for its Discovery conference between October 19th and November 22nd, and Alibaba issued 50 mooncake NFTs in September to coincide with the Mid-Autumn Festival, each of which came with a box of real mooncakes.

AR Shoes Try-on, a new augmented reality (AR) function for JD.com's app that allows users to scan their feet and digitally try on footwear, was released in 2020. Berluti, an LVMH-owned maker of shoes and bespoke leather products that opened a flagship store on JD.com in July, is one luxury business that has taken advantage of this function. Berluti's initial step into augmented reality was with the debut of AR Shoes Try-on, which was available for a limited number of goods.

AR try-on is a vital tool for any online retailer, but especially for a high-end retailer, because devoted customers want to engage with the products, while others may want confidence that their purchase will be worthwhile. This innovation is sure to have aided Berluti, Tods, and Hogan in securing some Singles' Day sales, and the additional press connected with using the new try-on gadget is unlikely to have harmed, either.
Live commerce is far from new or unusual in China, but what is notable is the extent to which western brands, particularly luxury brands, are now mastering this fusion of live-streamed entertainment and eCommerce.

In its coverage of Singles Day this year, Forbes noted that "the promotions these influencers offered are now very similar to what brands offer at their flagship stores." Brands such as L'Oréal and Lancôme have mastered the art of live-streaming and can now attract over 5 million viewers in their own hosted live streaming sessions." This demonstrates how well these brands have adapted to the Chinese market and its unique characteristics; and, given that live commerce is increasingly becoming a focal point of Singles Day, it has the potential to make a significant difference in the sales and reception of overseas brands during the festival.

Luxury brands that are willing to experiment with live commerce stand to benefit not only from increased sales on Singles Day but also from much better overall engagement with their Chinese customer base, and this will put them in an excellent position to take advantage of live commerce as it increasingly makes its way to the west.
DropShippingXL Plans To Expand To Europe
VidaXL, a European online shop, has rebranded its drop shipping service dropshippingXL. Since then, the company's product line and logistics capabilities have expanded. DropshippingXL is now planning to expand into more European nations.

VidaXL is most recognised for its enormous Home & Garden selection, but the shop has now grown its product line to include over 50.000 items. DropshippingXL accepts applications from online retailers who want to sell products using drop shipping.

According to the store, any company can begin drop shipping with no prior experience. Drop shippers sign up for an account and pay a monthly subscription cost of 30 euros. Drop shippers can utilise Magento 1 and 2 and Lightspeed plugins to get started selling. "We also have an API available," adds Linn Hallgren, Chief Marketing Officer, "so drop shippers may save time and effort on volume purchases."
"Drop shippers are free to sell in any country or countries where VidaXL provides services." DropshippingXL takes care of the entire fulfilment process." This means that dropshippingXL will also handle returns for free. Most drop shipping suppliers do not accept returned products, leaving drop shippers with an inventory of goods they cannot sell.

Though drop shippers can sell their products in multiple countries, dropshippingXL also has a team that specializes in developing products that are popular in local markets. As a result, drop shippers have a better chance of finding a market for their products.

VidaXL has been growing in the last year, in addition to the rebranding. The company announced earlier this year that it will open two new fulfilment centres in Europe. One will be built in the Netherlands, and the other in Poland.

Drop shippers will benefit from the addition of these fulfilment centres, according to dropshippingXL. "With our warehouses in the United States, Europe, and Australia, we can guarantee drop shippers quick delivery times." The service currently has over 2,000 active drop shippers and receives over 50 new subscriptions each week. "We assist drop shippers in growing their businesses and do not charge a commission on sales, which distinguishes us from competitors."

The company's plans include more than just opening new facilities in Europe. "In the immediate run, we want to grow to countries like Ukraine, Turkey, and Iceland and raise knowledge of drop shipping." We already export to those nations, but we wish to extend our presence in those markets. We've already received a lot of positive feedback from potential customers."
us pRESIDENT jOE bIDEN PREFERS 'STRAIGHTFORWARD COMPETITION' With China
A virtual meeting between President Joe Biden and China's leader Xi Jinping helped ease the tension between the two countries but did not make headway in resolving lingering US-China trade war disputes.

Biden told Xi that it was their responsibility "to ensure that the competition between our countries does not turn into conflict", rather than "straightforward competition".
Aljazeera reports Xi made comments about relaxing trade restrictions to help both economies recover from the pandemic more quickly.

Xi referred to Biden as "my old friend," and compared the two countries to ships navigating the ocean without colliding, saying they "should respect each other, coexist in peace, and pursue win-win cooperation."

Relations between the world's two largest economies remain tense, with Biden upholding many of the tariffs imposed by his predecessor, President Donald Trump. According to Trivium China analyst Joe Mazur, the Biden administration's approach is "a significant departure from Trump's 'America First' foreign policy."

Despite the fact that no real policy on major topics such as trade, climate change, the pandemic, or arms control emerged from the summit, CNN notes that it opened a discussion that can be expanded upon, perhaps lowering tensions.

While the US recognizes that China will not budge on their differences, it is searching for areas where it can support a limited level of bilateral engagement with China while also strengthening its ties with allies and partners across the world.

According to a report commissioned by the US-China Business Council in January, the trade war has cost the US 245,000 jobs, while lowering tariffs on both sides by 2025 would create 145,000 jobs.

According to Oxford Economics, the US GDP will be reduced by $1.6 trillion over the next five years due to a "substantial decoupling" of the economies.
That wraps up this International Newsletter from this week! If you would like Andrea and the team to support your brand's international success, then get in touch!