Our international marketing expert, Alison Humphries, is back with another roundup of the latest new stories from around the globe. From Chinese influences that could shape eCommerce in the west to the impact of social distancing on forecasting, read more.
International Marketing News:

German and French Economies Struggle Under the Impact of the Second Lockdown
What's new, important and interesting in international marketing? This week we look at the impact of lockdown restrictions on German and French consumer confidence, plans to protect airline and road freight from a no-deal Brexit, learnings Western eCommerce marketers could take from China's advanced strategies and amendments to US economic forecasts to reflect the results of social distancing.
NEW LOCKDOWN RESTRICTIONS FLOOR CONSUMER CONFIDENCE IN FRANCE AND GERMANY
A return to pre-COVID consumer confidence levels in France and Germany is imminent as lockdown two takes a hold, reports Reuters.
The temporary closure of restaurants, bars, cafes, entertainment venues and non-essential stores in France has left consumer demand constrained prior to the holiday season.
The partial lockdown in Germany drove consumer confidence down to its lowest point since March.
France implemented the strictest lockdown on 30th October, which drove consumer confidence down to its lowest level since December 2018. Household uncertainty surrounding financial stability increased as unemployment rates reached mid-2013 levels, resulting in an unwillingness to make major purchases and a strong desire to save.
EU PLAN TO MAKE NO CHANGES TO THE OPERATIONS OF AIRLINE AND ROAD FREIGHT IN THE EVENT OF NO DEAL WITH THE UK
Institute of Export & International Trade outline that Brussels have made emergency plans to maintain flights, lorry transportation and fishing after the 1st January in the event of no deal.
Contingency plans have been held back from publication to avoid providing the UK with a safety net if trade deal talks fail. These include the free movement of freight and passenger transport and air services between the UK and EU for six months, validity of aviation certificates and fishing access rights between the EU and the UK to continue for one year.
In tandem with this, the EU have warned member states not to make their own deals with the UK that would undermine the EU.
Boris Johnson and Ursula von der Leyen will continue discussions until Sunday, but the Prime Minister remains adamant that the UK would never accept arrangements and access to UK fishing waters that do not align with the status as an independent coastal state.
KEY INFLUENCES FROM CHINA THAT COULD SHAPE E-COMMERCE IN THE WEST
Econsultancy investigate the key eCommerce trends in China that the West would benefit from taking note of.
Marketplaces drive a large share of Chinese eCommerce transactions, a trend which we are also starting to see play out through the growing success of Amazon. The key to success is channelling the eCommerce experience through these marketplaces.
Western brands like the Louvre are entering into partnership with China's marketplaces to use their advanced eCommerce capabilities to target China successfully, and businesses are starting to run promotions for shopping festivals originating in China like Singles Day.
Western social networks have developed the platforms to become shoppable, a trend which has its origins in China. Facebook is monitoring the strategies implemented by Chinese technology powers with the aim to mirror those that drive success, so keeping abreast of the progress of Chinese eCommerce could help to keep one step ahead.
The key takeaway is to keep up to date with developments in Chinese ecommerce to inspire your own future ecommerce strategies.
US 2020 FORECAST ADJUSTMENTS: SOCIAL DISTANCING IMPACTS
eMarketer re-evaluate their pre-lockdown forecasts for the US to assess the extent of the economic impacts of the pandemic.
US consumers reigned in spend on services and entertainment heavily (restaurants, travel, events etc.) and switched the focus of their available cash to consumer electronics, home furnishings, digital groceries amongst other household retail goods.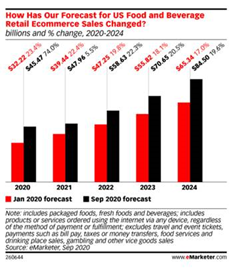 Despite the economic challenges resulting from high unemployment rates and recessionary trends, retail spending maintained an element of stability due to the focus pivoting away from services. Social distancing trends included:
Growth in sales of indoor related goods and services

Heavy closures of brick-and-mortar stores

Entertainment services for use in the home saw a surge in uptake

Essential goods sales soared
Digital services such as digital video, health and fitness apps and messaging apps had a resounding success.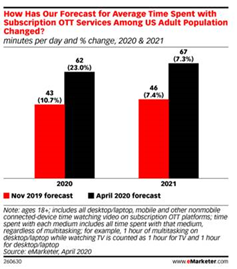 The notable differences in spend across categories that were positively and negatively impacted accounts for the gap between the pre and post pandemic forecasts.
If you'd like to discuss any of the latest international marketing news included in this update, get in touch with our experts today.