In this week's International Marketing News, Andrea takes us through how the Ukraine crisis is affecting trade, the growth of German virtual banking and much more.
This week in the international news: five different ways the Ukraine crisis will impact trade and global markets, the growth of the German virtual banking Penta, Shein anticipates possible IPO in the U.S and accelerates its hiring in Singapore and how New York City Council measure would prohibit grocery apps from advertising 15-minute delivery.
How The Crisis in Ukraine Will Affect Global Trade
Following their aggressive moment into Ukraine, Russia has been widely condemned, with the United Kingdom, the European Union, and the United States banding together to impose sanctions on the country.
But, how will the crisis affect traders in the United Kingdom and around the world?
Sanctions
In response to the escalation, Prime Minister Boris Johnson announced the "first barrage" of UK sanctions against five Russian banks and three billionaires linked to Putin.
According to Reuters, the US has prepared an initial package of sanctions, including a prohibition on US financial institutions processing transactions for major Russian banks.
According to the Financial Times, the EU's package will be relatively narrow and aimed at those directly involved in the Donetsk and Luhansk regions where Russian troops are said to have entered.
Oil and Gas
According to the New York Times, the crisis could have an impact on the trade of oil and gas, food, and essential metals. Russia supplies nearly 40% of Europe's natural gas
and 25% of its oil, and the crisis is expected to drive up energy prices even further.
The RAC, a motoring organization, has told the Telegraph that UK motorists should expect fuel prices to rise.
German Chancellor Olaf Scholz has also put a halt to the approval process for the €10 billion Nord Stream 2 pipeline, which was supposed to bring more gas to Europe.
Food Costs
Because Russia is the world's largest supplier of wheat, global food prices, which are at a decade high, could be affected as well. It accounts for nearly a quarter of total global exports, along with Ukraine.
Ukrainian grain and chicken exports may also be harmed by border closures, while fertiliser production may be hampered due to the UK's reliance on Russian gas supplies.
Markets
According to the Telegraph, Russian stocks have suffered their biggest drop since the global financial crisis, with the MOEX Russia Index down 14% and the dollar-denominated RTS Index down 17%.
As the crisis sends ripples through global markets, the Financial Times Stock Exchange in London and the Dow Jones in New York have both declined. Gold, the safe-haven commodity in times of uncertainty, has reached a 13-month high.
Businesses in Russia
According to Reuters, several Western companies with Russian assets or ventures will be particularly hard hit by a Russian invasion, naming Shell, BP, Renault, Carlsberg, and various banks.
BP owns 19.75% of Russian oil company Rosneft and is involved in several joint ventures with Russia's largest oil producer.
Jaguar Land Rover and British American Tobacco are among the other British behemoths that do significant business in Russia, according to Russia Briefing.
German Virtual Bank Penta Aiming for $500 Million Valuation
Penta, a German digital business banking platform, is in talks with potential investors as it seeks a valuation of $453 million to $567 million (400 million to 500 million euros).
According to Bloomberg, sources close to the matter say Penta, which provides small businesses with bank accounts and other financial services, has begun its third funding round with the goal of reaching the $1 billion mark.
According to sources, Penta is in talks with new and existing investors, with the goal of finalising negotiations by midyear. According to Bloomberg, the expected valuation demonstrates that investor demand for FinTechs has not waned despite steep declines in Europe's equity markets.
Penta raised $20 million in a funding round led by RTP Global two years ago. Through a partnership with Germany-based DATEV Marketplace, the company began offering customers the ability to digitally manage accounting and receipts later in 2020.
Last year, Germany had the second-largest number of new unicorns, with 23 compared to 29 British firms that crossed the $1 billion mark.
Penta, unlike many other start-ups of its ilk, does not provide free service, instead requiring subscriptions from each new client.
Penta's investors include Dutch bank ABN Amro Bank NV and the start-up fund of publishing holding company Holtzbrinck, which is led by former Deutsche Bank AG executive Markus Pertlwiese.
SHein Accelerates Hiring Ahead of Possible U.S IPO
The Chinese fashion titan and Gen Z favourite Shein recently hired a Singaporean entity to serve as its de facto holding company, allowing it to avoid Beijing's new restrictions on Chinese companies' foreign IPOs.
Shein has quickly developed to become one of the largest fashion firms in the world. According to Reuters, the fast-fashion company made $15.50 billion (RMB 100 billion) in revenue last year, and its valuation was around $50 billion (RMB 322.64 billion) in early 2021.
Shein's success can be attributed in part to its data-driven and technical approach to fashion. Its proprietary software analyzes shopping data to determine which products are successful and which are not, allowing it to experiment with new products and ramp up production of popular things in real time.
Another key factor is speed: according to Rest of World, Shein uploads thousands of things to its app every day. Between January and October 2021, Shein offered approximately
20 times as many new items as H&M and Zara, two firms who pioneered the fast-fashion strategy.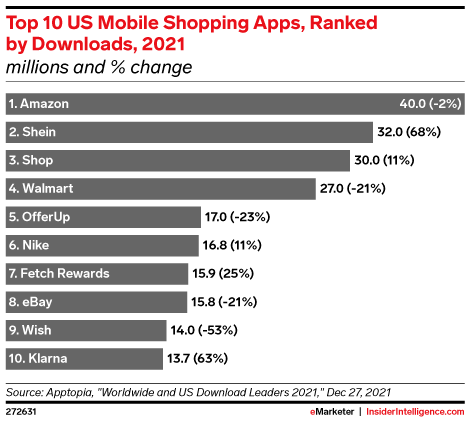 Shein's algorithmic approach to fast fashion has allowed the company to grow quickly while reducing superfluous costs, making it very appealing to investors.
However, while the company manufactures its products in China, it does not sell them there, which may have influenced its choice to seek finance from other nations.
Grocery Stores Promising 15-minute Delivery Could Be Outlawed In NEw York
According to The New York Post, a proposed New York City Council measure would prohibit grocery apps from advertising 15-minute delivery as part of a bigger drive to regulate the industry.
According to New York City Councilman Christopher Marte, faster delivery times "incentivise delivery workers on e-bikes and scooters to break traffic laws and endanger themselves and pedestrians."
The legislation will be introduced as part of a larger legislative package that may include increased protections for grocery workers.
Governments all over the world are concerned about the community impact of rapid grocery delivery services, as well as their labour practices.
Bodegas and other local convenience stores are struggling to compete as shoppers prefer grocery delivery to in-person store visits.
In Europe, Amsterdam, Rotterdam, and Lyon have chosen to halt or prohibit the establishment of "dark stores" (fulfillment locations for online orders), while Paris' deputy mayor for urban development, Emmanuel Gregoire, has warned of "heavy financial and penal consequences" for companies that fail to obtain proper authorization for their warehouses.
Delivery workers are also speaking out against low pay, a lack of transparency, and poor working conditions.
And that brings us to the end of this week's International marketing news. If you would like Andrea and the team to support your brand's international success, then get in touch!