In this week's international marketing roundup, Alison Humphries talks us through the impact of coronavirus on digital grocery, maintaining brand trust during a global pandemic and what businesses can learn from China's livestreaming strategy.
International Marketing News: Livestreaming in China & Maintaining Brand Trust
What are the latest updates from the world of international marketing? In my latest news roundup I'll be talking about how coronavirus has impacted digital grocery, maintaining brand trust during a crisis and what businesses need to know before livestreaming in China.
Is Now the Time to Invest in China?
In her latest article published on Jing Daily, Ruonan Zheng talks us through how the pandemic has accelerated certain trading difficulties, including rising tariff costs that already exist with foreign direct investment in China. As a result foreign brands are facing the sky-high cost of digital spending and shifting market platform regulations which have become barriers that are affecting their ability to operate in China.
Shanghai-based consultant Hervé Roland Rogazy stated that a lot of brands are thinking about relocating their production from China to Eastern Europe
The impacts of social distancing on retail traffic is making the future of brands without a long-term investment in the Chinese market uncertain due to their lack of competitive advantage, which has forced them to withdraw from the market or seek local strategic partnerships to maintain their presence
Space NK have closed their eight outlets and Tmall store in China, which, according to Ecommerce agency Azoya, is due to a lack of product range and poor quality digital promotional activity
Esprit has formed a joint venture with Mulsanne Group, a menswear manufacturer and will close its existing retail outlets
The Chinese fashion retail market has become saturated, with Chinese brands moving up the value chain – thus pushing weaker international brands out
Domestic retailers are taking advantage of low production costs on vacated production lines from international brands, who have moved their production to countries like Vietnam and Bangladesh that are able to offer more competitive prices
The barriers to entry for smaller retailers have increased, as they are not able to tailor their products to local design, sizing and colour. As a result, tech (rather than apparel) companies are now seeing greater success in China
Brands need to differentiate themselves to survive. Louis Vuitton has survived through its robust omnichannel integration. Similarly, Prada's aggressive online and offline strategies and the set-up of a pop up shop at Beijing's SKP-S have aided early recovery from the pandemic
What should brands do to survive?
- Evidence their sustainability propositions and awareness of health-consciousness trends
- Streamline costs, enhance competitiveness and strengthen customer relationships through increased communication to drive greater engagement
To sum up, China is no longer the low hanging fruit to gain a new revenue stream. Companies with a greater chance of survival post-pandemic will need to have gained a strong foothold in the market and show evidence of embracing new consumption trends and relationships – both online and offline.
Five Charts: How Coronavirus Has Impacted Digital Grocery
In his article on how coronavirus has impacted digital grocery, Blake Droesch outlines the increasing acceptance US consumers have for shopping online in the context of the digital grocery sector:
The volume of respondents in a CivicScience survey purchasing their grocery essentials online increased by 23% from the first to the fourth week of March rising from 11% to 37%
In April, only a small proportion of respondents to an IRI survey purchased their grocery products digitally, due to products being unavailable in store. This indicates that people have become more accustomed to looking online to make essential purchases, rather than using digital channels as a secondary resource to fulfil requirements that cannot be met in store
A recent Red Points survey shows a huge increase in a move to purchase products online (as opposed to in store) across a range of categories, with cosmetics and personal care with the highest rise of 64.6%
The pandemic has created a healthier competitive environment, where Amazon currently holds the largest market share. Looking at the digital grocery example, Walmart has seen an all-time high in app downloads and used its brick and mortar footprint to drive online shopping through offering click and collect, while Amazon has been forced to create waiting lists to fulfil an influx in demand
The role of digital in the consumer journey has continued to grow in importance as we have traversed through the pandemic, resulting in a change in the digital competitor landscape to reduce the dominance of top online market places, as they have reached their capacity to fulfil demand and create more options for consumers to shop digitally.
How Brands Can Maintain Trust with Canada Consumers During a Crisis
Consumer relationships built on trust can be lost quickly through making the wrong decisions, especially during times of crisis. In an article by Paul Briggs published on eMarketer, there is an analysis of Canada to see just how delicate these relationships can be:
A survey carried out by eMarketer in March highlighted that nearly 75% of respondents would lose trust in brands prioritising profit over people
61% of those surveyed felt that a brand's response to the pandemic would be a key consideration in their purchase decision
While 26% shopped from new brands that have shown a more compassionate response to the crisis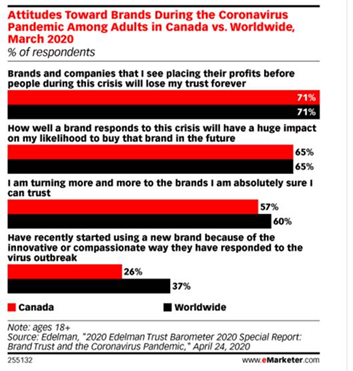 A key learning to take from this is to clearly communicate brand values that outline how companies can help consumers in their time of need in order to build strong, long term relationships to become the go to brand for the product or service they need in the future.
White House Tightens Screw on Huawei with Potential Implications for UK Exporters
The fight against 5G rampages move forward, with fiscal controls being implemented by US export officials to limit Chinese tech giant Huawei's penetration into western markets.
The US suspect Huwaei as being a vehicle for Chinese espionage and technology theft
According to the FT, US suppliers of semiconductor chips for use in Huwaei products need to apply for a licence
Geoff Blaber, an employee at technology research company CCS Insights, feels there are fears in the market that this could spark a technological cold war
The UK government face pressure from the US government to prevent Huwaei's provision of 5G in the UK
Companies involved with the development, production and support of these products will need to review their current export licences. This leads to question of whether the efforts to scale up 5G coverage will be caught in an impasse.
What Brands Need to Know Before Livestreaming in China
Livestreaming is becoming an increasingly growing trend as a result of lock down, but what learnings can be taken from the livestreaming activity carried out in China? This activity could transcend to other markets in the future to guide on the best strategy to adopt to interrupt the consumer journey to purchase through this channel.
Alibaba may be the leading livestream player, but many social media platforms have started to look at how they can gain a share in this market
Investigate how your creative will output before deciding to take advantage of livestreaming opportunities offered by channels that may already be used within your Digital Marketing mix. Louis Vuitton's debut on Little Red Book was hindered by low resolution and salesy language
Ensure full understanding of the role of livestreaming within your marketing mix and determine the long term gain it could provide
Set clear objectives – is brand engagement or increased ROI the focus of the livestreaming activity? Prada use livestreaming on platforms like Instagram Live effectively to build the customer experience
Have a clear grasp of consumer behaviour – the "See Now, Buy Now" live stream function is unlikely to be the best option for brands offering high end products
Testing is key – you won't know what works until you trial livestreaming promotional activity
The key takeaways, here, are:
Ensure brand guidelines are strictly followed
Identify where to position livestreaming in your marketing mix and sales function
The most optimal campaigns will be delivered through experiencing trial and error – test, test, test!
If you'd like to discuss any of the latest international marketing news included in this update, get in touch with our experts today. You can also tweet us @clickthrough.