Our international marketing expert, Alison Humphries, is back with another roundup of the latest news stories you need to know about. From increasing mobile focus in your marketing strategies to the launch of the first ever virtual make-up line, read more.
International Marketing News: The Ever Growing Role of Mobile in Digital Marketing and How the Biden Presidency Will Impact US and EU Trade Relations
What's new, important and interesting in the world of international marketing? This week we look at how to take advantage of mobile usage for your consumer base, Chinese economic trends that have been accelerated by COVID, L'Oréal's launch of the first ever virtual make-up range, and the impact a Biden presidency could have on US and EU trade relations.
INCREASING MOBILE FOCUS IN YOUR MARKETING STRATEGIES
eMarketer review US mobile usage to assess how the increasing time consumers spend on mobile, which has emanated from lockdown and is set to grow there from, can be reflected in companies' marketing strategies.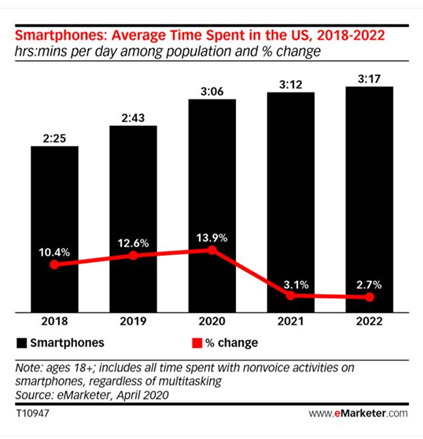 Three key elements to boost mobile performance have been identified:
Consider how your mobile channels can integrate and complement each other to deliver the strongest performance. For example, using

SMS or MMS, mobile wallet and push notifications via your app can help to move the user through the conversion funnel

Personalise your mobile promotional activity through segmenting your customer based on their demographic attributes

Ensure your mobile goals are realistic and achievable
FIVE TRENDS EMERGING FROM THE CHINESE ECONOMY POST-COVID-19
China Internet Watch discover five key findings from the latest McKinsey report covering the Chinese economy.
Digital transformation – The pandemic has forced the digitalisation of sectors traditionally requiring physical interaction with customers; for example, doctors' surgeries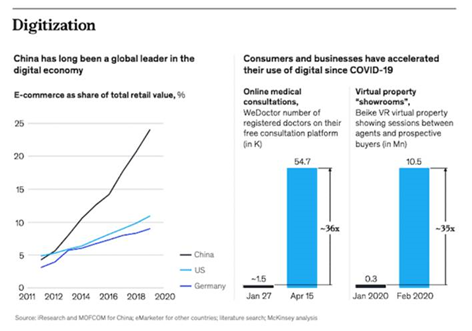 Reduction in global business operations – an AmCham China survey indicated that 20% of companies feel that COVID will drive a decrease in export from China

Uplift in concentration of competition – currently China's top decile of companies drive 90% of the economy's profit. Diversification from these businesses has been essential to maintain this position

China's affluent younger generation have matured quickly – considering how they spend their money and saving are now front of mind

Private and social sectors have increased their socio-economic contributions
L'OREAL LEAD THE WAY WITH THE LAUNCH OF THEIR NEW VIRTUAL MAKEUP LINE
internetretailing.net reveal the secret to a radiant complexion on your Zooms/Teams/Hangouts/Duos – L'Oréal's new virtual makeup range!
The new digital make-up line facilitates the trial of new looks on Google Duo, Snapchat and Instagram, using AR technology. This is a post-lockdown innovation to fill the void of testing beauty products.
Creative agency, Virtue, developed "Signature Faces" to co-ordinate with Snapchat's "Snap Camera", facilitating the virtual use of L'Oréal's new range on Snapchat and Instagram calls. "Exclusive look" is due for release on Google Duo, becoming the first beauty product ever to be used on Google video.
These products complement younger "Gen Z" consumers' desire to enhance their appearance when socialising in video calls, thus keeping them engaged with beauty brands through the employment of digital technology to allow people to determine their beauty styles online.
COULD THE FORTHCOMING BIDEN PRESIDENCY EASE EU-US TARIFF TENSIONS?
The Institute of Export & International Trade review the impact the US president-elect Joe Biden could have on the current EU-US trade tensions. French trade minister, Franck Riester, sought Biden's support in removing the US blockage of the appointment of the next Director General of the World Trade Organisation.
This aligns with the desire to prevent the EU imposition of $4 billion of tariffs on the US in the ongoing Airbus-Boeing dispute, with retaliation of $7 billion of tariffs on the EU from the US, which could affect tractors, ketchup and orange juice.
German economy minister, Peter Altmaier, hopes the Biden administration will drive world trade relations to become more rules-based and multilateral, and less protectionist. For example, resolving trading issues such as a reciprocal tariff on whiskey of 25%, which has resulted in a reduction in EU exports of Scotch whiskey of 34% and a 41% drop in US whiskey exports.
Initial warnings from politics.co.uk indicate that while a Biden presidency could yield the return of a trade diplomacy that the UK is more at ease with, fundamental US interests are unlikely to change.
FIVE REASONS TO CONSIDER USING A STANDARDISED GLOBAL URL STRUCTURE
Search Engine Journal debate the advantages of using a standardised global URL structure as a best practice for multi market websites.
Simplified Hreflang Element Implementation – differences in the site structures or folder names results in the requirement for additional logic or manual implementation of hreflang elements.

Ease of segmenting data – lack of consistency in the structure of the URL for the same product across different sites makes it more difficult to compare product performance across different markets.

Easier content management – sites with a parent-child content generation set up in the CMS often find that sites and microsites for international markets, do not align with the main sites' standards. The compliance of all sites to a uniform URL structure will help to keep the risk of orphan or non-aligned pages on international sites to a minimum.

Simpler process for managing web development – a consistent URL structure makes global site update deployments simpler in the migration from staging to production.

Ease of localisation – international teams can use translation management tools to flag changes or updates to URLs that will need to be implemented across all relevant multi-language sites
If you would like to discuss any of the stories discussed in this roundup, get in touch with our international marketing experts today.