What's new in the world of international marketing? From social media usage plateauing post-pandemic to how Chinese beauty retail has changed since COVID-19, read more.
International Marketing News: WhatsApp Unveils Payments Services, Walmart and Shopify Form an Alliance and US Social Media Platform Usage Changes Post-Pandemic
What's new, important and interesting in international marketing? This week we look at the recovery the Chinese retail sector could see post lockdown, the importance of moving towards digitalisation exemplified by the air cargo industry and the opportunities offered by a more favourable trade agreement with Australia and New Zealand.
WHATSAPP UNVEILS PAYMENTS SERVICES, STARTING IN BRAZIL
WhatsApp users in Brazil are the lucky few who get to use WhatsApp payments for the first time, reports Tech Crunch. WhatsApp owner, Facebook, integrated Facebook Pay with the app to enable users to send and receive payments.
The service is free for users, but costs businesses a 3.99% processing fee. It is used by linking Visa or Mastercard credit or debit cards, as well as local partners such as Banco do Brasil, Nubank and Sicredi. WhatsApp have set up a model that easily facilitates the integration of more partners in the future.
Surprisingly the service was not rolled out in India, WhatsApp's top market where testing began. This testing was halted due to being caught in a regulatory battle. Brazil has the second highest volume of users at 120 million.
Payments were the next logical step after the launch of WhatsApp Business, which allows SMBs to post product catalogues and stock links, as people will now be able to transact through the app too. The service also enables WhatsApp and Facebook to generate revenue, as advertising through WhatsApp is not possible.
A key part of the purchase process in Brazil is to quickly send questions to any one of the over 10 million small and micro businesses operating in Brazil, so being able to send payments too will facilitate the ease of driving sales.
Subsequent markets for launch have not yet been announced due to the vast array of payment methods used in each market. However, some markets naturally lend themselves well to remittances, where people send money to friends and family often via their phone, which links well to people communicating via messaging apps.
The examples of payments in Brazil highlight that Facebook are considering payments via remittances: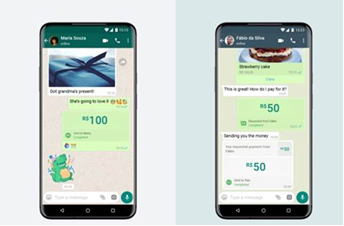 A WhatsApp spokesperson declined to comment on future plans. However, as Facebook pay is now live in the US and the UK, it would be logical to guess that these markets may be next.
THE WALMART-SHOPIFY ALLIANCE INCREASES COMPETITION FOR AMAZON
Modern Retail discover how the Walmart-Shopify alliance will enable them to take a more competitive stance against Amazon.
This alliance facilitates the ease of listing products on Walmart's online marketplace without the requirement of external tools. The aim is to help third party sellers to expand through a marketplace widely trusted by consumers.
Since launching in 2009, Walmart has gradually expanded through growing the volume of SKUs available through the channel from 1 million to over 75 million. They have now diversified their growth plans by increasing the number of merchants and SKUs traded through the platform. Shopify's objective for forming the alliance is to demonstrate that it can support businesses of all sizes in order to increase the breadth of its consumer base through facilitating the sale of goods through their websites as well as through online market places.
Walmart's e-commerce market share is still much lower than Amazon's 5.8% vs. 38% reported by eMarketer. However, online sales have grown by 44.2% YoY highlighting the opportunity for wider market share coverage.
Currently the Shopify partnerships is open to only 1,200 merchants, who are permitted to join by invite only. The plan is to grow this further.
Walmart's growth has been restricted by its tools not being user friendly. However, the Shopify partnership seeks to rectify this through uploading SKUs and managing inventory directly from Shopify. Many businesses use Shopify as their back end, which offers an immediate incentive to test online market places through Walmart as a result of the alliance.
Shopify seeks to grow through competing with Amazon through offering marketplace solutions, as it has also recently integrated with Facebook Shops.
Walmart and Shopify are seeking to build a solution that offers higher calibre of seller to enhance the consumer experience when shopping on the market place.
US ADULTS' USAGE OF SOCIAL MEDIA PLATFORMS LOOKS SET TO PLATEAU POST-PANDEMIC
eMarketer reported a boom in social media platform usage by US consumers over March and April, with usage rising by up to 51% dependent upon the research source. This trend continued into May, offering an opportunity to scale up paid and organic social activity. However, as daily routines start to normalise and people are no longer spending most of their time at home, the rise in usage could start to plateau and decline as we move into 2021.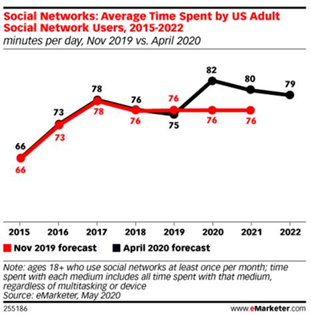 A GlobalWebIndex poll carried out in April 2020 indicated that only 9% of the respondents anticipate spending more time on social media platforms post pandemic and less than 5% expect to spend more time on messaging platforms.
Only 17% of global respondents believe they will continue to increase their social media usage and 19% for messaging platforms.
Conversely, Morning Consult's survey highlighted that only 25% of respondents felt their social media usage would increase while 51% believed it would stay the same and 21% thought it would decrease.
Facebook CEO, Mark Zuckerberg, announced that he expected the spike in usage to decline in the coming months on the Q1 2020 earnings conference call.
During the Q1 2020 earnings call, Snaps' CEO, Evan Spiegel, outlined that he felt the usage of Snap products would start to decline, but couldn't specifically define how this would look.
Twitter stated that the Q1 growth had started to stabilise as people's routines started to change.
CONTENTIOUS TRADE DISPUTES BETWEEN CHINA, EUROPE AND THE US CONTINUE
The Institute of Trade and International Export outline the state of play regarding trade agreements between US, China and Europe. The US, Europe and China have ceased communications on digital taxes and EU access to China is reported to be "lagging". In the meantime the White House hotly denies that current deals are off the table.
Let's move on to the latest updates on each relationship:
US – China
China's miscommunications regarding the initial outbreak of COVID-19 strained relations with the US. On 22nd June Navarro announced that the Phase 1 deal was "over", but then u-turned after President Trump Tweeted his denial of this.
European Union-US
Friction on EU and US trade agreements intensified since the US proposed retaliatory tariffs on imports of pork, single-malt Scottish whisky, biscuits, cheese and other dairy products due to disputes over Airbus subsidies.
The US refused to compromise on a new global tax framework for technology companies and took a retaliatory stance if European governments (UK included) went ahead with their proposals.
France, Spain, the UK and Italy continue to campaign for new taxation on companies like Apple, Facebook and Google with the argument that they consistently make high profits with minimal contributions.
China-European Union
The EU would like greater access to the Chinese market, but China is becomingly increasingly protective over its domestic economy following COVID-19 and is non-committal to current talks.
The UK is unsettled by the Chinese influence over Hong Kong and is reconsidering the deal with Huawei to build its 5G infrastructure.
The WTO is acting as the mediator
The WTO continuously finds itself in the middle in its quest to maintain a rules-based system in global trade.
The US announced that the WTO has not handled what it perceives to be China's overreach in global trade and continues to avoid committing to appointments with WTO's critical Appellate Body, which rules on trade disputes.
Paul Blustein, a senior fellow at the Centre for International Governance Innovation believes that the Trump administration has an increasingly more negative impact on rules based international trade.
HOW HAS CHINESE BEAUTY RETAIL CHANGED SINCE COVID-19?
Jing outline how consumer trends for the beauty industry have changed since COVID-19 hit in January. So, what can we learn from their findings and how can this transcend across other industry sectors?
Naturally January and February sales were low, but March saw a rebound. McKinsey warned that the reopening of the retail sector could be slow amidst reports of in store "revenge spend".
Brands, who moved beauty testing to a virtual world through smart gadgets and disruptive technology saw a bounce back in sales post lock down.
Equally keeping up to date and acting on changes in consumer demand facilitated success. Brands actively promoting eye make-up products saw a surge in sales as people now wearing masks in public places sought to purchase beauty products that would complement this requirement.
Skincare retailers predicting the impact repeated hand washing and usage of hand sanitiser would have on their customers' skin were well positioned to grow sales in the changing dynamics of the post lock down world.
"Buy Chinese" was an increasingly more influential motivation for purchase pre-COVID-19, which exploded post pandemic as hostility towards China regarding the spread of the virus grew, but also due to the consumer focus local brands have taken; through their readiness to test new technologies. For example, using free AR tools like Chinese beauty tech company's tool, Meitu, to create virtual makeup looks within a minute.
James Huang, Payoneer's regional vice president, feels that while this is a once in a life time disruption to trade, it has created life changing consumer preferences. Outlining that brands need to be aware of how these impact on the sectors they operate in to meet the changing expectations of consumers that emanate from these preferences.
Are you looking to reach into new markets? Discover how we can help you to secure the biggest opportunities by getting in touch with us today.