Luke started with ClickThrough when he was at college, doing work experience in the agency. He went on to do an apprenticeship and is now a UX Designer! Learn more about Luke.
Luke Pritchard is a UX & Conversion Designer at ClickThrough Marketing. Luke first joined us while doing work experience during college, before starting full-time at ClickThrough as a UX Design Apprentice. He now uses his experience as a former apprentice to help junior team members get the most of their courses.
Time with ClickThrough: 4 years, 7 months (including 9 months of work experience)
Joined As: My first title was UX Design Apprentice but I'd been doing work experience for 9 months before this!
Current Role: UX Designer
Total Roles at ClickThrough: 3 officially, plus work experience
Educating Luke
My story with ClickThrough is quite unique. There are a few of us that joined as apprentices and have grown with the company, but I was working with ClickThrough even before that, as I used to come in on Monday afternoons to do work experience while I was at college! I knew Al Rowe through a family friend, so the opportunity came that way, then as it was going so well, we decided to extend it to an apprenticeship which eventually led me to where I am now!
My college course was graphics and illustration, but I had an itch to do web design, so work experience here was my first insight really. The first site I ever designed was actually my main project at college and it totally tied into everything I was learning here too. It cemented that I really wanted to work on websites. I like the structure behind web design, taking something complicated, making it easy to digest, and comparing the difference – it's really rewarding. As I grew into it the thing that interested me the most was the revenue it can generate – making really small changes can make a huge difference to a business and I think that's what intrigues me and made me interested in the UX side of things too.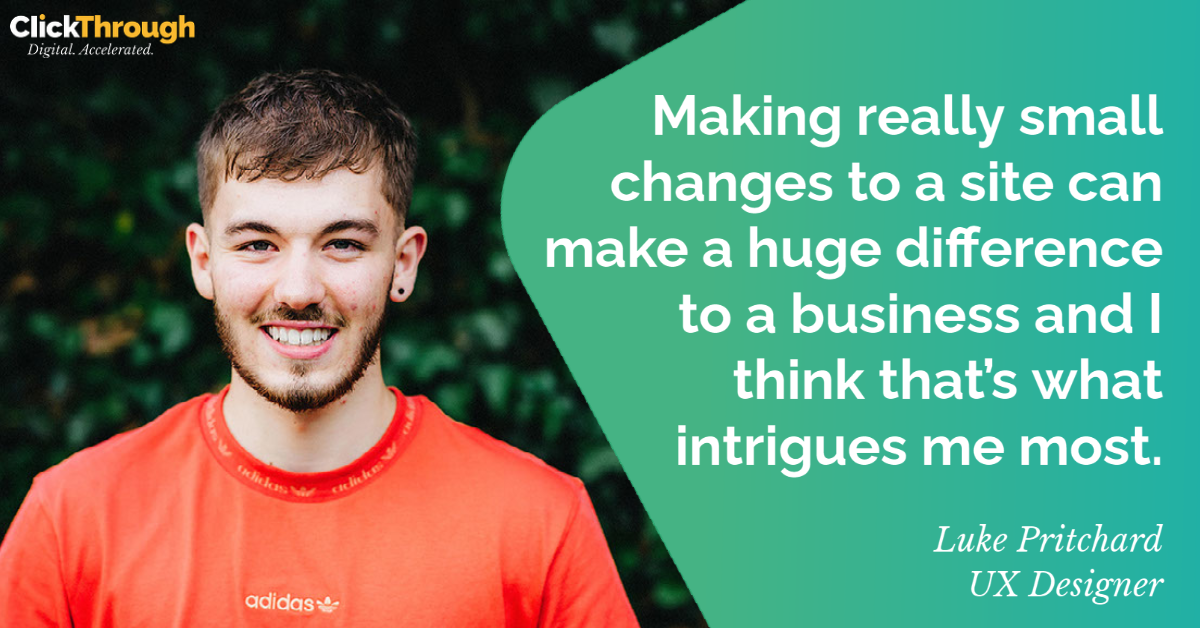 Though I was torn between character design and web design, it was the data and thought process that comes with web design that I've ended up really clicking with. I've always enjoyed problem solving, from when I was young, and when you're doing web design you have to have that analytical side of your brain in gear too, as well as the creative bit. So this combination of interests just leant itself really well to web design.
How having a great work ethic helped overcome big challenges
I think because I'd tried hard to learn and get involved on my work experience, I'd made a big impression which resulted in me being offered an apprenticeship. It was always on my radar that I wanted to do one, but I wasn't sure if that would be here, or somewhere else maybe. But I must have managed to impress and get my foot in the door which was great! I'd also already moulded into the ways of working and knew how ClickThrough functioned before I even began as an employee, which was great to have. I approached my apprenticeship with the attitude of it being finite, and not necessarily expecting to stay on afterwards, so I learnt as much as possible and got what I could out of it. When you're first starting out, I think taking on as much as you can to get a broad picture of how a business or industry work is the best way to learn. And ask questions! This is the biggest thing, because if you're afraid to ask a question you're just not going to get anywhere. I asked questions all the time - I just wanted to understand why I was doing something instead of just doing it because I was told to.
My apprenticeship was great, though at the end my provider actually went into liquidation which was not ideal at all! But before that had happened, I'd already been offered a job here which was massively reassuring and a huge confidence boost. They'd obviously recognised I was progressing and learning so I didn't necessarily have to have that qualification to show it because they'd seen it first-hand. I still haven't got that qualification, but I have all the work I put in to show for it, as well as everything I have achieved since, so it doesn't really matter!
Building confidence and belief in my skills
The biggest changes for me from being an apprentice, then Junior UX Designer and now a UX Designer were managing clients and managing strategy. I act as the lead on a lot of our clients' strategies now, but as a junior I more or less dealt with what the account leads wanted me to do, and just took direction. I didn't understand the broader strategy piece at that point, which is what I had to work on, and ClickThrough helped me improve on, to progress.
Another big thing my team supported me with was communicating with clients and being confident enough to talk on calls. When I first started, I wasn't good at speaking to people, clients mainly, either over the phone or Zoom or face to face. I could never get what I wanted to say across, and it was an area I needed to improve in to be a leader on accounts. It was Matt and Rich who helped me with this – they sat in on calls with me and helped me go over what I'd say and then give me feedback like "just pause, and go back to talking about the strategy". They drilled it into me that I am the expert, they're paying for my skills and expertise so trust what I'm saying, and that was what switched my approach and confidence in the end! I had support across the whole team, which was perfect.
Becoming a mentor & helping new apprentices
This year, I've taken on managing and supporting an apprentice myself, and I'm using what I learnt in my experiences to help him out. Like the team helped me, the biggest thing I'm working with him on is around presenting to clients and being engaged and interesting on calls with people. I'm at a point where I really enjoy building a rapport with people I work with, whether through calls or emails, so I'm trying to pass that habit along, and pass down the same things that I was told – just to relax and not worry about saying the wrong thing because you have that knowledge people want to learn from!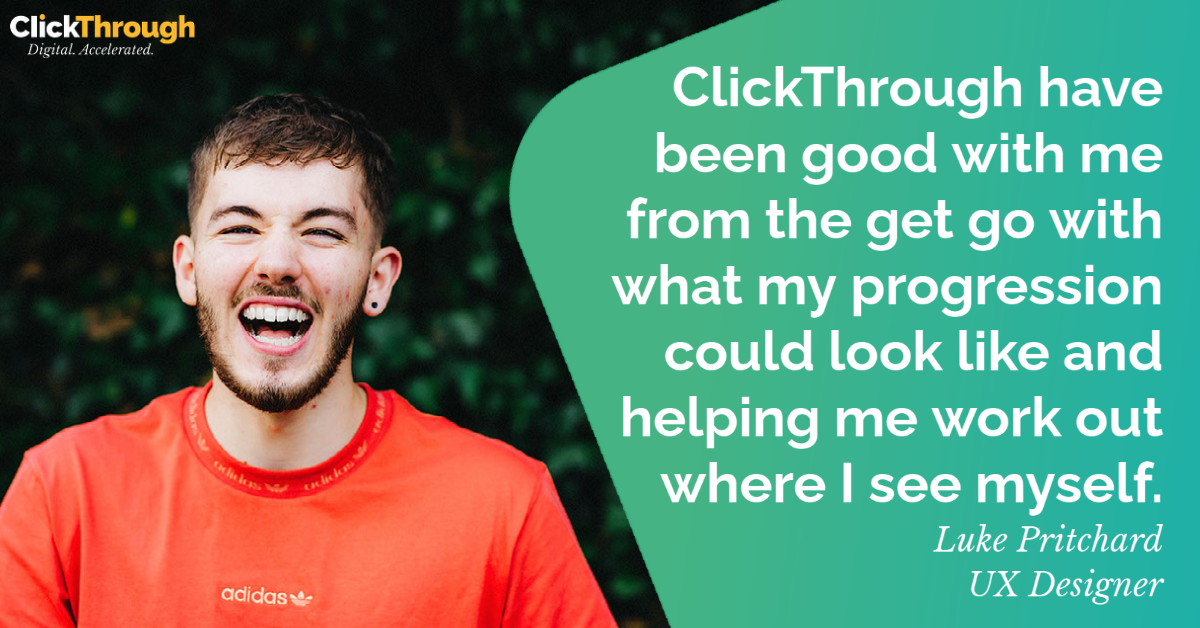 At the point I am right now, I'm deciding whether to go down the leadership, people management route, or become more of an expert and specialist in my area. I don't want to stop doing web design, but I'm looking after people and I think specialising in what you do still benefits the people under you as you're developing all this technical knowledge you can give them. ClickThrough have been good with me from the get go with what my progression could look like and helping me work out where I see myself. I don't think there's anything stopping me from saying what I want, which is great.
Sitting at the centre of a conversion-centric agency
As an agency, we're becoming more conversion centric now, meaning that CRO is going to be embedded in everything we do for clients. It's an interesting time for our team anyway but, initially, Web Dev and CRO sat on two different teams here and they merged the two departments together after realising that the interests of both teams aligned in terms of what we wanted to achieve for clients - that's where I started to pick up more of the CRO piece and look at changes we can make to existing sites instead of building from the ground up. So, we've actually already gone through the process of making our team conversion centric, and now it'll be everyone else's turn.
For CRO and Web Dev to have historically been an add on or a side piece to other work we were doing for a client, to becoming more central to everything is a really big and exciting change for us as a team. To be able to work with bigger brands and being integrated with channels like SEO or PPC gives us the potential to work on bigger things, make more of an impact, and grow our team. We've been pushing conversion centric marketing for ages and it feels like it's really been taken on board and recognised, which is amazing.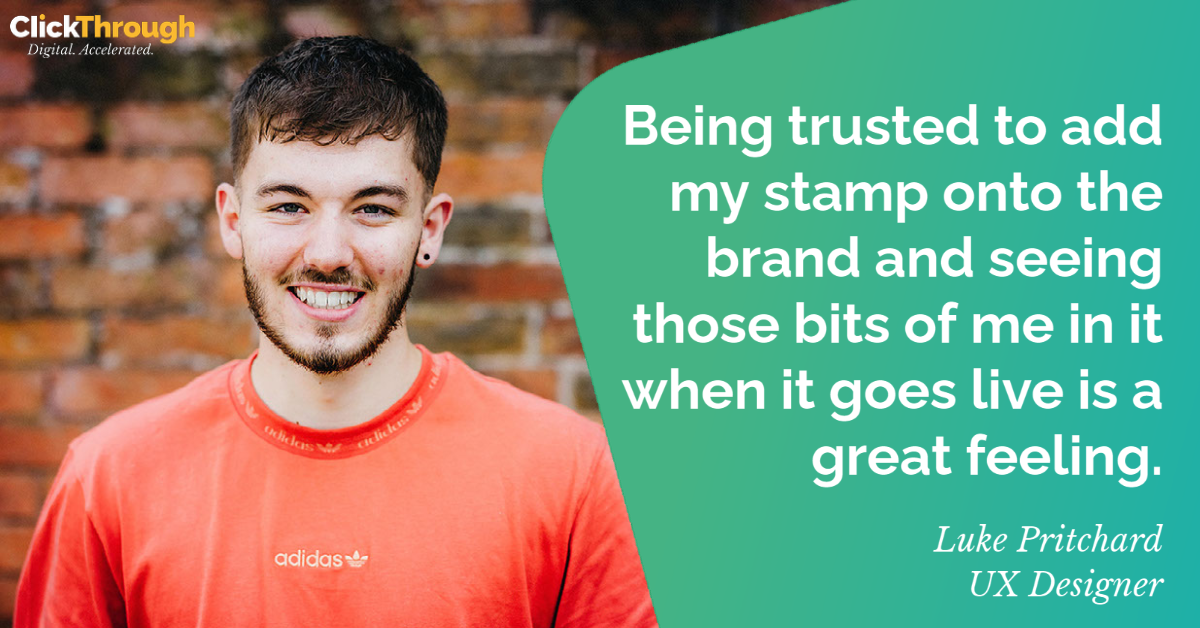 Something exciting I'm specifically working on at the moment is ClickThrough's new website. My job revolves around improving other brands sites, making sure they're in good positions, and increasing their revenue, but actually being able to do all that for ClickThrough, and be impacting our own performance is really good. Being able and trusted to add my stamp onto the brand and seeing those bits of me in it when it goes live is a great feeling. It's a big confidence boost, having that trust put in me and having that recognition from people really high up in the business that I'm doing a good job.
Find out more about conversion rate optimisation, and how we can help improve your site's user experience.