Olivia Green is one of ClickThrough's Paid Social Specialists. Find out more about Olivia's journey into marketing and how ClickThrough helped achieve her goals.
Olivia Green is one of ClickThrough's Paid Social Specialist. Liv joined us 18 months ago after a gap year led her to the world of marketing. Liv has quickly progressed from Paid Social Executive to Paid Social Specialist – but she still has big dreams for her future here at ClickThrough.
Time with ClickThrough: 1 year, 7 months
Joined As: Paid Social Executive
Current Role: Paid Social Specialist
Total Roles at ClickThrough: 2
Getting into marketing
When I decided I wanted to go into digital marketing, I honestly didn't realise how many different areas there were, I thought it was all just marketing. Social media was always an interest for me, you can usually find me scrolling through Facebook, Instagram or TikTok in my spare time, so that seemed like the best area for me to fall into. I worked in the paid social team at another agency before ClickThrough, but it wasn't until I came here that I realised how different agencies could work. Working at a large agency on a small amount of clients meant a lot of what I knew was client specific, when I moved to ClickThrough I had much more general Paid Social knowledge to learn and responsibilities to take on. Luckily my manager here at ClickThrough has been more than I could ever ask for, she has helped guide me through my journey here and helped me to become the paid social expert I am now.
The great thing with ClickThrough is that, where possible, the training is moulded around the person rather than the role – they're used to being flexible with different learning styles and levels of experience, so try to adapt to each member of staff's training needs rather than just using a sheet of generic tick boxes. It also helps that the company is full of experts in their own fields - no matter what question I had, someone was always willing to take the time to answer it. I've never felt like I'm being pushed too far and unable to keep up, but I've never been held back, when I've wanted to learn something new that I knew would help me grow in my role. I've been offered to do qualifications too, and this isn't a now or never type offer, it's a whenever you're ready option.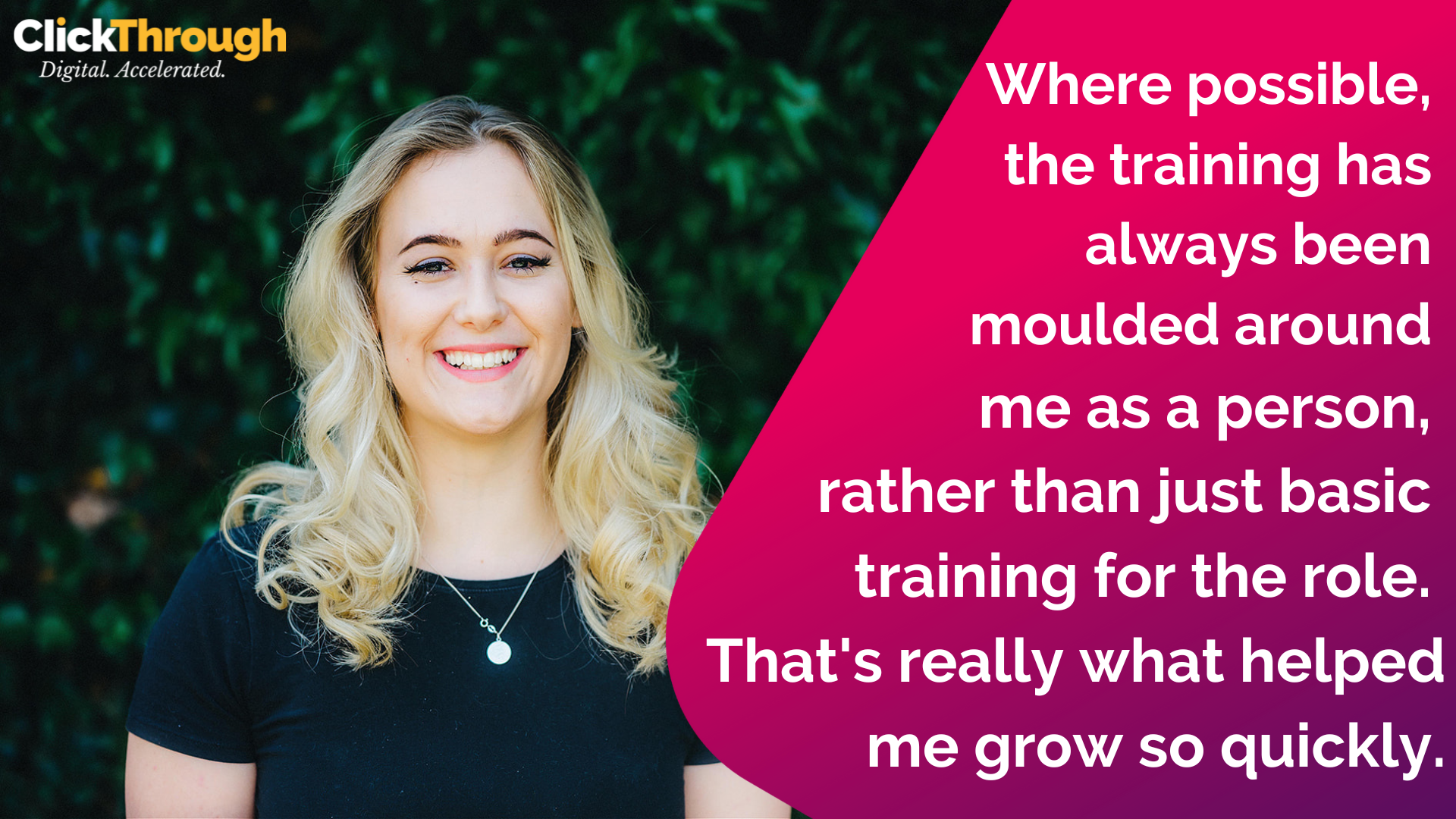 Looking after my team
Since becoming Paid Social Specialist I've also started doing more for my team's mental wellbeing and ensuring we all have a space to talk. I took over the Executive's Forum, where all the executives in the team can talk about the things they are proud of, issues they are having or just anything they need feedback or advice on. I also started a monthly Pecha Kucha, where we all take turns to run a session and talk about something in the marketing world that we are loving or looking forward to. Having this allows each person their time to talk about something they are enjoying and gives us the chance to talk about it as a team. I also co-host The Assorted Digital Ramblings Podcast with our Managing Director, Chris Roberts, which I absolutely love doing and it gives guests from across the agency a platform to talk about something they're passionate about. Starting something new is nerve wracking for most of us but it just feels like I'm having a chat with friends, then I remember we are being recorded! The relationship I have with my colleagues is second to none, I've never known anything like it. In April, I had the honour of attending the 'UK Paid Media Awards' show. I was nominated for the 'Rising Star' award and came away from the award show immensely proud after being shortlisted into the final.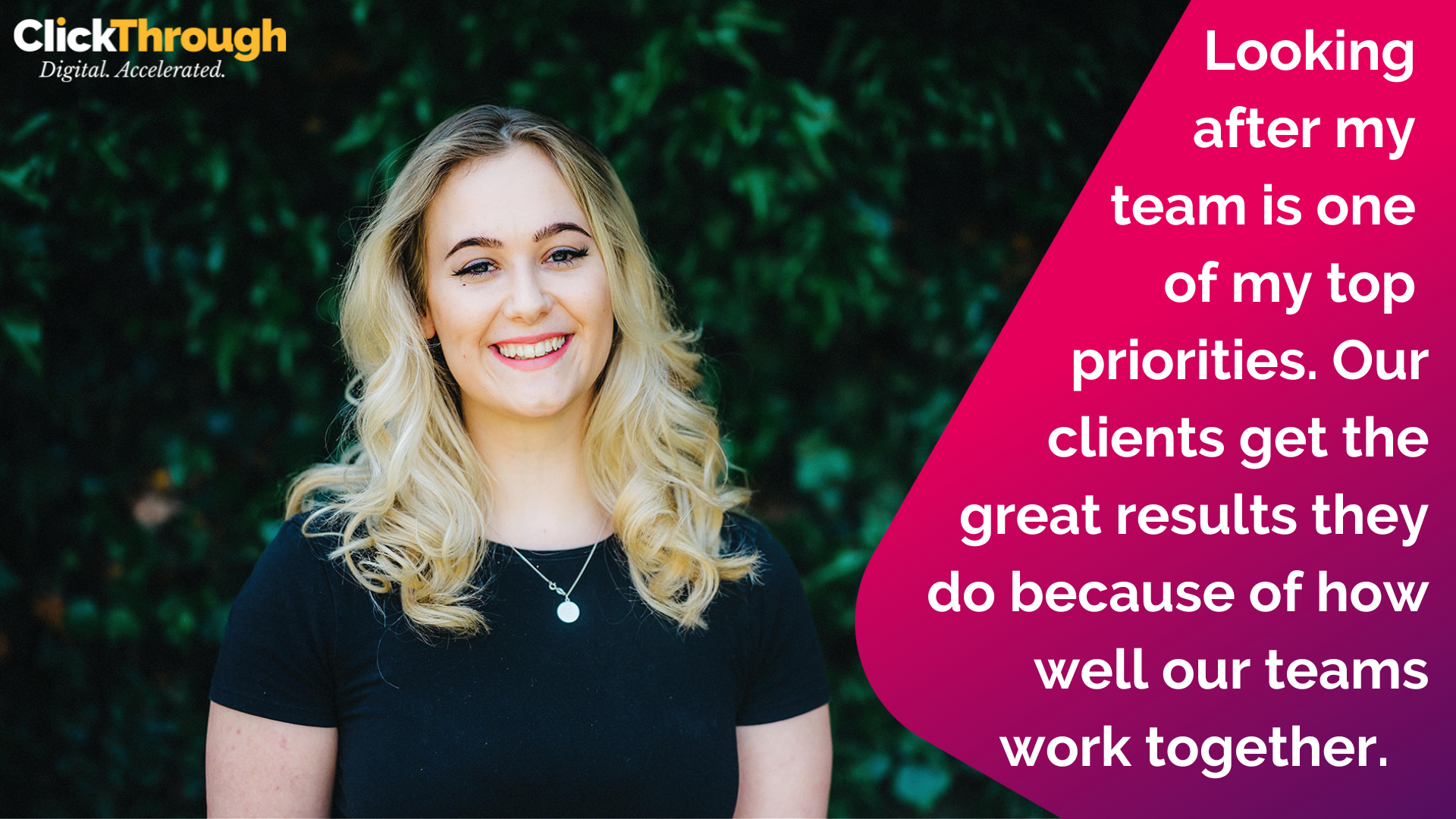 Stepping into new roles
My confidence has definitely helped me grow while here, along with my determination and motivation. Doing the great work I have has meant I've been able to go to award shows, a podcast show, and multiple different events that I never thought I would have the opportunity to attend. I'm also hoping to attend more external events in the future and continue progressing within the company. Short term, Senior Paid Social Specialist is my next goal however in the future I'd love to go even further. I'm not sure whether I'd go down the product or people management route yet, I think that will be a decision for when I get there but I definitely have high hopes for my future here. ClickThrough have always been so open with progression, which I feel like you don't get at other agencies, and I know they will continue helping me develop as much as I want to.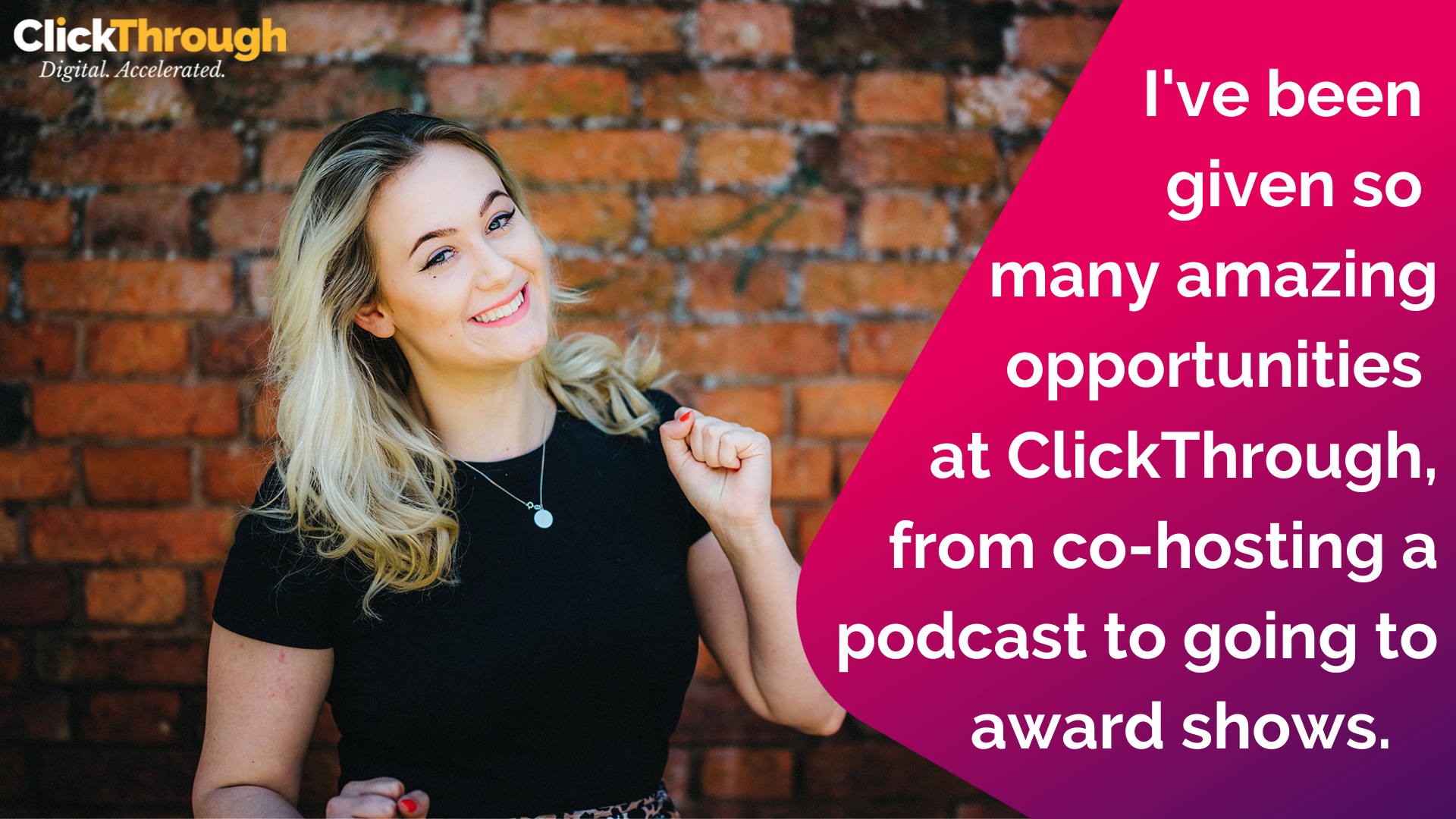 When I started at ClickThrough 18 months ago as a Paid Social Executive, I couldn't imagine I'd be the fountain of knowledge I am now. The improvement in my work, my results and my expertise is outstanding. I couldn't have done it without the support I've had here, from every single person I've had the pleasure of working with. The friendliness, the training, the support, it's all part of the culture of the company and I can't imagine working in a company that doesn't have the same values now.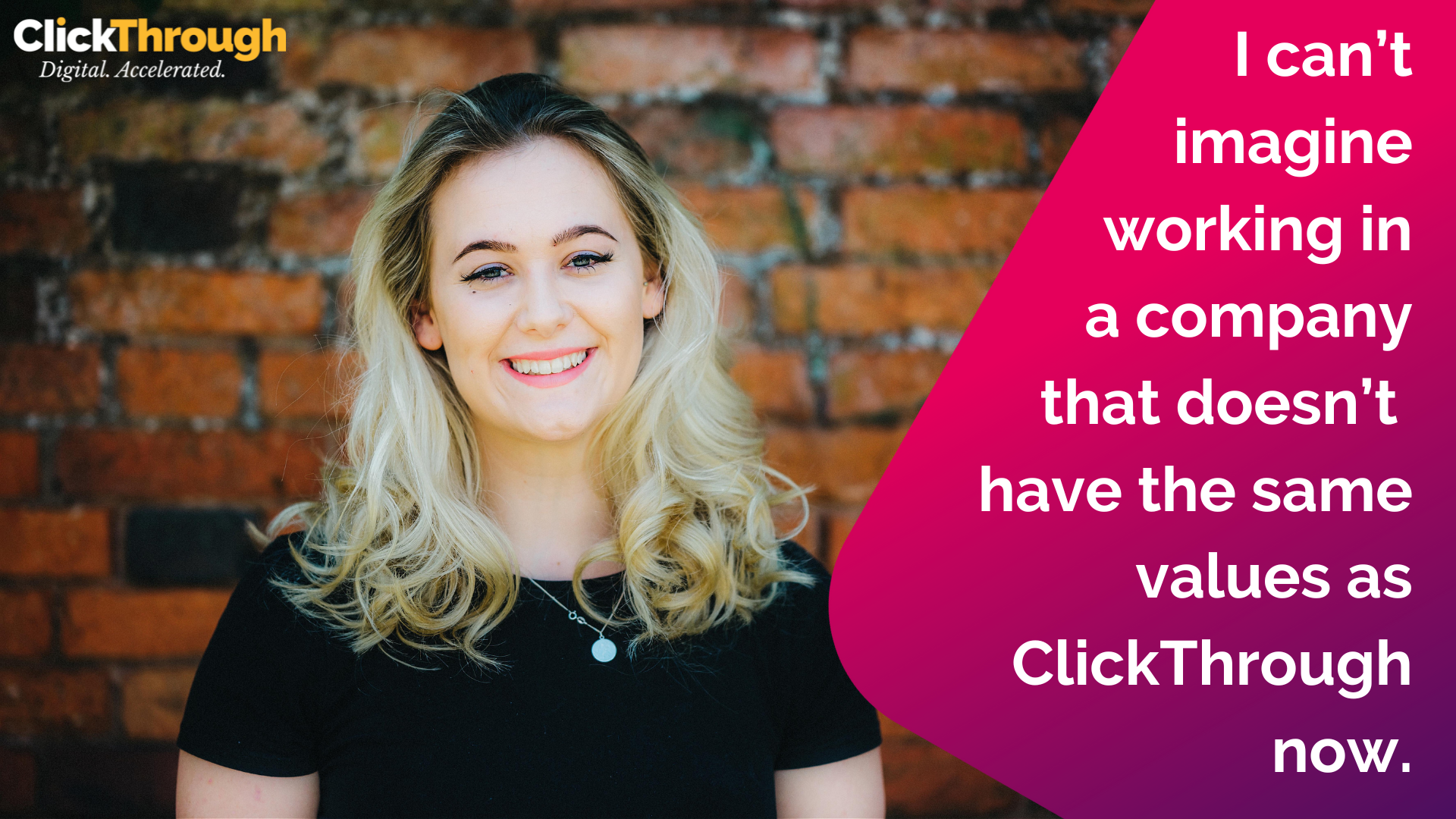 You can listen to Liv chatting all things marketing to Chris Roberts and a guest every month on The Assorted Digital Ramblings Podcast.