Discover the latest SEO news in our latest update. From Google SERP fluctuations to how to succeed in Google Discover, read more.

SEO News: COVID-19 and Google SERP Fluctuations
What are the latest updates in the world of SEO? In this news update I'll be talking you through Google ranking volatility as a result of the Coronavirus pandemic, a new Google Webmaster video series and how to succeed in Google Discover.
The Effect of COVID-19: 16 Days of Rankings Volatility
On the 7th of April 2020, Search Engine England published a live video stream of SEO experts discussing the recent volatility of Google search results due to the Coronavirus pandemic. The panel shared data from tools such as SEMRush, RankRanger and Moz, highlighting some interesting movements in SERPs.
Mordy Oberstein (@mordyoberstein), CMO at RankRanger, references Google SERP fluctuations reported by RankRanger's algorithm monitoring service, commenting on how "from March 15 through to April 3, you're talking like 16 days of volatility — that hasn't happened these last few years" (Search Engine England). The RankRanger algorithm monitoring service measures daily search result fluctuations for 10,000+ domains and keywords.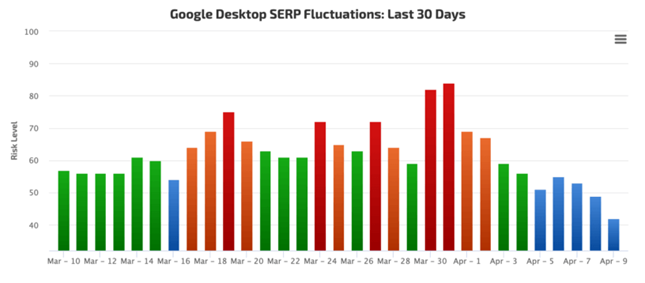 Source: RankRanger's desktop search result fluctuations (March 10th to April 9th)
The Coronavirus outbreak has caused almost every industry to re-evaluate their priorities, and this includes search engines needing to adapt, too. As Olga Andrienko (@olgandrienko), Head of Global Marketing at SEMRush, points out:
"Google has different algorithms for every industry and seeing changes across industries meant for us that the complete and drastic changes in search behaviour must have caused the algorithm to understand and behave differently and give different results or update the SERPs" (Search Engine England).
Alongside discussion of Google SERP fluctuation, Marie Haynes (@marie_haynes) also noted how Google has expanded its COVID-19 search experience since February. During the month of March, new features were added to coronavirus search results, including a "help and information" box, and a COVID-19 alert sidebar and statistics panel. These are manual updates that Google has made to search results, but they do not have any impact on the widespread volatility:
"I don't think they've written a specific algorithm for 'here's what we do because of the coronavirus'; they're adapting to how the world changes their searches…the trick for us now is in trying to interpret what's happening." – Marie Haynes (Search Engine England).
Have you seen significant fluctuation of your business' organic search terms? Let us know by tweeting us @clickthrough. You can also check out our blog on how the Coronavirus has affected the way consumers are searching.
Google Launches New Video Series to Replace In-Person Conferences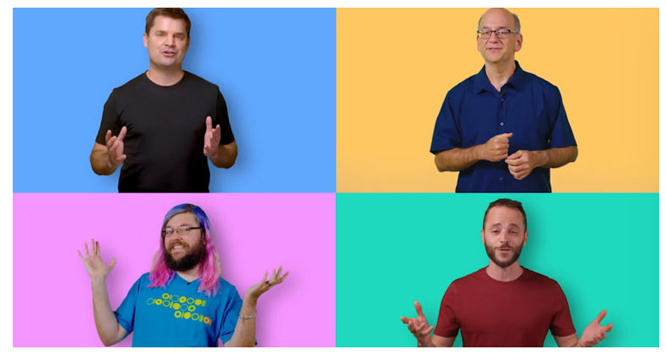 In a new Google video series titled 'Webmaster Conference Lighting Talks', several Google advocates are coming together to give presentations on topics that would typically be discussed at a Google Webmaster Conference.
Presenters include:
Martin Splitt – Google Developer Advocate
Daniel Waisberg – Google Search Advocate
John Mueller – Google Search Advocate
John Brown – Publisher Policy Outreach Lead
These discussions are designed to be short talks packed with information, tips and tricks, which will be uploaded onto the Google Webmasters YouTube channel where they can be viewed at any time. Example topics include links, JavaScript, SEO, https, structured data, Google Search Console and Google monetized policies.
How to Increase Visibility of Google Popular Products
In January 2020, Google debuted its Popular Products section in mobile organic search results (in India and America) to assert itself as a product search destination. With the popularity of Amazon growing by the day meaning more competition, Google is adding more product visibility features to its search results pages.
So, what exactly is Popular Products? In short, it's a mobile-only showcase of product listings that appear for search queries, such as "ladies winter jackets". Consumers can click on a Google hosted product page to learn more, which provides them with product ratings and reviews, as well as an option to "browse similar products". Clicking on a store link takes the user to the retailer's website, where they can complete the purchase. At the moment, the Popular Products is for apparel and fashion products only.
And what does this mean for optimisation? There are a number of considerations that may increase your likelihood of appearing in the Popular Products section:
Product titles. Ensure that your product title is keyword rich.
Product reviews. For generic searches, reviews are featured very heavily in this format.
Pricing. Setting a competitive price may help to increase impressions and clickthrough rates, particularly for brands competing with their own resellers.
Options. Having additional options (such as different colours) can help set you apart, or at least keep you on a level footing with your competitors.
How to Succeed in Google Discover
Google Discover is a personalised content feed that aims to provide relevant content to users. According to the product announcement by Google, there are two primary mechanisms that determine what content is displayed in Google Discover:
Google Discover has been posited as the latest development in "queryless search", where an understanding of the user is central. Thus, Google Discover takes into consideration a user's:
Search history
Browser history
App activity
Location (depending on privacy settings)
Google then uses this information to identify and display content that it thinks is relevant to you, noting them as "interests".
To gain a deeper understanding of Google Discover interests, Abby Hamilton (@abbynhamilton), SEO Associate Manager at Merkle, looked at 700 example interests provided by the SEO community. While she acknowledges that this is a relatively small sample size, there were some notable observations:
Sports and entertainment were most prevalent
It is largely focused on hobbies and activities
Brands have a strong presence
SEO has its own category
As part of this research, it was also found that fresh content has a higher chance of appearing in Google Discover, but some evergreen pieces can drive long-term traffic, too. What's more is that for marketers, there are some simple steps that can be taken to succeed in Discover:
Ensure pages are mobile-friendly.
Focus content around entities that are meaningful to their brand and their target audience.
Create content that is interesting, relevant, and useful to their most passionate users.
Include meaningful visual content (i.e., high-quality images and videos).
What do you think? Should Google be accessing user information to provide relevant content? Tweet us your thoughts @clickthrough.
If you'd like to discuss any of the latest SEO news included in this update, get in touch with our SEO experts today. You can also tweet me @tommy_iv.