Our Group Marketing Director John Newton talks us through how the Coronavirus outbreak has affected consumer search - from gardening to health, finance and more.
How has Coronavirus affected the way consumers are searching?
With the outbreak of Coronavirus across the United Kingdom, it's no surprise that the way British citizens are searching is changing to reflect their current circumstances. When it comes to the impact the pandemic is having on British business, few sectors have remained unscathed - but how exactly are Google searches changing during this time? And have certain industries been affected more so than others?
Last week, the research company Kantar updated their database of Google searches and search volumes to include UK data for March 2020, which offers a great opportunity to see how activity has changed over the last twelve months. Let's compare the latest data to March 2019 and see what it can tell us about how consumers are responding to COVID-19.
How has Coronavirus affected the Travel industry?
So, what are the major differences we can see when it comes to the travel industry?
The keywords with the highest search volume growth are 'EasyJet' and 'Ryanair'- 'Ryanair' with a 35% growth year-on-year (March 2020 vs March 2019), and 'EasyJet' 26.4% up year-on-year. Search volume for the term 'Skyscanner' is also up by 13.5%, along with 'Airbnb' seeing an increase of 31% and 'BA' seeing an increase of 16.4%.
One might hazard a guess that the reason why airline-related keywords are seeing growth is because people are searching for contact details to cancel flights they no longer require. Curiously, the phrase 'Thomas Cook' has also increased by 21.3%, which is unusual given that the brand effectively no longer exists.
So, what about declines? Unsurprisingly 'weather in Tenerife' has shown a considerable drop to 25.7%, as has 'shows in London', which sees a 31.3% decline. With most of public life coming to a standstill and consumers being urged to stay at home, the decrease in search volume for these terms is likely due to would-be tourists cooling their heels at home instead.
Similarly, the keyword 'BA executive club' has seen a 14.5% decline year-on-year, which likely reflects the huge reduction of business travel since the COVID-19 outbreak. With travel restrictions currently in place to stop the spread of the virus, it's no surprise that search volume for terms such as 'Australia visa' and 'India visa' has also decreased.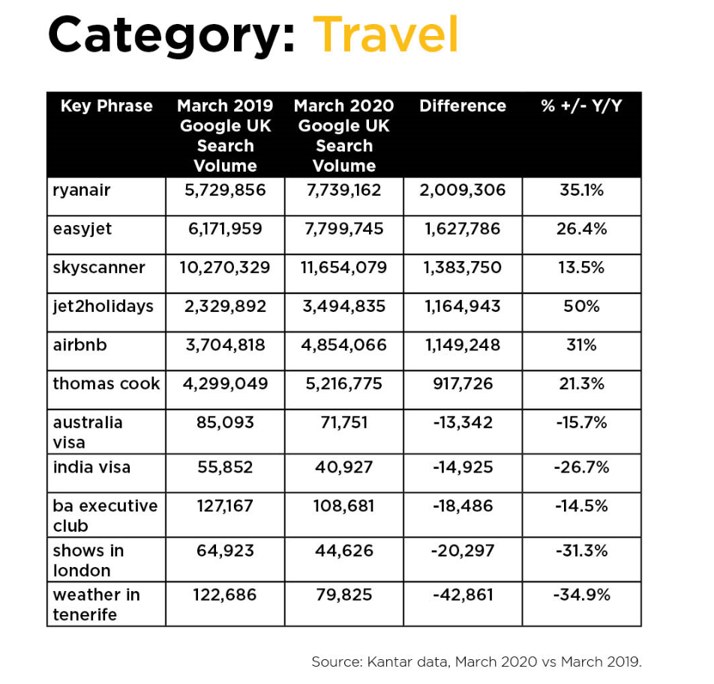 How has Coronavirus affected the Telecoms industry?
The biggest search increases the telecoms industry has seen is for individual mobile phone handsets. Interestingly, this includes 'iPhone 8' – an older model that has seen searches grow by 14.2% when compared to last year. 'iPhone X' is also up by 29.6%, but Apple isn't the only manufacturer seeing growth. 'Samsung Galaxy S8' is up by 42.4%, indicating that consumers who are confined to their homes are spending time looking at handsets rather than mobile phone talk plans.
So which telecommunication search terms are in decline? The term 'Huawei phone' has seen a substantial decline of 76.8%, possibly due to public concerns following the manufacturer hitting headlines over the last few months. 'iPhone screen repair' is also down by 13.5%. With lockdown restrictions meaning people are spending more time at home than ever before, perhaps fewer phones are being dropped outside of (often carpeted) homes.
What is also notable is the decline in search volume for the term 'unlimited data plan', which is down by 47.3% year-on-year. This no doubt reflects the fact that people are spending more time at home using their home broadband and connecting their phones to the internet (as opposed to using mobile data).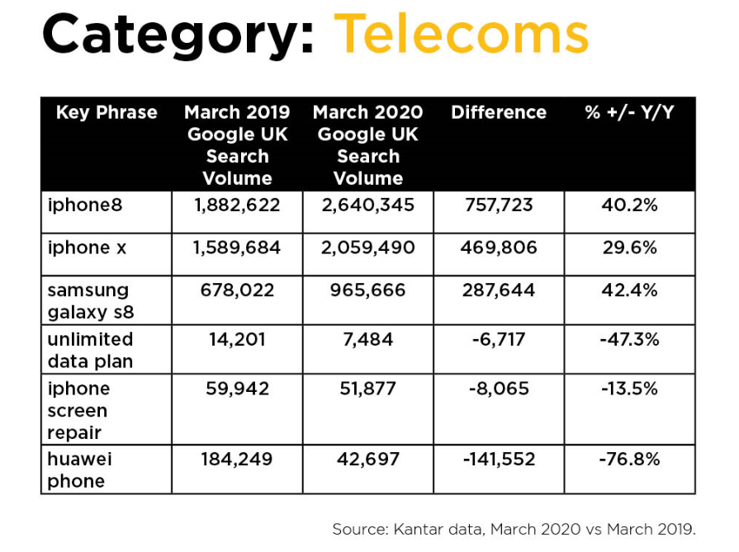 How has Coronavirus affected the Ecommerce industry?
The ecommerce sector (known as 'Shopping and Classifieds' within Kantar) shows that the terms 'ASOS', 'Top Shop' and 'Misguided' are all seeing 50% growth year-on-year. Are bored consumers spending their free time browsing apparel sites now they're no longer able to access the high street?
Conversely, 'eBay' has seen a 10.1% decline over the last year, which may not only reflect the long-term decline of the platform, but also that some sellers may be unable to ship items currently. With many eBay sellers taking collection-only items off the table, consumers may decide to spend their time elsewhere. What's more is that Amazon, with it's awesome fulfilment network, has seen its customers around the world spending almost $11,000 a second during the crisis, resulting in their share price increasing by a third.
In terms of declines in ecommerce search terms, 'IKEA wardrobe' is currently down by a stonking 61.1%. This is likely because it is an item that people must collect, which they are unable to do at the moment. The phrase 'DFS sofa sale' also posts a 21.0% decline. When it comes to buying sofas, many people opt to 'try before they buy' in store, which is no longer an option when many retailers are facing temporary shutdown.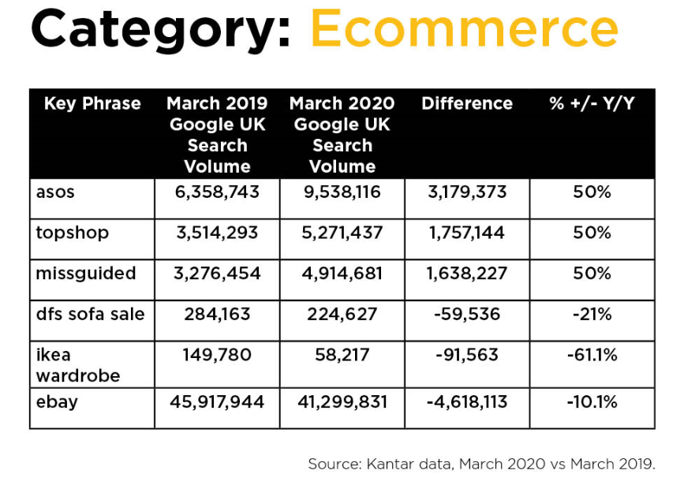 How has Coronavirus affected the Sports, Portal and Gaming industries?
Sports, Hobbies and Gaming (referred to as the 'Lifestyle' sector in Kantar) data shows that the terms 'Facebook' and 'Facebook login' have grown by 35.6% and 32.8% respectively. Clearly, people are turning to social networking to keep in touch with friends and colleagues whilst in lockdown.
The term 'games' has also seen a 50% increase, most likely due to families looking for an opportunity to pass the time. Contrastingly, 'Google Maps' has seen 4% decline – people who can't leave the house don't need a map!
'Racing results today' has seen a 53.1% search decline, with horse races in the UK pulled after the Cheltenham Festival, and 'football news' is down by 12% decline as domestic and international games grind to a halt.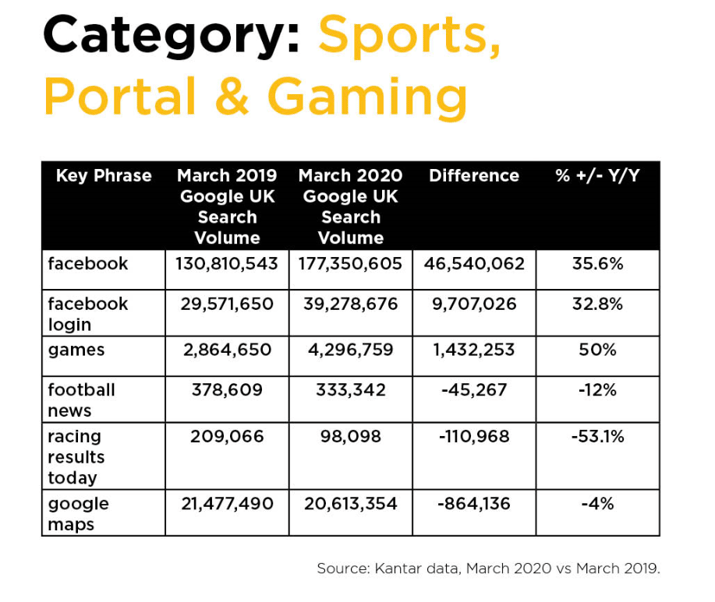 How has Coronavirus affected the Home and Garden industries?
As quarantined gardeners make the most of the early sunshine, the term 'gazebo' is up by 42.4%, 'hot tub' by 42.4% and 'sheds' by 49.3%. Likewise, 'swimming pool' and 'fans' are up by 21.1% and 425.6% respectively. 'Grass seed' has shot up by 261.6%, with many people taking the opportunity to pursue the horticultural endeavours they don't usually have time for.
On the homes front, the term 'stamp duty calculator' has also increased by 16.8%, perhaps due to the 2% stamp duty surcharge for non-resident homebuyers announced by the Chancellor, Rishi Sunak, in his budget announcement on the 11th March.
When it comes to home and garden search terms that are in decline, 'electric fire' has decreased by 41.4%. The mild winter has reduced the need for people to heat their homes as often, meaning that the term 'heaters' is also down by 61.7%.
Other terms seeing significant declines are 'electrician near me' (14.8%) and 'electricians near me' (18.4%). While people are buying large electrical items that need fitting, they are also avoiding tradesmen visiting their properties in line with the social distancing ruling.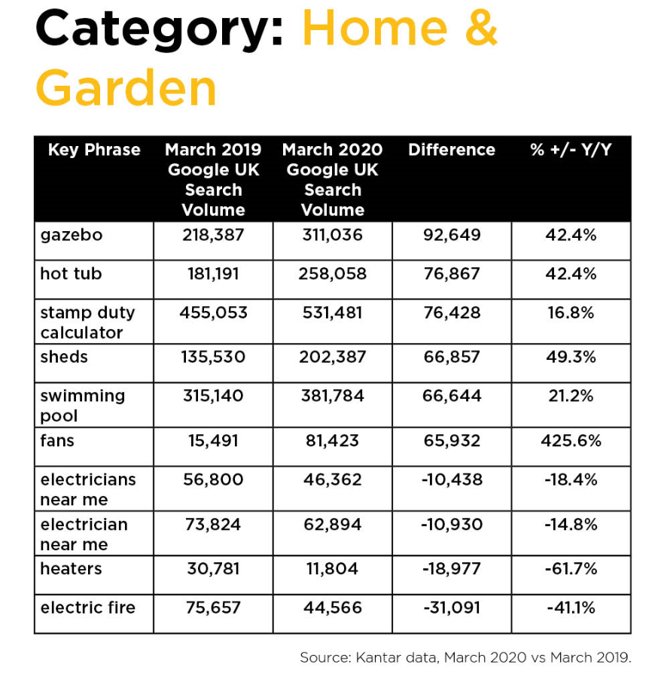 How has Coronavirus affected the Health industry?
One of the main stipulations of Boris Johnson's lockdown is for the general public to leave their homes for a set number of reasons only – one of which being exercise. People also have more time to focus on their diet, which explains the increase in search volume for the terms 'BMI' (18.2%) and 'BMI calculator' (12.7%). Additionally, the term 'how to lose weight fast' has also seen a 13.2% increase.
As the spread of COVID-19 continues to mean significant changes to peoples' lives, the term 'depression symptoms' is up by 10.8%, reflecting the impact that Coronavirus is having on the world's mental health and anxiety levels. Interestingly, 'ovulation calculator' has also seen a search increase of 19.6% over the last year, which may give us a clue as to how some couples are passing their time under lockdown.
The term 'gym near me' is down by 48.4%, as gyms and sports facilities are closed for the foreseeable future. The term 'blood donation' is also down by 11.1%, as people are currently unable to give blood.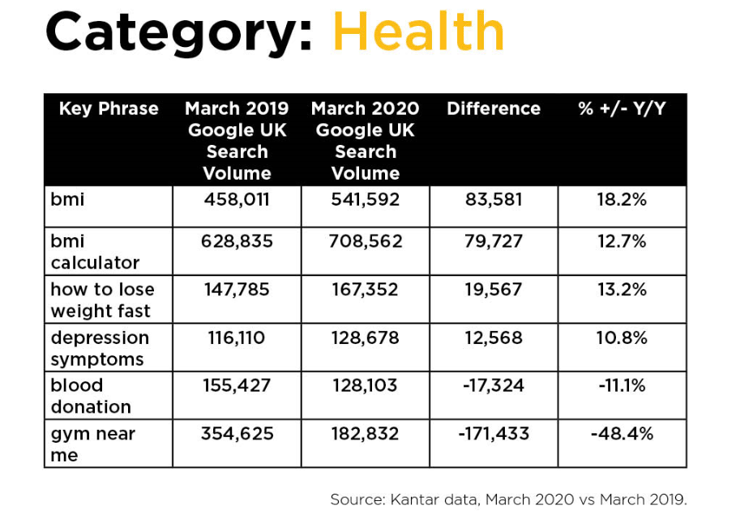 How has Coronavirus affected the Finance industry?
The term 'HSBC' is up by 43.5%, 'Lloyds' by 31.2%, 'Barclays' by 50% and 'TSB' up by 26.3%. This reflects the reality that consumers are now being asked to manage their accounts online, as opposed to in branch or over the telephone. The phrase 'Bitcoin' is also up by 19%, perhaps as an alternative to the volatility within the major currency markets.
'Cheap car insurance' sees a 12.4% increase as consumers look for value, with 'compare the market' also seeing 49.3% growth. It could be that those who are newly furloughed or redundant are using their time to research the best insurance prices available before their renewal in an attempt to cut costs.
The phrase 'Sainsburys loans' is down by 14.6%, which may reflect the fact that people are not looking to take on unnecessary extra debt at the minute, with significant purchases (such as holidays and cars) being currently off-limits. The phrase 'currency rate' is also down by 24.7%, reflecting the cessation of consumer travel.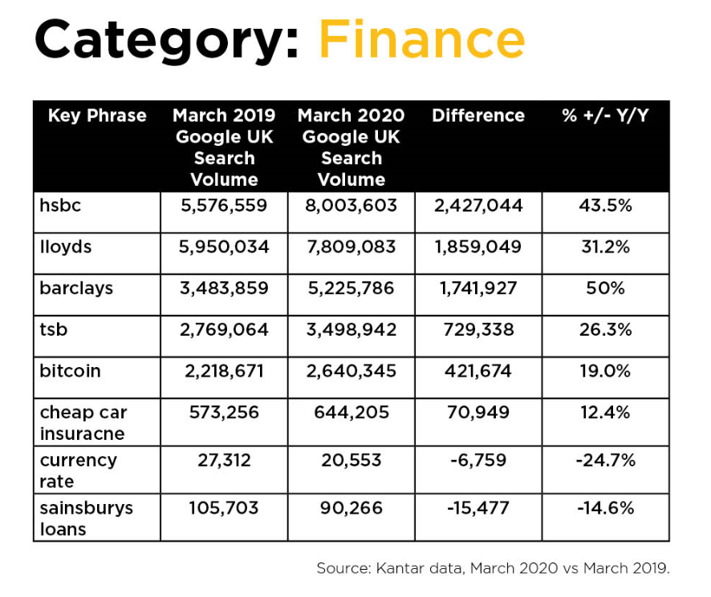 How has Coronavirus affected the Education sector?
The desperation of parents to occupy their children with interactive yet informative games is likely the driver behind the term 'math games', which has shot up by 42.4%. The phrase 'student loans' is also up by 28.0% year-on-year, as money worries start to bite.
When it comes to searches in decline, 'home-schooling' has seen a fall of 29.5%. This may seem unusual, but as home schooling is currently compulsory, the number of people who consider it as a voluntary lifestyle choice may now be under strain. The search term 'driving lessons' has also seen a slight decrease of 1.5%, as UK learner drivers are forced to steer their driving career into the hard shoulder for the time being.
In a similar vein, the term 'TEFL course' has declined by 13.1%, likely due to applications to teach English as a foreign language being halted due to travel bans. 'Carpentry apprenticeships' has also decreased by 28.4%, with learners realising that this hands-on and highly-practical pursuit is difficult to realise without the right equipment, supplies and instruction, trapped in their home.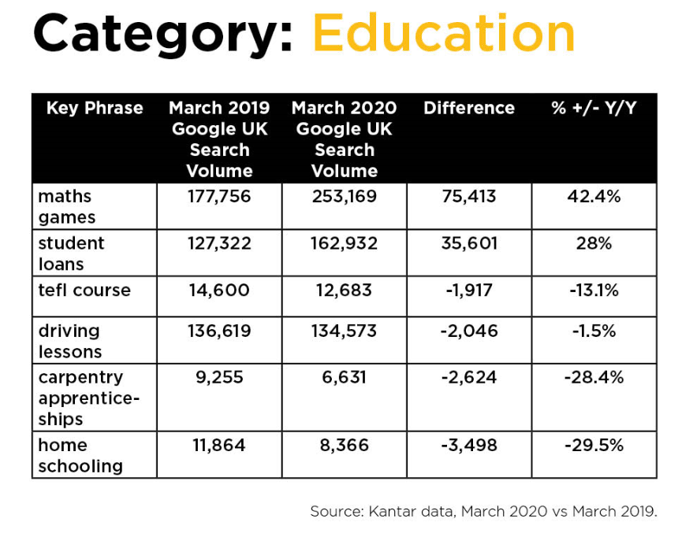 How has Coronavirus affected the Automotive industry?
When it comes to the biggest increase in automotive industry search terms, 'Auto Trader UK' has seen a significant increase of 111.4% year-on-year. This may be because those earning a lower wage are being forced to sell their existing vehicle to raise extra funds, or choosing a second-hand option as opposed to a costly new car.
Search volume for the term 'route finder' has decreased by 7.6% over the last year, with 'lease car UK' also declining by 43.7% as commuters remain on lockdown and/or delay major financial outlays. The phrase 'petrol prices' also posts a noteworthy decline of 4.3%, in part reflecting the decline in traffic on our roads, where fewer drivers equals less interest in petrol prices.
Even the term 'tyre prices' is down by 31.5%, which is a big decline and can be explained by the number of cars simply parked on their owner's driveway, rather than out on British roads burning (expensive) rubber! Similarly, 'car window replacement' is suffering under a 24.5% dip in search volume, as quarantined drivers avoid accidents that might necessitate such a search being made.
Joining up the dots
Aside from the figures from Kantar, much of the above explanation is mere speculation; semi-educated guesses based on experience. Whatever the truth is, understanding how such an unprecedented event is affecting the way UK consumers search is vital, for both paid and organic search.
We'll aim to look at this data again when travel restrictions are lifted in order to determine whether the data can point to a rapid recovery, or more worryingly, a considerable and wide-ranging decline in consumer interest in (or if not interest, in the ability to pay for) goods and services.
To find out more about how changes in search may affect your business, get in touch with our digital experts today.