Tom Williams brings you the latest search engine optimisation news, including confusion in the SEO industry by the June 25th update, AMP video errors, and denial of the Google Fred update.
Google June 25th Update Leaves Industry Confused
Barry Schwartz of Search Engine Roundtable has admitted defeat. He writes that, after receiving more than 70 web sites claiming they were hit by the 25 June update, and requesting data from SEMRush and RankRanger, he can find no discernible pattern to it.
According to Schwartz, the categories of sites that got hit were varied, from blogs and news sites to e-commerce sites, directories and even basic corporate web sites.
Schwartz also saw no pattern by industry or by the ad content of the sites hit.
Did the 25 June algorithm update hit your site? Think you have discovered a pattern? Let us know.
Google Issues AMP Video Error Notifications

On 5 July, Google started sending out new AMP errors for incorrect video embeds on AMP.
The error read:
Google systems have detected AMP pages on your site that are missing videos contained in their corresponding canonical pages. Users expect to find all of the relevant content on an AMP page they would find on the equivalent canonical page. For the best user experience, we strongly recommend embedding all relevant videos in both pages.
However, when Barry Schwartz from Search Engine Roundtable looked into this it appeared that, for his site at least, most of the videos highlighted as incorrect were old videos that possibly no longer existed of were not worth fixing because the content was stale.
See Search Engine Roundtable for screen shots of the message and further details.
To Bold Or Not To Bold?

According to John Mueller of Google, bold text may get you a little more ranking weight, and could certainly boost usability.
Questioned via Twitter, Mueller wrote:
You'll probably get more out of bolding text for human users / usability in the end. Bots might like, but they're not going to buy anything.
Bold tags might not attract a bot, but they certainly attract attention on the page from readers. What's your take? To bold or not to bold?
See Search Engine Roundtable for more.
Google: Fred Who?
According to Google's John Mueller there was no Fred update, despite the company officially confirming it a couple of months ago.
Talking on a Hangout with Search Engine Roundtable, Mueller stated that:
From our point of view there was no Fred update. This is a name that was given externally to a bunch of updates that we've been doing over time. So it's not the case that there's this one thing that is changing in search.
The announcement has the SEO world talking. See Search Engine Roundtable for the video, transcript and comments on this story.
Whiteboard Friday – Competing With Comparison Sites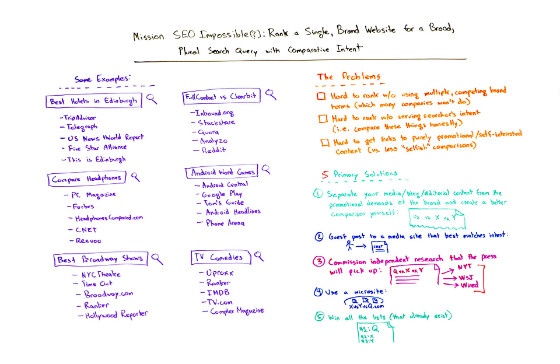 Rand Fishkin took us on an SEO Mission Impossible with last week's Whiteboard Friday, as he tackled the subject of competing with comparison sites in the SERPs. This mission was to rank a single brand website for a broad, plural search query with comparative intent.
Rand discussed the challenges and provided five solutions to help sites rank on high-value comparative terms.
Watch the video now.
More SEO News and Advice
Read last week's SEO News Roundup: Google Algorithm Update
Discover how our SEO Management Services can help you adapt to seasonal trends, lead the conversion journey and achieve targeted results. Contact us today.