Tom Williams brings you the latest SEO news, including sites not being mobile-first index ready.
Google Not Moving Sites That Aren't Mobile-First Index Ready
The search engine giant has announced it won't be moving sites to the mobile-first index if they're not ready for it.
If your site isn't ready yet, don't panic. Google has also announced there will be a blog post soon that will help publishers and webmasters prepare properly for the change.
Barry Schwartz gives examples of tweets surrounding this topic:
@RyanJones – Right now, sites that aren't ready are NOT being moved to the mobile first index

@jenstar – Sites that are not ready for mobile first will not be moved over to mobile first indexing right now.

@Marie_Haynes – For now, sites that are not ready are not being moved to the mobile first index.
A Google Algorithm Update For Search Results?
According to Barry Schwartz, he's noticed: "Signs both within the search community and from the automated tracking tools of an update with Google's search results going on right now."
Google constantly works to update its systems so its users can have better experiences, but this is larger than the "daily fluctuations" that normally occur.
Tools such as Mozcast, SERP Metrics and RankRanger all show this activity.
Have you noticed any changes?
JavaScript Links Pass Full Link Signals
Fazillion founder Cyrus Shepard asked Google's John Mueller: "Can you tell us if a JavaScript link, once fully rendered in the DOM, passes PageRank just like any other link?"
John Mueller responded with:
We've talked about this often . Yes, a link is a link, regardless of how it comes to the page. It wouldn't really work otherwise .
Google Drops Links With Changes To Info Command
The most recent Google search feature to undergo changes, the info search operator is now displayed differently in search.
But, not all changes are good.
Before this update, the info operator would give users the snippet. This was along with any additional links to find more operators for the site, or the Google cache link or any others that are similar.
Now, this has been removed and Google is just showing the snippet.
Waiting Times For Local Venues
For some of the local venues shown in its web search and Maps, Google has added waiting times.
This feature tells users how long the waiting time is right now, or in the future based solely on historical data.
Here's what Google had to say:
To see wait times for nearly a million sit-down restaurants around the world that allow walk-ins, just search for the restaurant on Google, open the business listing, and scroll down to the Popular Times section. There you'll see the estimated wait time at that very moment. And by tapping on any of the hour bars, you'll see the estimated wait for that time period. You can even scroll left and right to see a summary of each day's wait times below the hour bars – so you can plan ahead to beat the crowds.
Have you made use of this update?
Whiteboard Friday – Insight Into Searcher Intent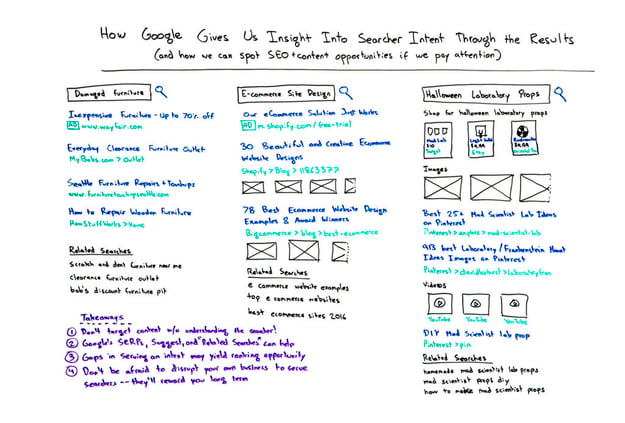 Last week, Rand Fishkin explored real-life examples of what we can find out from multiple possibilities in SERPs.
To gain insight into "searcher intent", Google will bring up results that it thinks are relevant. Rand illustrates this process and how to get the best content and SEO opportunities.
More SEO News and Advice
Read last week's SEO News Roundup: Why Pruning Content Is Actually A Valid Process
Optimise your website and improve rankings with industry-leading tools and knowledge. Discover more about how our SEO experts can help you maximise your visibility and strategies by getting in touch today.