Amy Dugmore brings you all the latest social media marketing news from the past seven days, including Twitter's new heart icon, social login survey results from Gigya and the official start to Christmas, otherwise known as the launch of the John Lewis ad.
Twitter 'Hearts' Your Input
Twitter has replaced Favourites with Likes. Users logging on to the social network on 3 November were met with a heart icon in place of the familiar 'favouriting' star. Twitter Likes work in exactly the same way as Favourites; the change is in the name and the icon used to represent the feature.
Writing on the Twitter Blog, Product Manager Akarshan Kumar explained that the change will unify the products owned by the company: "You've embraced hearts in a big way on Periscope, and we're delighted to bring them to Twitter and Vine, making them the common language for our global community."
The change also brings Twitter's terminology in line with that of other major social networks, including Facebook and Instagram. Twitter users were quick to pick up the parallel, with @haveigotnews tweeting the following mock-up:
The change also follows recent speculation that the social network is in trouble, after it failed to grow its US user-base for a second consecutive quarter.
Is Facebook Losing Favour?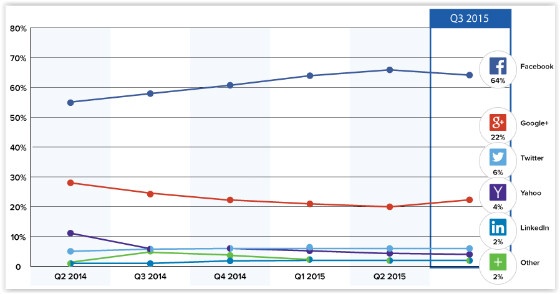 A study by Gigya.com has revealed the latest stats for social logins. Facebook appears to be losing favour as the social network accounted for 74% of social logins in Europe for the third quarter of 2015. Meanwhile, Google+ has seen a slight increase by 2% versus Q2 2015 and now accounts for 19% of social logins. By contrast, Twitter accounts for just 4% of social logins.
This picture contrasts with that in the US, where Facebook accounts for 62% of social logins and saw a drop of 3% compared with Q2 2015.
Coming Soon – Pinterest Shop
Pinterest is bringing Buyable Pins to Android in the latest expansion of its advertising product. The image-pinning network launched Buyable Pins on iPad and iPhone earlier this year.
The platform has also revealed that it will be curating the best Buyable Pins into a Pinterest Shop, featuring new collections each day.
Buyable Pins are currently only available in the US, although as comments on the latest Pinterest Blog post show, international rollout is already eagerly awaited.
Greetings from Facebook
Facebook is getting (even more) personal with its users. As reported by The Social Times, the social network has begun showing greetings messages to users when they log on via desktop. Depending on the time of day, the personalised welcome graphic says "Good Morning" or "Good Evening", thanks the user and invites them to enjoy Facebook that day.
Christmas Ad Race Gets Underway
And finally, Christmas is here! Well, the John Lewis ad is at least. A truly stellar production, costing a cool £1 million, and featuring a little girl sending a present to a man on the moon, the advert is sure to promote debate and spark social shares up and down the country.
Trending at #ManOnTheMoon, the advert notched up 19,000 retweets and 14,000 likes on Twitter alone within four hours of its launch.
More Social Media Marketing News and Advice
Read last week's social media news roundup: Is Twitter In Trouble?
Take control of your content marketing for 2016 with our Best Practice Guide to Content Ideation. Download your free copy today and learn from the experts.