Pinterest is a great source of visual inspiration, but did you know it's also a shoppable platform? From product pins to video and shopping ads, read more.
How to Grow Your Business Using Pinterest Ads
Pinterest is a platform that's widely used by consumers, yet largely ignored by marketers. While most realise it's a great source of visual inspiration, not many realise it's also a shoppable platform. But how can you ensure you're using Pinterest effectively to inspire your audience into buying a product? What are the main ads and features you should be aware of? And how can you make your pins stand out?

In this blog post, ClickThrough's Director of Digital Paid Media, Macy Edwards, talks us through how you can use Pinterest's unique, user-journey based platform to drive your audience to your product page. From the importance of visual search to product pins and video ads, read more below.
Pinterest Ads and Features
Pinterest ads offer marketers the chance to gain awareness and consideration from millions of users who are early on in their consumer journeys. And connecting works: 98% of Pinners say they've tried new things they found on Pinterest, versus 71% on other social media platforms. Your Pinterest ad campaign type will determine which ad format you use, as well as your bid type and available placements. So, what are the main attributes of each format?
Catalogue Import and Shop Optimisation

Just over a year ago, Pinterest released catalogue imports. This feature allows you to import your entire catalogue into Pinterest for free, where it automatically creates pins for all of your products. Once this has happened, the algorithm cleverly serves these pins to users organically, making it the fastest way to start promoting your products. What's more, you can also build a shop tab. If you have a business profile and your product pins have been created through a catalogue import, you can feature shoppable products in the designated shop table of your page.
Product Pins and Visual Search

Next up we have product pins and visual search. As I've just explained, catalogue imports mass generated product pins that become eligible to be served across organic shopping surfaces. The visual search algorithm matches the pins' colours and style across the platform and serves 'shop more like this' content.

For example, here we have a black modern table lamp: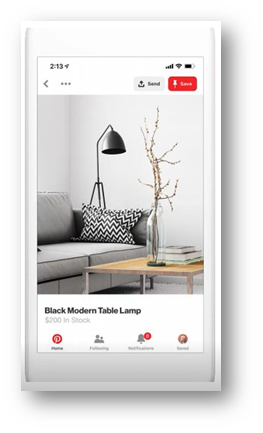 Pinterest will then offer 'shop more like this', and we can see that it's offering a similar grey sofa that features in the picture, as well as variations of plants you could have in your living room.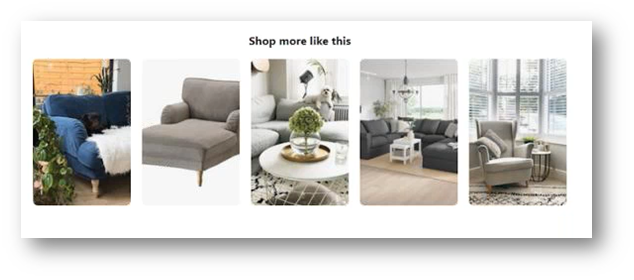 So, Pinterest continually matches pins to lots of other content, along with a price tag to drive the user to purchase.
Shopping Ads
Shopping ads can be very easily promoted, allowing us to truly understand the value of Pinterest. We support many of our clients with populating their feeds, before creating prospecting and remarketing catalogue campaigns to serve pins to interested users. Shopping ads are product pins marked with a special price tag icon, enabling you to engage with consumers at a very early stage.
Video Ads
And finally, we have video. Video is a highly-engaging format that most users prefer to a static image. In fact, Pinners are 50% more likely to purchase a brand or product after seeing a video on Pinterest. What's more, Pinterest have seen a 200% YoY increase in video views, demonstrating how much people are engaging and purchasing through the platform.
How to Make Your Pins Stand Out
As part of our awareness and consideration activity, there are six variations of pin we can be leveraging:
Standard – the basic ad format with a single featured image.
Carousel – can contain up to five different images to swipe through, telling the story of your brand (you can also tag products that appear in your image).
Shopping – similar to the basic ad format, but allows you to mark pins with a special price tag icon.
Standard video – is the same size as a static pin and auto plays in the feed. Pinners are around 60% more likely to view video when purchasing a product.
Max width video – increases your impact with a video unit that stretches across the entire feed on mobile.
Pin extensions – allow you to extend brand engagement with a custom digital experience build by a Pinterest partner.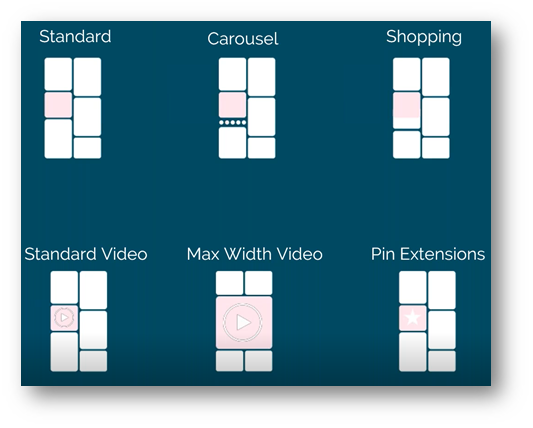 Top Tips for Great Pins
Think vertically
Design for mobile
Make sure your branding is in your imagery
Highlight brand benefits
Align to moments
Add text to overlay
Pinterest Best Practice
When it comes to Pinterest advertising, the most important thing to remember is that organic and paid activity go hand in hand. We can't do one without the other. Pinterest should be treated like a search engine – so, you optimise your website for SEO while also implementing paid activity, improving visibility and performance. In this respect, you should be optimising your Pinterest boards and brand presence through rich content and paid performance in the same way.

Here at ClickThrough, we're developed our own approach. Firstly, we begin with brand awareness campaigns, making sure we're targeting relevant categories and lookalike website visitors. We then implement a traffic campaign to drive website visitors and target pin engagers. We want to showcase your blog content to them, making sure they're engaging with and visiting your website. And finally, we have catalogue campaigns. This is where we ensure visitors are being retargeted, significantly increasing the changes of them purchasing your product.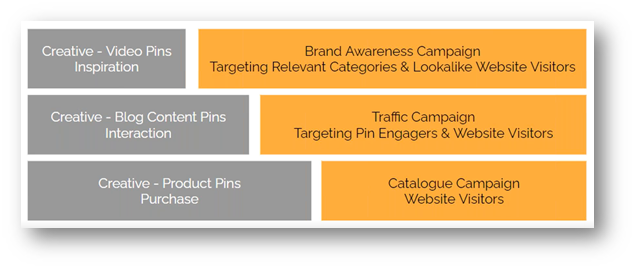 Wondering how this approach might work for your business? Why not get in touch with one of your experts, or book a paid social deep dive to assess your current strategy?