In this week's DPM update, Chelsey takes us through some key changes in the world of advertising, including updates from Twitter, Facebook, and Google.
THE DPM UPDATE: FACEBOOKS' NEW 'SMART CROP' AND TWITTER LOOKS TO LAUNCH EMOJI-STYLE REACTIONS
It's that time of the week again when DPM's very own experts give us the run down on all things marketing from the past week!
To get us started we have our usual interesting fact of the week and it's one for all you snack lovers out there. Do you know what is on the inside of a Kit-Kat? Well a Nestlé documentary revealed that the inside of the bar is made up of broken Kit Kats damaged during production, they are ground up and placed between the layers of wafer!
In the world of DPM there has been some exciting changes to two social media platforms as well as the big hitter Google. Read on to find out!
TWITTER IS LOOKING TO EMOJI-STYLE REACTIONS TO TWEETS

Just like on teams where you can react to individual messages with an emoji. This will now mean rather than a boring like, you can now react to your favourite tweets with all the emotions that you have in real life. This new emoji feature will allow you to express further emotions such as love, laugh and cry for those tweets where a like just is not enough! Twitter is now set to push ahead with their launch of emoji-style reactions to their tweets in the near future.
FACEBOOK LAUNCHES NEW 'SMART CROP' FOR AUTOMATED VIDEO EDITING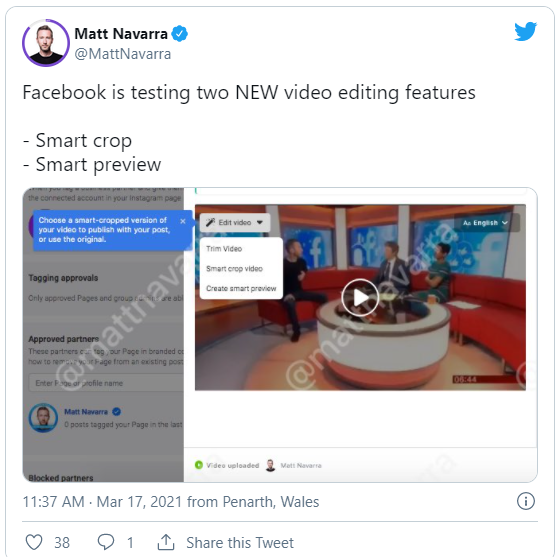 Facebook is making the handy 'smart crop' tool available in the creator studio platform to allow easier editing of videos. This feature identifies the sections of video content that create the most engagement and interest then edits the video from these recommendations, allowing you to recycle video assets and trial new content.
GOOGLE LAUNCHES NEW INTEGRATION WITH WOOCOMMERCE
This partnership between Google and WooCommerce will allow retailers more ways to be discovered and connect with their audiences. This will integrate their product listings across Google platforms and give more opportunities to shoppers.
That's all for our latest DPM update! Join us next time for news in the world of paid media.
Want Chelsey and the team to work on your advertising campaigns? Get in touch.