International Digital Marketing Executive Andrea Diaz covers the latest news in international marketing, from sustainable luxury brands to Facebook's Neighbourhoods. Read more.
iNTERNATIONAL MARKETING NEWS: GEN Z SEEKING SUSTAINABLE LUXURY BRANDS
In this week's International Marketing News Round-Up, there's exploration into thoughts that worldwide ad spend will grow, Gen Z seeking sustainable luxury brands and a trade agreement between the UK and Australia, as well as much more.
Generation Z seek sustainable luxury
The most influential generation is challenging luxury brands to become more sustainable, showing that relevant messaging, product categories or interesting digital storytelling is not enough.
Their expectations are significantly different from the millennials, for the younger generation sustainability matters, and even young investors would prefer to support brands with clear sustainability agendas. For example, Apple has become the leader in sustainability, after all the criticism regarding the waste their devices are producing. They have reinvented the entire customer lifecycle model.
Digital practices with sustainability involve two components: the software side and the hardware side. The energy consumption put towards digital solutions and mobile devices will be a priority for consumers in the future. Consumers would likely demand more transparency on energy consumption and energy sources for the digital services they will receive.
wORLDWIDE AD SPEND WILL GROW
According to the consensus of ad spend forecasts from media agencies Dentsu Aegis, GroupM, Magna and Zenith in 2021 the global ad spend will grow by 10.6% YoY.
March 2021 forecast estimated that global total media ad spend will grow by 15% during this year to $747.67 billion. Representing an increase of up to £56.17 billion (8.1% from the September 2020 forecast) which was produced before the emergency approval of multiple vaccines for global use.

The 2020 consensus expectation about global ad spend decline was 5.2%, however, the actual contraction ended up being only 1.2%. In Addition, the economy worldwide is currently recovering faster than expected, as vaccinations roll out in countries that are big ad spenders.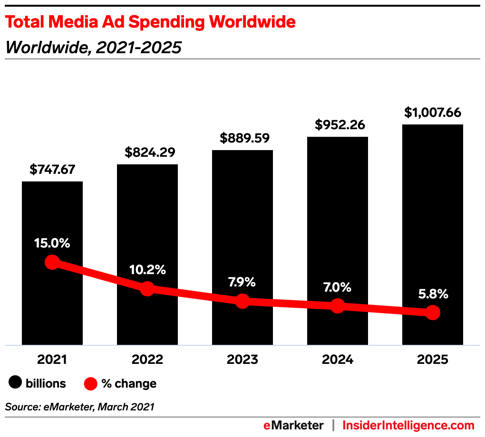 However, due to the virus new variants, the economic recovery will be uneven and vaccine access continues to be inconsistent.
India was expected to recover up to 31.7%, but after the second wave of COVID-19 infections increased positioning India as the second most affected country after the US.
According to the World Bank, Indonesia will see the second-quickest growth of all countries that were forecast, rising by 22.2%, next would-be US by 18% and the UK by 16.3%.
Is expected that digital as spend will continue to grow faster than traditional advertisement format, with more commerce shifting to online and social media.
The fastest-growing subset of digital will be mobile 23.5%. By the end of the year, it would be three-quarters of all digital ad spend.
4 Cities in the US would welcome facebook's neighbourhoods
The famous social media platform Facebook, adept at imitating other social media platforms, would introduce Neighborhoods to four US cities: Charlotte, North Carolina; San Diego, California; Baton Rouge, Louisiana; and Newark, New Jersey. The platform is already available across Canada.
The functionality of Neighborhoods is similar to Nextdoor, and the purpose is to corral geographically defined groups of users within a single space to talk about local events going on, helping neighbours to know each other.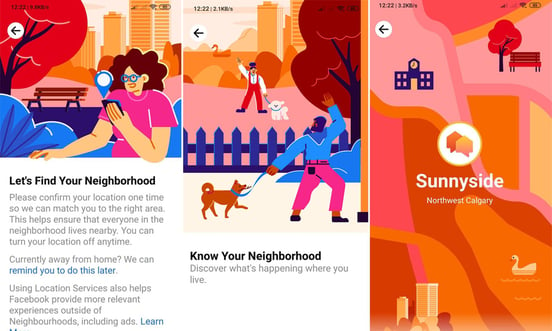 Users would be able to ask for recommendations around the area, such as the best coffee shops, restaurants, upcoming events and more, as well as organising local events and splitting into smaller groups that share similar interests. However, to join these groups users must be at least 18 years old, and their profiles can be created separately from their main Facebook account. They would be able to choose interests, their favourite places and bio where they can present themselves to the group. A user would have the option to adopt a role within the platform e.g., 'helper', 'socialiser' or 'welcome'.
trade deal agreement between uk and australia
Post-Brexit, the UK negotiated from scratch a trade deal between UK and Australia, where they agreed to eliminate tariffs on all UK goods.
The agreement will boost industries that employ around 3.5 million people in the UK, in industries such as automotive, alcohol, confectionary, and ceramics. These goods would be cheaper to sell into Australia. The trade relationship was worth £13.9 billion in 2020 and is expected to keep growing under the deal. On the other hand, British farmers would be protected by a cap on tariff-free imports for 15 years since Australian law allows farmers to use hormone growth and other chemicals to produce beef at a lower cost.
The City AM states that the deal could add around 0.02% to the UK GDP, however, the actual value of the deal may be in helping the UK join the CPTPP trade bloc. Moreover, Liz Truss, Secretary of state for international trade, stated: "The agreement paves the way for us to join the Trans-Pacific Partnership, a £9 trillion free trade area home to some of the biggest consumer markets of the present and future."
This would impact in new opportunities for UK services and tech firms.
And that takes us to the end of this week's International Marketing News. If you'd like to discuss any of the news covered - please do not hesitate to get in touch.