With the announcement over Easter that all users of Google Analytics can now try the new version without signing up for the beta programme, it's time to ask: "Should we be switching to the new version of Google Analytics?".
If you haven't seen the changes, to evaluate the new version just log-on and select "New Version" from the top of the screen.
You may have read that the new change is mainly around interface changes and usability. While this is true, there are plenty of other changes which can help you improve analysis, so in my post this month, I thought I'd alert you to some of the main changes to help you decide whether it's worthwhile you and your clients switching.
1. Visual changes.
Always the most obvious, there is a cleaner style coupled with some performance improvements which could make changing useful.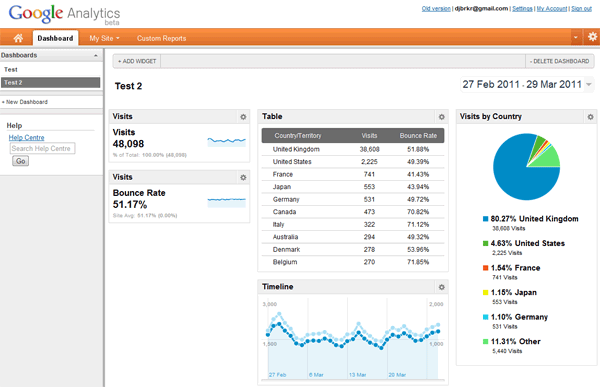 3. Application workflow
Google's design team has considered the user journeys and have made some features more prominent to encourage usage:
A. Google Analytics Intelligence – this is a great feature to save time – it will alert you to changes in traffic including from Search marketing and individual keywords – well worth setting up.
B. Custom reports – Now more prominent in the design and a big change to the way they are created. In fact, you'll need to migrate your old reports if you switch to the new system.
The change is worth it though since you can now filter reports, for example to show natural search traffic only which was only previously possible by manually applying an advanced segment.
C. Advanced Segments – I'm a huge fan of these and rightly these have been made more prominent – if you're not using these, your really missing out on the opportunity to understand site visitor behaviour and change results. In the new version you can select a single segment which makes isolation of one channel like SEO or a group of keyphrases possible.
3. Menu changes for accessing reports
Once you select the profile you're interested in you'll see the reports have changed.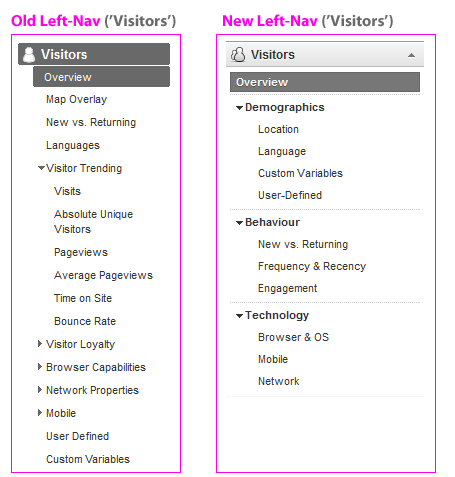 This is a positive change, but it does mean time to learn and some training may be needed.
If you want to review the differences, you may find the Report Finder useful.
4. Data and report changes
There is one major change here to be aware of. These are a new class of goal called Event Goals. These are tracked through an existing feature called Event tracking. With Event Goals you can now place a value against an action such as downloading a PDF, adding to basket or playing a video – this could be a real help with with business reporting. This is particularly the case for non-transactional sites where value may be created for the business through SEO or AdWords, but no Ecommerce sales can be recorded.
5. Search marketing analysis features
As well as the changes to segments and custom reports which will help search marketers, there are some other features that will help search marketers including:
A. Trending search terms. For example, if your site sells 'Sony Laptops' & 'Toshiba Laptops', you can view a trend graph plotting the search traffic you've received for each of those terms. Previously to do that you'd have to set up a custom segment for each, or drill into each one individually & compare the graphs.
B. 'Term Cloud' visualisation, showing word clouds of search phrases. I don't find these so useful since they don't compare more than one variable. For this I recommend the free Juice Analytics visualation tools – they're instant to use – just enter your Google Analytics login.
So that's how I see the new version, I hope you enjoy the speed and functions of the new system.
For the most in-depth review of the new capabilities, see this detailed analysis on 10 key features in the Google Analytics Beta from Dan Barker.
Comments