Our international marketing expert, Alison Humphries, is back with another roundup of the latest news stories you need to know about. From the UK-EU trade deal to alternative roles for brick-and-mortar stores, read more.
International Marketing News: Social Media Growth in 2020 and the Latest Progress on the UK-EU Trade Deal
What's new, important and interesting in international marketing? This week we look at the annual growth of social networks in 2020, how the usage of brick-and-mortar stores could evolve in the future, a potential announcement of a UK-EU trade deal and the gradual movement of trade traffic through the French border.
THE PANDEMIC DROVE STRONG GROWTH ACROSS SOCIAL NETWORKS – BUT HOW DOES THIS LOOK BY PLATFORM?
eMarketer analysed the growth in social network usage in 2020 and found that there will be nearly 150 million new users, taking worldwide usage to 3.23 billion ahead of predictions in November 2019 and June 2020. 81% of internet users globally will be social network users.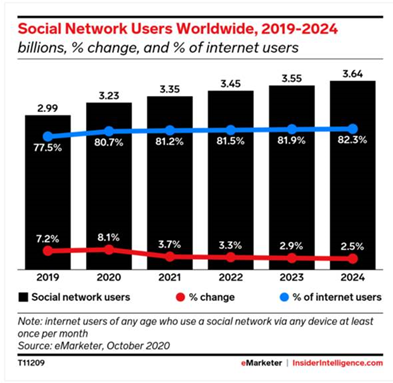 Facebook saw the largest growth, with 59% of the world's social networking users visiting the platform and a YoY growth of 8.7%. Interestingly, Germany and Japan have posted negative growth on the platform.
Instagram drove the highest growth, with a 22% increase in its user base, taking the platform user base to just over 1 billion.
Snapchat's user base grew by 16% in light of Tik Tok's problems. India was a big contributor due to TikTok being banned.
Twitter is used less frequently, but still saw a steady growth of 8% due to delivering the most up to date news in people's feeds.
THREE ALTERNATIVE ROLES FOR BRICK-AND-MORTAR STORES
Econsultancy investigate alternative uses for brick-and-mortar stores.
Stores could become a forum for driving customer acquisition, rather than distributing products. Many retailers are seeking to make the purchase process as quick and seamless as possible. They are also looking to remarket with content about the product consumers are browsing.
Stores could become fulfilment centres. Best Buy exemplified how this could be implemented by turning their stores into delivery hubs to fulfil online orders. Currently they only fulfil orders for transactions from individual customers, but plan to ship larger quantities and facilitate same day delivery. Amazon has also been looking into turning retail stores into distribution centres to speed up the final mile of delivery to peoples' homes.
Retail pop ups offer the chance for small businesses with no high street presence to test selling offline without the requirement to commit to a long-term rental contract, and to re-engage with customers physically through offering initiatives such as 'no touch' product trials and contactless technology.
COULD WE SEE A PRE-CHRISTMAS UK-EU TRADE DEAL? THE SUSPENSE IS BUILDING…
The Institute of Export & International Trade have their fingers on the pulse of the progress on a UK-EU trade deal, but will Santa deliver a trade deal?
Optimism grows in anticipation of hearing whether a trade deal will be announced before Christmas, let alone before the end of the year. ITV's Robert Peston , RTE's Tony Connelly and The FT report murmurings that this could be the case. EU diplomats have indicated that this morning will be the final deadline for the agreement, while Michel Barnier indicated that discussions may not conclude before 1 January. The question remains, who has the most accurate outlook?
Fisheries remain the biggest hurdle to jump over, with Boris Johnson and Ursula von der Leyen continuing talks around the topic. According to Bloomberg, the EU rejected the UK's offer on 22nd December. We wait to hear the outcome of their discussions.
THE UK-FRANCE BORDER HAS BEEN RE-OPENED, BUT IT LOOKS UNLIKELY THAT THE WHOLE BACKLOG OF VEHICLES WILL CROSS THE BORDER BEFORE CHRISTMAS
The Institute of Export & International Trade reported the opening of the border yesterday, but indicated that the queue of vehicles will take days to clear due to the need for everyone in each vehicle requiring a negative COVID-19 test result before they can pass through the border. The military have joined the Test and Trace staff to increase the resources to carry out the testing.
The European Commission are encouraging member states to lift their travel bans to prevent supply chain disruptions. UK and EU travellers returning home should be exempt from travel restrictions as long as they have negatives test results and quarantine once arriving home.
Food and Drink Federation boss Ian Wright expressed concerns about the damage the crisis could have on proving the readiness of the UK to take on new trade deals post-Brexit.
If you would like to discuss any of the stories discussed in this roundup, get in touch with our international marketing experts today.