News about apps, Amazon fines and a lack of concern surrounding sustainability in China headline this weeks International Marketing news. Find out more.
International Marketing News: Apps To Be Less Ad Heavy in 2022
This week in the International Marketing newsletter: Apps moving away from ads in 2022, Italy's anti-trust regulator fining Amazon, the United States becoming the UK's principal export market for finance and more.
in 2022, Apps Will Be Less Reliant on Advertisements
Subscriptions will expand into new territories. Apple's AppTrackingTransparency (ATT) architecture, which was released in early 2021, limits the collecting of iOS user data, effectively making customised advertising, which has fuelled app economies, far less cost-effective.

As a result, several app developers, notably in the gaming industry, have bet on consumers' greater tolerance with subscriptions. According to Sensor Tower, in 2020, 29% of the top 100 games by US App Store revenue will be monetized by subscriptions, up from 17% in 2018. Expect to see additional subscription-based apps in gaming, media, fitness/wellness, and possibly even social media in the next year, with Twitter Blue being an early tentative effort. Even said, consumers may be reaching a saturation point in terms of the number of subscriptions they're ready to purchase.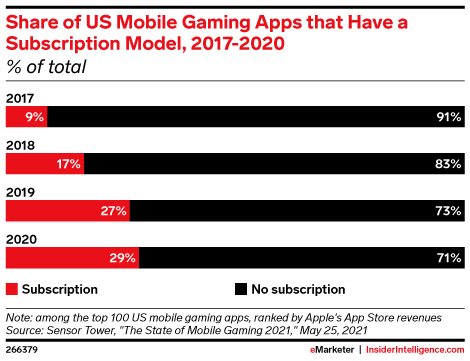 Ecommerce will be a focus for social networking apps. Most have already implemented various payment alternatives, with Facebook expanding Facebook Pay to include non-Facebook users. Facebook, TikTok, Snap, and YouTube are also experimenting with new mobile eCommerce media, such as streaming video, clickable photos, and influencer stores, all of which can generate direct revenue streams. In 2022, we forecast a 24.9% increase in social commerce sales in the United States, to roughly $46 billion.

Financial firms will try to develop super Apps. These companies will attempt to incorporate commerce components into their financial services portfolio apps. In the fall of 2021, Klarna and PayPal both updated their applications to include more shopping functions, but Square, Affirm, Revolut, and others are all claiming to be super apps. These apps are likely to add more retail, travel, and health marketplace features in the future.
Italian Anti-Trust Regulator Fines Amazon $1.2bn
According to Italy's anti-trust regulator, Amazon abused its market power by marketing its own logistics business, Fulfilment by Amazon (FBA).
It said that businesses needed to use the FBA service to gain access to important perks including selling Prime-delivery products at no extra cost to customers and participating in Black Friday promotions. Amazon stated that it "seriously disagrees" with the verdict and that it will file an appeal. The regulator found that Amazon disadvantaged third-party vendors by compelling them to use its infrastructure to have access to important advantages and events.
"As a result, Amazon has barred third-party sellers from linking the Prime branding with deals that are not administered by FBA," the report stated. Access to such features, according to the regulator, is "crucial" for vendors to succeed on Amazon's Marketplace. It also stated that it would impose corrective measures that would be reviewed by a monitoring trustee.

The fine was "unjustified and unreasonable," according to Amazon. "We strongly disagree with the Italian Competition Authority's judgment and will appeal," the company stated. "Small and medium-sized enterprises have a variety of choices for selling their items both online and offline, including Amazon.

"We are continually investing to assist the growth of the 18,000 Italian SMBs [small and medium-sized enterprises] that sell on Amazon, and we provide a variety of tools to our sellers, including those who manage their own shipping." Third-party sellers can use the firm's Seller Fulfilled Prime (SFP) service to get Prime benefits without having to employ its shipping services, according to the company.

It's the second fine imposed by Italian regulators in as many weeks after both Amazon and Apple were penalised $228 million (£173 million) for restricting Beats headphone sales to a few select retailers.
Both Apple and Amazon have stated that they intend to appeal the penalty.
US Becomes The UK's Principal Export Marketing For Finance
The US has surpassed the European Union as the UK's primary export market for financial services, accounting for more than a third (34.2%) of the sector's overseas sales by 2020.
Exports to the EU fell 6.6% year on year to 30% (£24.7 billion) of the overall value of the sector's exports, according to fresh statistics from TheCityUK.
The entire value of UK financial services exports for the year was £82.4 billion.
In its annual study, 'Key statistics about the UK as an international financial centre,' the lobbying organization also discovered that the UK's financial services trade surplus in 2020 will be $80.6 billion.
This puts the UK ahead of the US ($66.9 billion) and Singapore ($24.8 billion) in the sector.
The data has been seen by some experts as evidence of an increase in US interest in the United Kingdom following the Brexit vote. According to Trystan Tether of Bird & Bird, the UK's financial technology business "represents an attractive market," and he has seen a lot of inward investment from the US into the UK.
According to William Wright of the New Financial think group, post-Brexit impediments to UK-EU financial services trade are driving the rise of US trade in the industry. The UK has attempted to reach an equivalency agreement with the EU to keep the banking sector's pre-Brexit market access.
According to observers, this agreement would essentially demonstrate that the UK and EU view each other's financial rules as equally strong.
The FT reports that Lord Frost, the minister in charge of EU relations, told a dinner last month that the UK was "unlikely to gain substantial equivalence from the EU in the next year or two" and that the government was "working on that assumption."
China Appears Unconcerned With Long-term Sustainability And Diversity
China seems unconcerned about sustainability and diversity, according to some European business leaders. Is this, however, correct? The first perception stemmed from high levels of pollution in some Chinese megacities, while the second stemmed from the country's recent advertising prohibition on men with feminine characteristics.
So, do they have a valid point of view? Let's start with the issue of long-term sustainability. Despite popular assumptions, China's demand for natural, organic, and sustainably derived products has never been higher, particularly in the luxury sector. "Sustainability and healthy alternatives are what luxury clients in China are seeking," said Patrick Kaminski, the creator of Orghive, a major digital organic platform in Asia. The popularity of high-quality goods has never been higher. And today's consumers aren't willing to compromise on ingredient traceability or origin down to the finest detail."
In China, health is a big trend that determines decisions such as replacing mechanical watches with smartwatches and other connected fitness devices since many Chinese desire to receive quick notifications on topics such as local pollution levels.
Many brands are still unprepared for this relatively new reality, in which customers not only talk about but actually act on sustainability.
China's car industry, which is now the world leader in electric vehicles, exemplifies this rapid move to sustainable alternatives. Many electric car players have recently triggered exceptionally high valuations as the fastest-growing area in the whole automobile industry.
Traditional luxury automobile brands, on the other hand, are jeopardizing their market positions by failing to adapt to this new reality. Although Chinese car brands have not yet entered the luxury market, their success in the premium segment — particularly the Nio — should make traditional brands nervous about what is to come.
The subject of diversity is more complicated. It is recommended that brands focus on accepting cultural differences across countries and regions and that they invest in training organizations to overcome cultural biases.
Local consumers will desire a brand if they respect and value it. In this case, diversity entails establishing an organization with the right mindset to turn cultural differences and cultural empathy into competitive advantages.
To be successful, luxury brands must pay attention to shifting customer sentiment, rising expectations, and Chinese consumers' diverse purchasing habits.
That wraps up this International Newsletter from this week! If you would like Andrea and the team to support your brand's international success, then get in touch!