International Digital Marketing Executive Andrea Diaz explores the latest in the week's marketing news across the world, from trade agreements to virtual fitting rooms.
INTERNATIONAL MARKETING NEWS: duopoly dominating global digital ad market
In this week's International Marketing News round-up, there's information about post-brexit trade deals, virtual fitting rooms, digital advertising and the adoption of collaborative apps in China.
Duopoly are dominating the global digital ad market
The global digital ad market is dominated by Facebook and Google, creating a duopoly. Due to the pandemic, Google net ad revenues worldwide declined by more than 1%, however, this is a positive result due to the circumstances. YouTube digital video was key, growing by 31.1%, and Facebook also performed well thanks to Instagram's 50% expansion in digital ad revenues.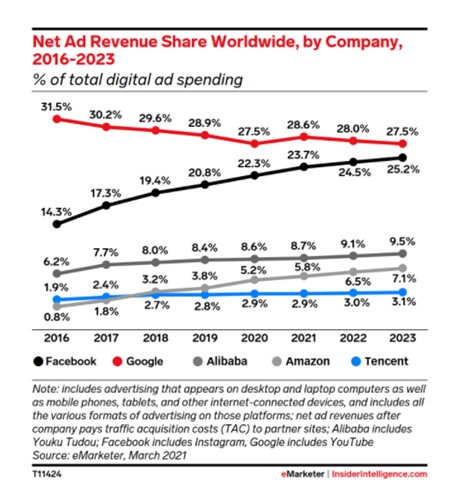 However, this phenomenon is creating new participants. Amazon's share of digital revenues worldwide had increased from 3.8% to 5.2% in one single year. It is expected that Amazon will grow again this year to 5.8%, linked with Alibaba's already sizable 8.7% share and JD.com with a growing 1.4% share. By the end of 2021 the eCommerce heavyweights will have gain almost 16% of the global market and it likely that Walmart and Pinduoduo will join in the coming years.
The UK-EU Trade and Co-operation agreement
Following the end of the transition period on 31 December 2020, the Trade and Cooperation agreement secured tariff and quota-free trade for businesses trading between UK and EU.
Yet, to be eligible for this tariff and quota-free trade, businesses must follow the Rules of Origin stipulated by the deal.
The Trade Agreement indicates:
100% tariff liberation

No tariffs/quotas on the movement of goods produced between the EU and UK
If Rules of Origin requirements are met
No tariffs apply for goods sold to the EU

No tariffs apply for goods received from the EU
It is necessary a statement of origin e.g., printed on an invoice or any commercial document.
Application of bilateral cumulation
The Free Trade Agreement states:
Bilateral cumulation applies, allowing EU inputs and processing to be counted as UK input in UK products that are exported to the EU and vice versa.

If there is insufficient production, tariffs may apply, unless customs special procedures are applied.
Returned goods relief
Upon re-export, to the EU no tariffs would apply

However, EU importer requires evidence of initial EU export declaration.



Walmart Acquires Zeekit Virtual Fitting Room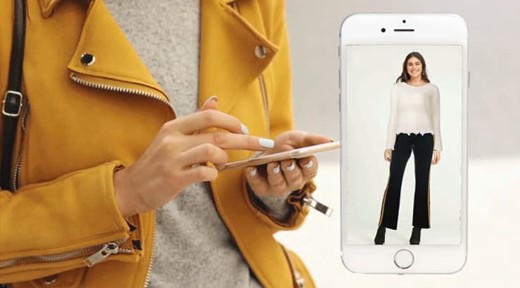 Walmart decided to acquire the fitting room start-up Zeekit to improve customer experience.

The technology will give shoppers the opportunity to try on Walmart's private label clothing and national brands such as Free People, Champion and Levi Strauss.

Walmart is well known for selling groceries but has expanded its focus on fashion by launching private labels, hiring a high-end fashion designer and adding more apparel brands to its website through a deal with second-hand site ThredUp.





Rise in collaboration apps in china
As the pandemic continues transforming the workplace and in 2020 most companies shifted to remote work, in China, the adoption of collaboration tools increased rapidly. Tencents for enterprise and WeCom are part of this, the app's integration with WeChat's ecosystem, paired with an arsenal of business features will make it a valuable asset for marketers even after offices reopen.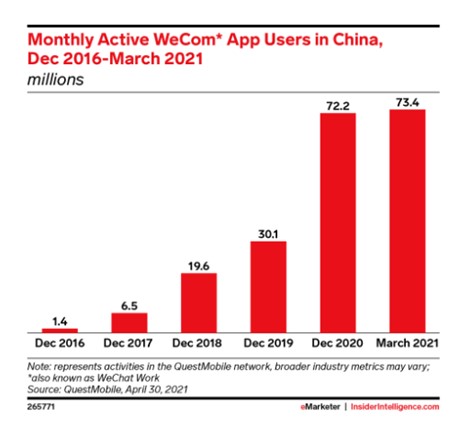 WeChat Work in China was launched in April 2016, and in 2020 the numbers of users in China doubled, reaching 72.2 million.

DingTalk, Alibaba's own collaboration app, also saw a significant uptake during the pandemic, not just among employees, but also students doing remote learning. In March 2020, DingTalk in China obtained 61.9 million new installs.

In 2019, ByteDance, the parent company of TikTok, launched the collaboration app Feishu (known internationally as Lark).

eCommerce company Pinduoduo also launched an app called Knock.
These apps are powerful marketing tools, providing support through sharing content with various account segments, engagement one-on-one with the sales team, adding clients via invitation or QR code providing personalised engagement, and also intracompany marketing communication.
And that brings us to the end of the latest news in International Marketing. Want to discuss anything mentioned in this update? Book in a call with us.