International Digital Marketing Executive, Andrea Diaz, takes us through the latest in international marketing news, from new smartwatches to buy now, pay later data. Read more.
International marketing news: facebook is developing a smartwatch
In this week's International Marketing News Round-Up, there's a look into Facebook's smartwatch development, a potential luxury boom in India, continued post-Brexit trade deals and much more.
Facebook is developing a smartwatch that could be powered by google
For 2022, Facebook is developing a smartwatch based on its messaging services, with a focus on health and fitness.
It will run on an "open-source version of Google's Android software," which might be Wear OS or a fork of Android.
The Facebook smartwatch is also expected to have a cellular connection, which makes sense given the company's messaging concentration.
Its messaging features are planned to focus on brief contacts with people that would normally be handled by a smartphone.
It's been rumoured that Facebook plans to use its social media clout to create a health and fitness platform to compete with Strava. This would make the next smartwatch an important element of the company's fitness push - but it could also turn it into a platform for users to compete with one another, whether through step challenges or more difficult fitness challenges.
It's evident that Facebook wants to draw as many people as possible away from Google and Apple's ecosystems, and hardware appears to be their method.
mOST BUY NOW, PAY LATER USERS ARE GEN Z OR MILLENNIALS IN THE U.S.A
According to the first user forecast for these financing choices, more than 45 million people in the United States aged 14 and above will utilise buy now, pay later (BNPL) services this year. This is an increase of 81.2% from 2020, and the age range of BNPL customers will also broaden in the coming years.
More than 80% of BNPL users were millennials or Gen Zers (14 and above) in 2018, when today's important companies like Affirm, Afterpay, and Klarna were still establishing themselves as respectable payment providers. This year, the figure will decline to 73.2%, however, younger customers are still more likely to experiment with alternative payment methods than the general public.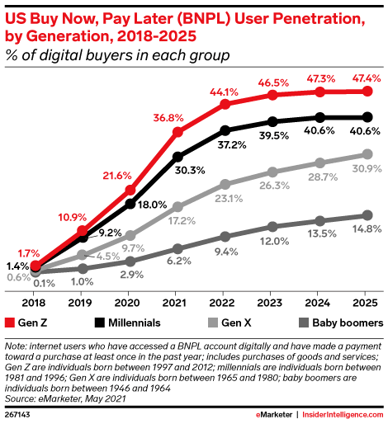 The financial flexibility of BNPL services is a big lure, especially for younger generations. These solutions give younger customers, whose cash flow is sometimes constrained, more payment flexibility, particularly for larger-ticket items.
Gen Xers and baby boomers are increasingly being targeted by BNPL services. Forever 21, H&M, The RealReal, and other merchants with a youthful clientele have long-standing relationships with the top providers.
According to the 2025 prediction, Gen X and baby boomers will account for roughly 30% of BNPL service subscribers. Users aged 45 and up will account for roughly the same percentage of total users. This year, 2.4% of internet users 65 and older will utilise these finance services, with that number rising to 8.2% by the end of 2025.
Is India's luxury boom Emulating China's?
India's wealthy and aspiring classes are rapidly expanding, and their insatiable need for luxury is remindful of China's.
According to the Credit Suisse Global Wealth Report, India has 4,593 ultra-high-net-worth individuals in 2019, ranking fourth behind the United States, China, and Germany.
Around 912,000 millionaires live in India, accounting for 2% of the world's 51.9 million millionaires. India will overtake the UK to become the world's fifth-largest economy in 2025, and the world's third-largest economy by 2030, according to the Centre for Economic and Business Research (CEBR).
According to India Retailing, the luxury market in India will be worth more than $200 billion by 2030. As India emerges as a global luxury hotspot, international businesses are increasingly optimistic about growing their footprint and raising brand awareness in the country. However, in one of the world's largest and most populous countries, marketers must simply pay attention to their customers. A "one-size-fits-all" approach will not work because consumer trends and behaviours varies among areas, cities, and social groupings.
This Year, Upfront CTV Ad Expenditure In The United States Will Exceed $4 BiLLION
Advertisers will spend about half as much on upfront CTV video ads this year as they did last year, totalling $4.51 billion.
This figure accounts for all CTV video ad expenditure that has been committed in advance, such as spending from the TV Upfronts, the Interactive Advertising Bureau (IAB) Digital Content NewFronts, and other events and meetings throughout the year.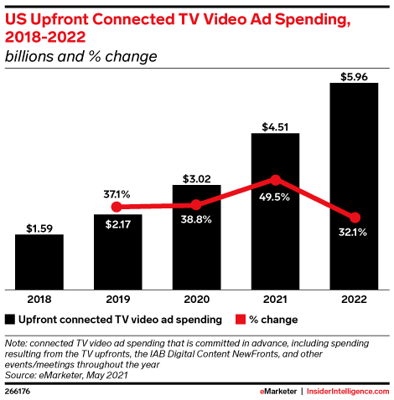 It's become standard for a TV network to spend billions of dollars developing its own streaming service, so it's no surprise that networks are emphasising their own streaming services during upfront pitches, asking advertisers to commit 20% to 30% of their upfront budgets to their streaming services, according to MediaPost in April.
Because digital inventory is becoming increasingly important in upfront deals, advertisers are changing their approach this year, arguing for more flexible media placement options and a shorter negotiation period.
uk nEGOTIATING wITH sINGAPORE iN gROUND-bREAKING dIGITAL tRADE aGREEMENT
The UK and Singapore have begun talks on a ground-breaking digital economy agreement (DEA) that will allow British businesses to expand their service offerings.
Both countries are digital economy leaders, and in 2019, 70% of UK services exports to Singapore, worth £3.2 billion, were delivered digitally, ranging from banking and legal services to music streaming and e-books. How to strengthen co-operation in growth sectors like fintech and lawtech are the topics being discussed.
Other issues up for discussion are guaranteeing accessible digital markets for exporters, enabling cross-border data flows, reducing red tape, and protecting intellectual property rights.
The goal, according to Truss, is to make the UK a global centre for services and digital trade.
And that brings us to the end of this week's International Marketing News. If you'd like to discuss any of the news covered - please do not hesitate to get in touch.