Head of International Marketing, Alison Booth, returns with another round-up of the week's need-to-know international marketing news. This week, there's updates about the length of Spain's working week, China's increasing internet adoption and how gamification is a potential driver for business growth.
INTERNATIONAL MARKETING NEWS: GAMIFICATION A POTENTIAL DRIVER FOR BUSINESS GROWTH
What's new, important and interesting in international marketing? This week we look at the Spanish working week, how gamification can increase sales and revenue, closure of gaps in internet usage across older age groups in China, challenges Brexit has brought to UK fashion exporters and the topics most frequently searched for last month.
gamification - a potential driver for business growth
Econsultancy demonstrate how Zizzi, Coop, Vero Moda and Masai have embraced gamification to increase interaction with the brand and grow their customer base.
Consumers increasingly reluctant to share information, be it data, time, money etc. and are becoming much more responsive to new tactics and tools. Employing game mechanics in the Marketing mix has been a successful addition to the Marketing mix of a number of brands across different industry sectors.

Gamification campaigns can be personalised to increase engagement and can amplify brand resonance through delivering a unique experience that stands out and cuts through the noise.




Fashion brand, Zizzi, ran an online scratchcard campaign that helped to capture 77,000 email registrations and drove £38,000 sales in the first month of activity.




Focusing on the customer experience as the top priority and creating content that engages the user throughout every stage of the conversion funnel is the key to success with gamification.
wILL SPAIN MOVE TO A FOUR DAY WORKING WEEK?
Time look further into the Spanish government's plans to introduce a 4 day working week:
Many companies around the world like US burger chain

Shake Shack

and

Shopify

in Canada are already testing this, but this is the first national test.


The 4 day week pilot is due to launch in September and last for 3 years with a 50 million dollar investment from the government to subsidise the approx. 200 companies involved with the test to implement a 32 hour working week without cutting people's salaries.




The objective of the scheme is to reduce carbon emissions and to improve working conditions.




There are concerns from some political and business leaders about the timing of the initiative as many companies are struggling to cope with the impacts of the pandemic, but others argue that companies will need to hire more people to maintain productivity, which will in turn reduce the currently really high unemployment rate and inject demand to get the economy moving again.




The Danish town Odsherred paints a seemingly successful picture of the 4 day working week with employees splitting 35 of the 37 hour week over 4 days and the remaining 2 hours being used for professional self-development and companies implementing initiatives to ensure people can work from home or work on their train commute to and from work
how china is increasing internet adoption amongst seniors
eMarketer address the digital divide for seniors using China as an example to highlight how the gap can be closed:
By 2040 over 402 million Chinese citizens will be over 60 (approx. 28% of the population), but internet adoption is only 41.8% amongst people aged over 65. So the government have galvanised the digital giants to reduce the digital divide between this demographic group and the rest of the adult population.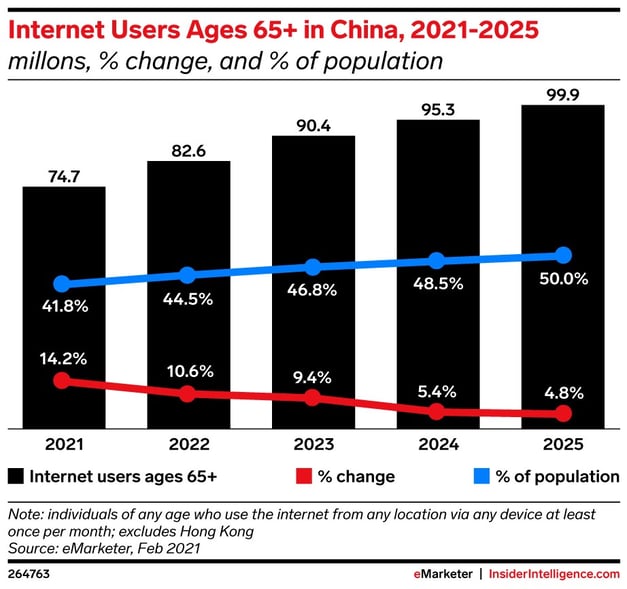 Consumers without access to the internet cited not having "health QR codes" and dealing with cashless businesses using QR code based mobile payments from Alipay and WeChat as being the biggest daily inconveniences they encounter. The government have been advising businesses to offer cash payments and use technology to optimise offline services to avoid alienating the elderly.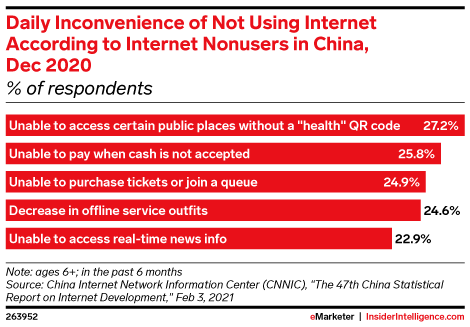 Initiatives adopted include:

Launching senior-friendly versions of apps and dialect recognition via AI.




Optimising hardware for ease of use by the elderly.




Making access to customer support easier.
UK Fashion discouraged from exporting to eu markets
The Institute of Export & International Trade have explored the extent to which order refusals and returns are impacting on the EU export markets:
The US has been cited as an opportunity for many companies due to the threshold before tax and duties are levied being $850.




Small fashion retailers have cited Brexit preparation materials as being aimed at larger businesses thus making it challenging for them to prepare.




Some fashion retailers with well-established trade in EU markets have started to relocate to the EU to eliminate trading friction.




Tamara Cincik,

chief executive of Fashion Roundtable, has concerns that the UK fashion industry, which was growing at 11% may be decimated as a result of the Brexit trade deal
consumers starting to get restless
Think with Google look at how the most popular monthly search terms are evolving to gauge what is on the minds of consumers currently…
Demand for travel is starting to surface with

"resorts near me," "hotel booking app," and "passport size" being among the top search terms last month.

National travel and ways to meet socially distanced are still top trending themes with

"romantic getaway" and "watch party" also being popular searches.

People are still bored over lockdown and the search for interesting home bound pursuits continue to remain high with

"candle making kit" and "cast iron dutch oven" being among the top searches.

Others are considering how they will prepare for the gradual reopening post lockdown with searches like "makeup app," "long tops for girls," and "wedding suit for ___" coming to the fore.
And that brings us to the end of our international marketing news round-up! If you would like to discuss any of the stories included this week, book a conversation with us today.