From airlines persuading people to travel again, commerce rises for China and Germany and a new PayPal strategy for Japan, you'll find the latest international marketing news in our round-up. Find out more.
INTERNATIONAL MARKETING NEWS: HOW AIRLINES ARE PERSUADING TRAVELERS
This week in the international news we saw how airlines are trying to persuade people to travel again, the commerce rise in China and Germany, PayPal strategy to expand into BNPL market in Japan and the importance of selecting the right influencer to succeed in the Chinese luxury industry.
As the travel sector relaunches, how are marketers engaging customers?
International travel may be permitted once more, but the travel and tourism business still faces significant obstacles. Consumer doubt and misunderstanding remain high.
The introduction of the vaccination has revived hope for the travel industry's resurgence. This is evident in ad spend, with Pathmatics data showing that the travel industry has more than doubled its digital ad investment since January, spending $480.6 million between May 1st and August 20th alone.
However, with COVID variants still on the rise, consumers are understandably wary of travelling. COVID-19 is still a big influence in whether or not people book travels, according to an STR poll conducted in July 2021, with 95% of respondents who have not yet booked or undertaken travel mentioning COVID as the cause. The most significant overall impediments to travel, according to the poll are:
The cost of COVID testing
The uncertainty around cancellations
Communication is, unsurprisingly, a critical aspect in engaging customers and creating trust in travel companies. Overall, travel and tourist companies are recognising this, with many employing digital platforms to educate and advise consumers on COVID requirements.
Brands are prioritising innovative tools and services, in addition to clear communication, to actively enhance consumer confidence and travel flexibility.
Consumers are more willing to bite the bullet and book if they get offer flexibility. According to Hopper, 80% of travellers would book a flight if they were able to amend or cancel it without penalty. Similarly, 86% of respondents in a recent Discover poll said that the flexibility of cancellation policies was a crucial factor in booking a holiday.
While the vaccination scheme is assisting in reviving the business, airlines are also encouraging passengers back into flying by improving the flying experience.
Positive Trend For Global Commerce With China and Germany Increases
According to new data from China, trade with the rest of the globe increased significantly in August. Chinese exports increased by 25.6% in July compared to the same month a year ago, with commerce valued at $294.3 billion.
Even though Covid-19 had a substantial impact on trade numbers in August, the increase seen last month was still better than experts had predicted. In reality, exports and imports increased by 34% and 35%, respectively, in the first eight months of 2021.
Louis Kuijs, head of Asia economics at Oxford Economics, told Reuters.com:
"While near-term headwinds remain, supply constraints in China have eased and we think the global economic recovery will continue to underpin China's exports later this year and in 2022."
Shipments are said to have increased across the board, with notable increases in electronics, furniture, and leisure goods.

On the other hand, Germany has confirmed that industrial output has increased in July, but by a modest 1% month-on-month increase.
Production expectations for the automobile industry and the engineering sector have also improved, according to the data.
PayPal has acquired Japan's Paidy to expand its buy-now, pay-later services
PayPal has agreed to buy Paidy, a buy-now, pay-later service located in Japan, for an estimated $2.7 billion (JPY300 billion).
PayPal sees Paidy as a development path as Japan's payments landscape evolves.
Paidy could help PayPal expand its presence in Japan's payments and BNPL markets. Although Japan has always been a cash-based country, people welcomed digital payments throughout the pandemic.
In addition, the Japanese government has pledged to increase cashless payment penetration to 40%, up from 20% earlier this year. Acquiring Paidy, which has more than 6 million users, lets PayPal push further into Japan's budding BNPL space and gain an early mover advantage as Japan's digital transformation takes shape. Moreover, PayPal will gain cross-selling potential as a result of the Paidy acquisition.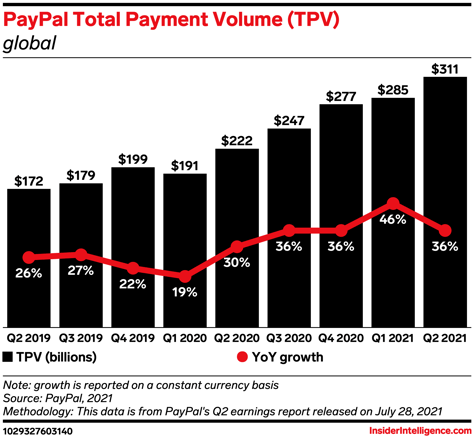 Influencers in China have become a vital investment
All brands face the problem of reaching their target audience in a world of huge digital acceleration, where social networks have become the new real estate in terms of investment.
Many brands look to influencers, key opinion leaders, and celebrities to benefit from their associations and, more crucially, to reach audiences of ten to fifty million followers or more, to break through the continually expanding clutter. In the past, a superstar's allure was their sheer celebrity as a result of blockbuster movies. However, today's real strength comes from a committed following and a celebrity's ability to persuade followers that their brand is one they should try as well.
Brands tend to establish themselves by ephemeral value propositions, interchangeable buzzwords like "performance, authenticity, confidence, and pride," which sound great but mean nothing unless they're backed up by actions that make people feel them.
If an undefined brand suddenly relies on a random influencer to improve its visibility, the influencer's characteristics will overrun the brand.
Before considering an influencer collaboration, brands should first acquire clarity on their brand positioning and competitive advantage (both rational and emotional).
Gucci recognised this when it appointed Kai as their ambassador. The personalities of the brand and the influencer are a natural mix, and Gucci worked with Kai to create a capsule collection that immediately sold out across Asia.

It is crucial to make a list of your objectives and how a prospective cooperation could help you build brand equity and gain a competitive edge. If you don't have a competitive advantage, an influencer can cause more harm than benefit.
If you have any questions surrounding the news in this week's round-up, please do not hesitate to get in touch.