International Digital Market Executive Andrea Diaz explores all of the fresh news in world marketing, from changing ad spend to an airline 'super app'.
international marketing news: how the pandemic changed worldwide ad spend
In this week's International Marketing News round-up, there's coverage of changing worldwide ad spending thanks to the pandemic, Chinese strategy for attracting repeat customers, the airline industry's first 'super app' and the ticking clock regarding EU to GB imports.
the pandemic has changed worldwide ad spending
In 2020 the pandemic affected ad spending worldwide. In fact, before the pandemic it was forecasted that worldwide ad spend would grow by 7%, but the actual results are much different, as ad spend dropped by 4.5%. By the end of the year, worldwide ad spending had contracted by just 1.2%.
Due to the radical change of 2020, the total media ad spending forecast will boom in 2021, as increasingly more stabilised socio-economic conditions lead to a catch-up growth rate of 15%. For Digital ad spending, this figure is expected to reach 20.4%.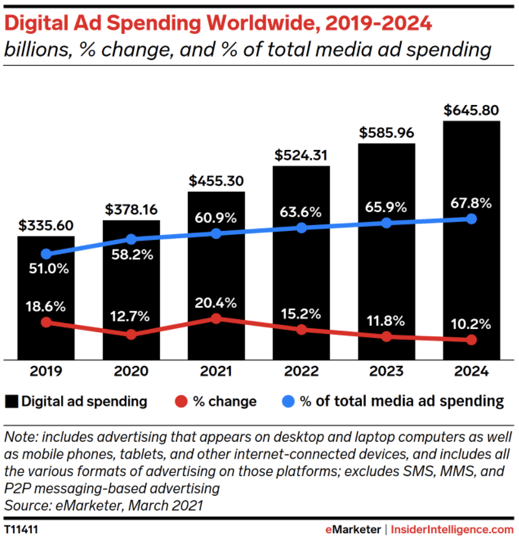 Unsurprisingly, traditional ad spend was hit the hardest by the pandemic last year, while digital ad spends triumphed. The advertising spends in TV, radio, out-of-home, newspapers and other publishers decreased by 15.7% worldwide.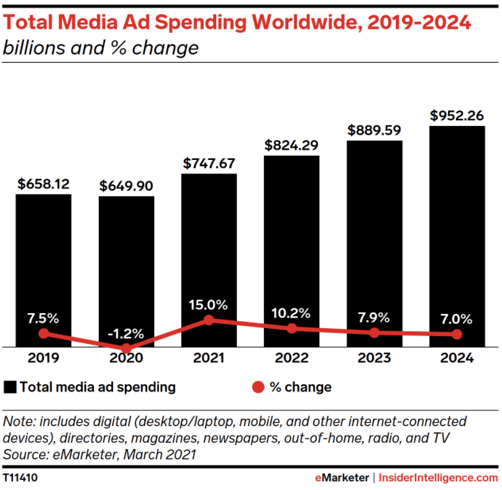 Due to the struggle of traditional advertising, as well as significant growth in eCommerce-related ad spending and social media advertising, a record-setting pace for ad spending growth is expected worldwide this year.
Total media ad spending worldwide will reach $747.67 billion, at a growth rate of 15% - the fastest since the metric started to be tracked 10 years ago. By the end of 2024, spending will reach almost $1 trillion. For context, it crossed the $500 billion mark in 2016.
four CHINESE strategies for attracting repeat customers
Return customers are crucial in all luxury markets but especially in China.
Acquiring a new customer could cost from 5% to 25% than retaining an existing one.
Investing only 5% in customer retention can boost profits by 25% to 95%.
Return customers increase the emotional appeal and likability of a brand.
Due to the large market in China, global brands have found it difficult to retain customers without the right marketing strategy. To overcome this matter the following strategies were implemented:
Investing in collaboration: China's culture is "label-obsessed", so co-branding partnerships and collaborative marketing are frequently implemented.
Strategic pricing: Whenever there is news of price hikes, crowds flock to luxury boutiques in China to try and buy luxury goods.
Loyalty programs: A way to retain a customer is through rewards for their engagement.
Experiential marketing has replaced traditional marketing: Brands to look at are Gucci and Burberry. As customers engage with Burberry's WeChat mini program and their social currency advances, they can unlock new menu items at the brand's café.
Airasia to build the airline Industry's first 'Super app'
The given name to the app that allows the users to complete multiple things in one single ecosystem is 'Super App'. In 2016 the chat app WeChat introduced a feature called 'mini-programs' positioning themselves as pioneers of this format. Many major companies have adopted this format, mostly in East and Southeast Asia and also Russia, where search engine Yandex has launched Yandex Go.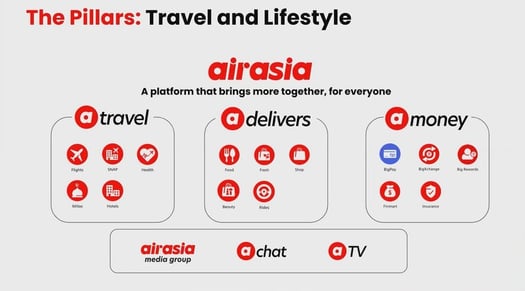 Five key attributes that typically make up a super app, and which AirAsia set out to incorporate into its offering:
A consistent user experience
Payment functionality
Messaging functionality
Single sign-on
Partners
The AirAsia super app aspires to sell not just its flights, but those of other airlines as well, partnering with a platform such as Kiwi in the expectation of creating a co-branded experience.
Clock ticking for eu to gb
in the next weeks, traders should get ready to make customs declarations on imports from the EU into GB. The message from IOE&IT Academy director Kevin Shakespeare:
Last March, the government announced a delay to make effective declarations and checks, in response to businesses needing more time to prepare, said Cabinet minister Michael Gove.
From the date your goods cross the border from the EU to GB, there are 175 days rolling deadline supplementary declarations.
Traders that imported any goods on 1 January 2021, would need to complete the supplementary declaration by 25 June 2021.
From 1 October, the movement of Products of Animal Origin (POAO), certain animal by-products (ABP) and High-Risk Food Not Of Animal Origin (HRFNAO) require pre-notification to GB customs.
From that same date, Export Health Certificate requirements for POAO and certain ABP are required.
Digital Trader Services launch
A partnership between the IOE&IT and Fujitsu UK would provide a new digital service automating the creation of customs declarations for GB importers. The purpose of this service is to provide advice and expert guidance, backed by 24/7 customer support.