ClickThrough's Head of International Marketing, Alison Humphries, talks us through the latest news stories from this week. From the top Black Friday trends of 2020 to Netflix expanding into Asia, read more.
International Marketing News: Key Learnings Brands Can Take from Their First Black Friday Amid a Global Pandemic
What's new, important and interesting in international marketing? This week we look at key trends notable from the run up to Black Friday 2020, changes in the channels consumers are using for product searches, assessment of the current progress towards a UK-EU trade deal and considerations brands could observe from Netflix's experiences in entering the Asian market.
ROUNDUP OF TOP BLACK FRIDAY STATISTICS AND TRENDS 2020
SEMrush carried out a thorough investigation into key trends, activities of top retailers and Amazon products to predict how performance could look over the Black Friday period. Have you seen similar trends and are there learnings you could take forward for next year?
Most popular products had a strong alignment with the purchase trends that have emerged over lockdown.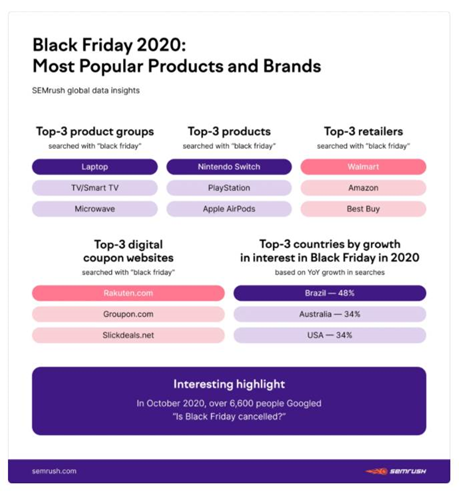 "Buy online" searches increased by 50% YoY. Could there be an uplift in similar searches next year, as people become even more comfortable with transacting online?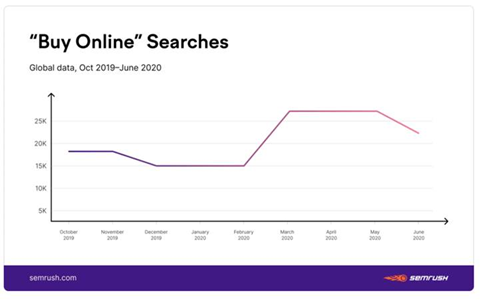 63% of US consumers avoided shopping in store and retailers like Target, Lowe's and Walmart kept their doors closed over Thanksgiving in response.
Sustainable products queries increased by 650% YoY. Ikea have responded through their "buy back old furniture" campaign to attract a more environmentally-friendly consumer.
Interest in Black Friday has taken different directions YoY with Western Europe declining (bar the UK and Italy) and a surge in US, Australia and Brazil.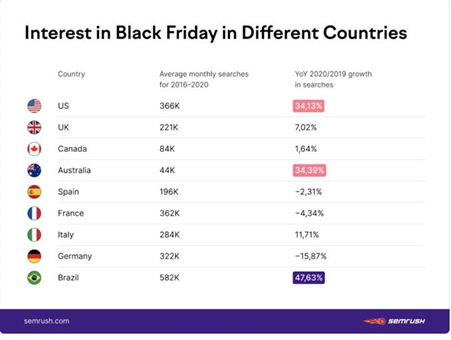 For the first time ever, people sought to find out whether Black Friday was cancelled.
Traffic to major retailers hit an all-time high.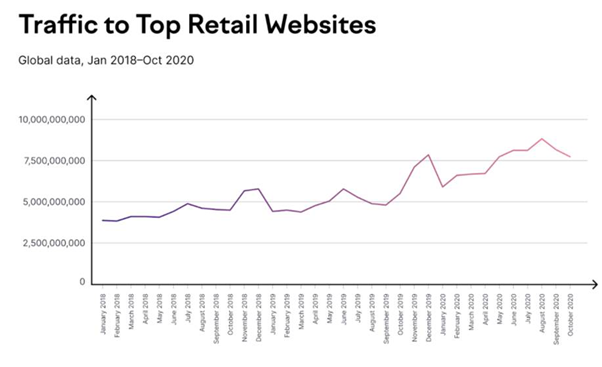 Laptops and TVs were the most popular products searched for in the run up to Black Friday. Flights were still in the top ten despite the pandemic.
Nike and Kohl's made it into the top ten retailers over the past twelve months.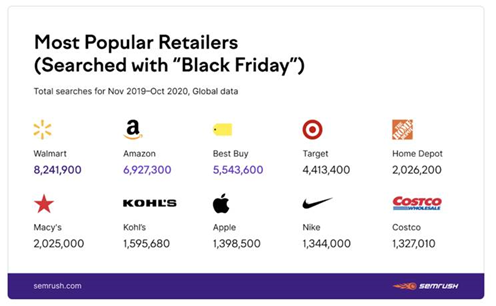 Air Pods, Amazon Echo devices and PS5 topped the list for the consumer electronics products on Amazon in October 2020.
An analysis of YoY ad spend highlighted that advertisers with budgets below $1k made cuts averaging 13% in October 2020, whereas those spending $1k-$10k increased spend by 11%.
In taking these trends to plan future Black Friday activity, don't forget to factor in how you can target voice search.
ARE WE SEEING A SHIFT IN THE CHANNEL USED BY US CONSUMERS TO COMMENCE THEIR PRODUCT SEARCHES?
eMarketer have uncovered that US consumers are heading to market places to start their product searches. A recent survey conducted by Dynata highlighted that 53% of respondents favoured Amazon to start their journey to convert.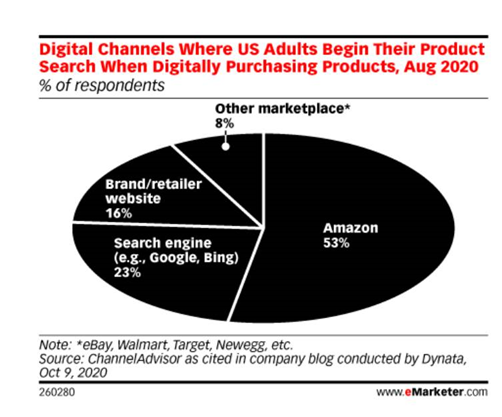 Amazon also looks set to be the channel of choice to find holiday gift ideas.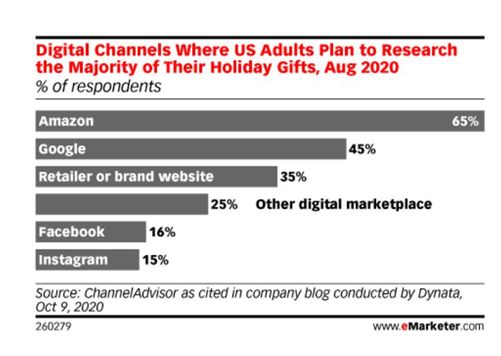 Despite the increased presence of ads on the Amazon first search page results, consumers didn't feel that this negatively impacted their shopping experience. Gen Z users had a great tendency to report that ads had a negative effect on their buying experience.
A survey by Integral A Science found that people are more willing to share personal data with Amazon than they are with other channels offering personalised ad activity.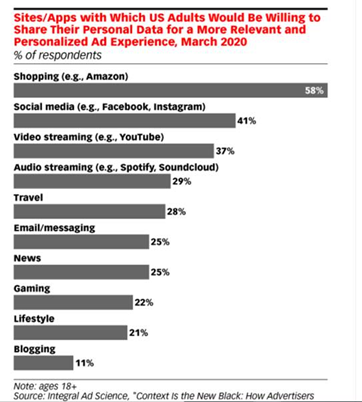 Wunder Thompson's survey highlighted that 82% of respondents wished more brands offered retail services like Amazon, and 54% were worried about Amazon's dominance.
A UK-EU TRADE AGREEMENT STILL REMAINS OUT OF REACH AS FRENCH RESOLVE REMAINS UNFALTERED
The Institute of Export & International Trade summarise the latest developments with the UK-EU trade talks, finding that a deal remains out of reach as the French push for a hardening of the EU stance on fisheries and state-aid.
EU negotiator, Michel Barnier, reigns in discussions, as the EU members states fear too much has been conceded during the negotiations.
A deal needs to be made today, as the Internal Market returns to the Commons and the EU Council meet for the last time this year, requiring documents with details proposing the deal in their own languages in order to reach an agreement.
Switzerland are likely to reach on deal on reciprocal unrestricted business travel to maintain and grow their 3.3% share of UK export trade.
WHAT LEARNINGS CAN BRANDS TAKE FROM NETFLIX'S EXPANSION INTO ASIA?
Jing outline the key takeaways from Netflix's recent move into the Asia Pacific market.
The potential consumer base for the Asia-Pacific region is a third of the world's population presenting a huge opportunity of untapped market potential, particularly in sectors where competition is more limited.
Consumers are keen to receive fresh content - consider the shareable content you could localise to enter the market.
The desire to consume Asian content has increased globally presenting an even wider opportunity to grow market share.
It is a mobile first market. The sharp increase in mobile penetration and low internet connection costs dictates the importance of including mobile in your marketing communication strategy and adapting the product where possible for mobile use.
Wondering how international marketing might work for your business? Get in touch with our experts to find out more about our services.