Our international marketing expert, Alison Humphries, is back with another round of news stories. From concerns over the placement of social ads to tarrif free zones, learn more.
International Marketing News: Notable Marketing Strategy Stats Stemming from the Impacts of COVID-19
What's new, important and interesting in international marketing? This week we look at the stats highlighting consumer behavioural and economic changes resulting from the pandemic, the growing fears of advertisers over their investment in ad placements on social media, an overview of the current status on UK freeports, and the top three recommendations to enhance omnichannel sales from the Boston Consulting and Tencent digital luxury report.
THE LATEST STATS SURROUNDING THE IMPACT OF THE PANDEMIC ON MARKETING, ECOMMERCE AND ADVERTISING
Econsultancy provide a roundup of the latest impacts of the pandemic on marketing, advertising, ecommerce and other sectors like travel, entertainment and FMCG.
Havas Media Group's market research highlighted that 45% of UK consumers are less enthusiastic about Black Friday than in previous years

BrandZ

named Ocado as the fastest growing UK brand in 2020

Daily average ecommerce sales and traffic have increased by 7% and 3% globally over the course of the pandemic

GlobalWebIndex's

latest report highlights that every 3 in 10 UK and US consumers are shopping from brands offering lower prices

Bluecore and Dynata

discovered that over one third of US consumers are more likely to buy from brands offering free trials or testing periods at home

E-commerce app installs increased by 35% across Europe during the peak of the pandemic

Globally, 51% of consumers intend to shop locally over the holiday period

88% of global consumers are likely to continue buying from brands they discovered during lockdown

Despite the delay of Amazon Prime day, 80% of UK Amazon consumers plan to make a purchase on Prime Day

UK retail sales reached pre-pandemic levels in July

Consumer spending fell by 40% in India year on year from March to June

Amazon saw a 40% rise in sales year on year in Q2 2020

Q2 2020 saw an 8.1% reduction in retail sales across the US

Rakuten's consumer research in July demonstrated that over 75% of consumers globally plan to spend a similar amount to last year over the Christmas period

Mobile ad spend grew by 71% in Q2 globally

Ad spend investment in Apple.com soared by 206% in July vs. January

International social ad spend rose by 26.2% quarter on quarter in Q2 2020

Monthly Active TikTok users grew by 181 million in H1 2020

Acxiom

research found that 62% of the UK population have been using video calling apps on a weekly basis since the start of the pandemic
OVER 50% OF AD-BUYING DECISION MAKERS HAVE EXTREME CONCERNS OVER THE PLACEMENT OF THEIR ADS ON SOCIAL MEDIA PLATFORMS
eMarketer have found that amid the current controversial topics, namely the pandemic and the forthcoming presidential election, US ad-buying decision makers have serious concerns about the content their ads could be showing alongside on social media.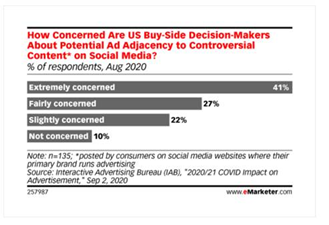 Over 68% of respondents surveyed by IAB expressed fair to extreme concerns, and 22% said they had slight concerns.
Premium media content publishers have challenged brands over recent years by highlighting the divisive nature of user generated content, which is now encouraging advertisers to review their social media ad spend and assess whether it should be placed on premium channels such as programmatic connected TV.
FIRST WAVE OF UK FREEPORTS OPERATING AS TARIFF FREE ZONES HAVE BEEN CONFIRMED BY THE GOVERNMENT FOR 2021
Bids are now open for cities and towns in England to become freeports next year according to Institute of Export and International Trade The purpose of this is to offer businesses tax breaks and easier customs procedures.
Sea, air and rail ports can now bid to be granted 'freeport status' by the end of the year with the intention to open these by the end of 2021.
Benefits of becoming a freeport include:
Simplified planning processes for brownfield redevelopment

Reduction in the complexity of customs procedures and duty suspensions

Tax reliefs aiming to increase employment, economic growth and innovation
Freeports are independent of nationwide customs agreements to allow tariff free imports and exports with the purpose of driving post-Brexit growth.
Chancellor, Rishi Sunak, plans to include ten freeports in the first wave across the four nations of the UK. The selection process will be "fair, transparent and competitive."
TOP INSIGHTS FROM BOSTON CONSULTING GROUP (BCG) AND TENCENT'S DIGITAL LUXURY REPORT
Jing Daily summarises the key learnings to inform your marketing strategy from the BCG and Tencent digital luxury report. Globally, the luxury market is forecasted to see a notable decline from the previous year. However, China's luxury market is expected to grow by 20-30% due to successful domestic control over the pandemic.
Online purchases have grown by 30%, which has emphasised the importance of developing an inspirational omnichannel shopping experience encompassing service and experience.
Grow customer retention through a personalised service
A one-to-one sales service shone out as the key to service efficiency and building customer loyalty following an analysis of a sample of consumer purchase activities.
Around 45% of survey respondents indicated that personalised information is key to improving customer experience. Collecting omnichannel consumer data and leveraging digital tools to ensure frontline sales deliver a customisable shopping experience will aid success.
Use Social Media Marketing to build a community
During the pandemic, livestreaming, digital campaigns and e-commerce strategies have disrupted luxury brand shoppers' browsing activity to shape how millions of Chinese consumers are now shopping.
Using social media to take advantage of consumer fondness for sharing and exchanging content across multiple platforms will help brands to increase conversions through interrupting consumer journeys.
Motivating consumers to share brand content will help to build a stronger community via social media.
Strengthen consumer relationships through brand interaction and online offline synergy
The report indicated that over 50% of consumers seek to learn about brand histories to determine whether their values are reflected in a brand, thus making a purchase a reflection of their personal values.
Around 70% of purchases occurred as a result of brand interaction, indicating the importance of creating immersive experiences through omnichannel platforms to interrupt the buyer journey and inspire a sale.
If you want to discuss any of the stories included in this week's international marketing roundup, book in a conversation with us today.