International Digital Marketing Executive Andrea Diaz covers the latest in international marketing news, from QR code usage to an increase in Canada's eCommerce sales. Read more.
international marketing news: qr code usage increasing
In this week's International Marketing News Round-Up, there's coverage of an increase in QR code usage, VAT changes for GB exporters, Canada's growing eCommerce industry and Chinese attempts to rectify data privacy issues.
QR Codes have increased global usage post-pandemic
QR codes have been around for 26 years, and numerous businesses and IT pioneers have sought to implement them. However, when the pandemic struck, it sparked a major adoption wave that affected every country on the planet.
QR codes are being employed in a variety of situations. Although commonly used in marketing and information sharing, they have grown in popularity as a means of making mobile payments, particularly since the Covid-19 pandemic began.
As the demand for contactless menus grows, it's even being adopted by the restaurant industry. As a result, QR codes are fast gaining popularity around the world.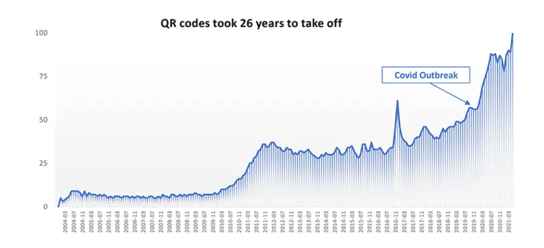 Moreover, as public awareness of health and safety grows as a result of the pandemic, the necessity for frictionless interactions becomes more important than ever. Traditional methods are no longer an option, according to the QR code Covid-19 statistics report, since health measures become more stringent.
According to the Digital 2021 Global Overview Report, the average American now spends over 4 hours each day on their phone. The use of QR codes by Americans coincides with the rise in mobile phone usage. The use of QR codes increased during the Covid-19 outbreak because they are primarily employed in "contactless" contact tracing.
According to a study conducted by Statista in September 2020, less than 15% of respondents had never used a QR code, and more than 30% have scanned a QR code in the previous week. As a result, QR codes are becoming increasingly popular around the world.
VAT WILL CHANGE 1ST JULY FOR GB EXPORTERS TO EU
Significant changes to VAT due by traders selling into the EU and within the EU's trading bloc of 27 member countries will take effect on July 1, 2021.

Items imported into the EU with a value of less than €22 (£15) would no longer be free from VAT, which is a significant change effecting eCommerce in particular.
This legislation means that all goods supplied directly from the United Kingdom to EU consumers, whether via online marketplaces or direct sales, will be subject to the buyer country's local VAT rate.
To make things easier, the EU is letting enterprises selling into the EU, including those in the United Kingdom, use its new Import One Stop Shop (IOSS) scheme to fulfil these new import VAT obligations. The One Stop Shop (OSS) scheme is for enterprises that trade within the EU.
Canada nearly double retail ecommerce sales over past 3 years
Canada's retail eCommerce sales grew at the second-fastest rate in the world in 2020 by 75%, trailing only Argentina, at 100.6% growth.
"Because the change to online shopping was slower in Canada than in other countries, particularly the United States, there was lots of potential to grow," said Paul Briggs, eMarketer's chief analyst at Insider Intelligence.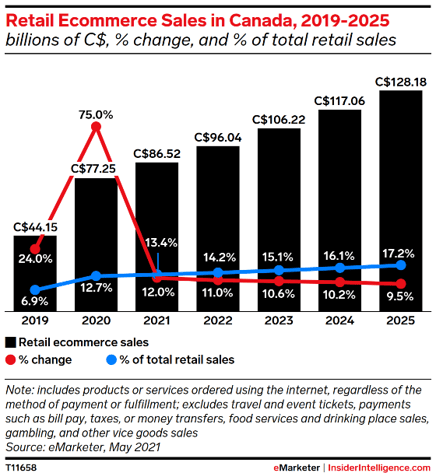 The pandemic compelled businesses to sell more online, which customers eagerly accepted.
The share of eCommerce in overall retail will rise to 13.4% this year and 17.2% by the conclusion of our forecast period in 2025.
CHINA AND DATA PRIVACY
China is sometimes referred to as the "wild west" of privacy protection, where shady businesses collect and trade personal data while regulators and customers look on.
The Chinese government has been attempting to rectify this, most recently by creating a privacy law similar to the General Data Protection Regulation of the European Union (GDPR). While the repercussions for businesses are still unclear, it is apparent that China is committed to addressing this issue in its own time and manner.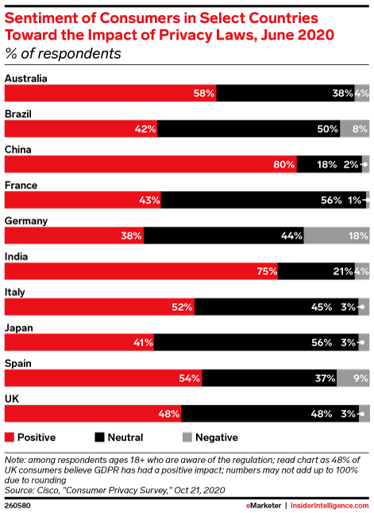 The country's top legislature has released two drafts of the Personal Information Protection Law (PIPL) since last autumn. The most recent draft improves children's protection and makes it easier for users to revoke their agreement to share data. If implemented, the law will also make it easier to punish cases involving the misuse of personal information.

For businesses, it provides clearer guidance on processing by third parties, including international partners. External independent organisations would be required to oversee online platforms' data practises and to publish social responsibility reports.
And that brings us to the end of this week's International Marketing News. If you'd like to discuss any of the news covered - please do not hesitate to get in touch.