Alison Humphries, our international marketing expert, is back with another roundup of the global news stories you need to know about. From augmented reality trends to embrace in 2021, to trade friction between the UK and EU, read more.
International Marketing News:

The Top Nine Augmented Reality Trends for 2021
What's new, important and interesting in the world of international marketing? This week we look at the most notable augmented reality trends for 2021, the importance of social shopping, UGC and AR for online retail sales in 2020, the growing movement of manufacturers towards D2C, requirements for more harmonious UK-EU trade and Biden's objectives for international trade.
AUGMENTED REALITY TRENDS TO EMBRACE IN 2021
Mobidev summarise the top nine augmented reality trends we could see emanating from 2021:
1. Mobile AR: Apple ARKit 4, Google ARCore
These tools have introduced AR technology to developers in 2017 and consistent updates have driven a widespread uptake of this technology.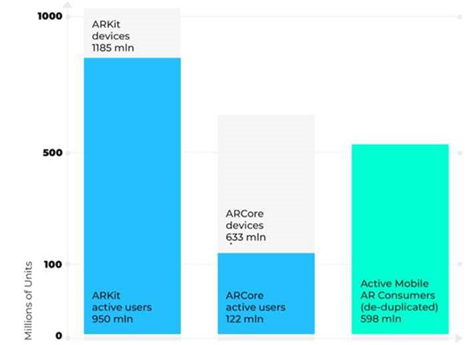 2. Shopping with AR: Try Before You Buy
The opportunity for brands like American Apparel to bring the in store shopping experience into people's homes during lockdown.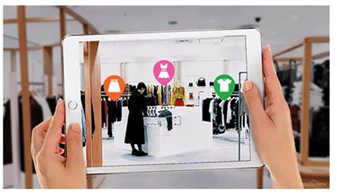 3. Indoor Navigation
Assists people in navigating through malls to directly reach the store they wish to visit. Equally, finding products in store can be aided through AR.
4. The Role of Artificial Intelligence
AI can deliver automatic suggestions for product purchases while customers are in store, and also drives the virtual fitting room service.
5. Technical Support and Virtual Manuals
AR can deliver advice to customers through on-screen directions when holding their smartphone camera to the screen.
6. AR For the Automotive Industry
BMW and Accenture used AR technology to display a new car on consumers' driveways without them needing to go the dealership – ideal to nurture the sale of new cars through lockdown.
7. Wearable AR Technology
AR glasses are currently under development to facilitate immersive AR experiences while people are out and about.
8. Events Through AR
People can safely attend career fairs and sports events during lockdown through viewing videos of virtual tables explaining details of graduate careers or creating holograms of sports player in their homes from their smartphones.
9. Enhancing Learning Experiences Through AR
This facilitates the virtual inspection of models to understand examine and understand concepts students are learning about.
2020 EMPHASISED THE IMPORTANCE OF INCLUDING SOCIAL SHOPPING, UGC AND AR IN DIGITAL MARKETING STRATEGIES
Econsultancy outline the reasons behind the acceleration in the use of social shopping, UGC and AR in 2020 digital marketing strategies and beyond.
SOCIAL SHOPPING
Adidas saw a 35% uplift in sales over the pandemic through shifting spend to social to encourage consumers to buy directly from posts. Levi's also took the same approach and favoured TikTok as the main channel.
EMPOWERING REVIEWS AND UGC
Smart eCommerce brands encouraged people to submit reviews and user generated content; for example, River Island uses both carousels of shoppable images on its site and customers showing their new purchases.
AR TAKES CENTRE STAGE
Econsultancy anticipate that the take-up of AR promotional activity is to become more widespread in 2021, following success seen by brands like Kendra Scott who found that people virtually trying on jewellery were three times more likely to convert and spend 20% more.
WESTERN EUROPE SEES RAPID UPLIFT IN D2C OPERATIONS
eMarketer review how COVID-19 has amplified the movement of many European brands to direct-to-consumer (D2C). This route to market frees brands from the guidelines they have to follow through market places and third party partnerships. Mattress manufacturers Casper and Emma, luggage retailer Away and socks supplier Happy Socks saw success through switching to D2C.
67% of respondents of a Good Rebels survey carried out in Spain felt that direct selling offered more control and knowledge of user data and 57% felt it strengthened their ability to personalise the customer experience.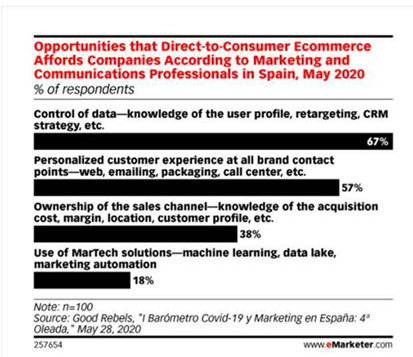 Big brands are shifting their focus away from using resellers with high street stores to selling directly online. A report produced by Barclays Corporate Banking in 2019 outlines that 73% of UK manufacturers were selling D2C vs. 56% in 2014.
BUREAUCRATIC TRADE FRICTION BETWEEN UK AND EU COULD EASE IF THE UK ABANDONS THE 'SINGAPORE ON THAMES' STRATEGY
The Institute of Export & International Trade confirms that UK trade with the EU could be easier, if European rules are more widely followed. Moving away from the "Singapore on the Thames and increasing the working week" idea would create more favourable conditions for the EU and UK to trade more harmoniously. We await the outcome of these negotiations with the greatest of anticipation.
If you want to discuss any of the stories included in this week's international marketing roundup, book in a conversation with us today.