Our Head of International Marketing, Alison Humphries, is back with another roundup of the news stories you need to know about. From the top 10 digital marketing trends for 2021 to mass adoption of click and collect, read more.
International Marketing News:

Top Digital Marketing Trends to Look Out for in 2021
What's new, important and interesting in international marketing? This week we look at top digital marketing trends that could emerge in 2021, the boom in programmatic CTV video advertising, the continuous growth in click and collect post-pandemic, the UK-EU import and export trade administration that is set to stay and efforts of key ferry lines to negate trade bureaucracy for EU-Ireland imports and exports.
10 DIGITAL MARKETING TRENDS FOR 2021
1. Tightening up Digital Transformation
A Twilio Study of 2,569 companies found that the pandemic fast-tracked digital communication strategies by six years. 2021 is likely to herald greater investment in eCommerce, direct-to-consumer and eCommerce routes to market, a shift from physical to digital media and equally events, courses etc. moving to hybrid models.
2. Reconnection of Communities
In 2020 mass social distancing led to brands reaching consumers through personal, empathetic communication, as demonstrated by Digital Boost's "Good Growth Community" run on Guild to connect female-led businesses and entrepreneurs. This could be a trend set to continue into 2021 to connect people with shared interests.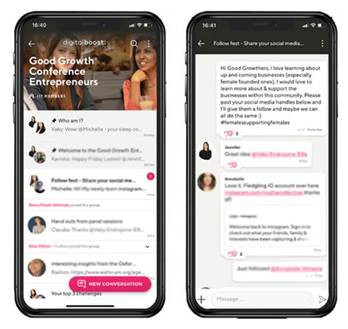 3. A Return to Decentralisation
Wide spread remote working, which will change the operations of company headquarters, shifts away from centralised social networks to virtual equivalents of people's living rooms.
4. Greater Control Over Tech Giants
The EU has proposed two new laws to reduce the power of big tech companies, comprising of "the Digital Services Act and the Digital Markets Act", and the UK has created the Digital Markets Unit to control legislation over Big Tech companies.
5. A Greater Thirst for Knowledge
2021 could see a greater demand for self-learning to upskill and improve existing skills as well as an increased investment in training and development from companies that can afford to.
6. Growing Presence of 'Augmented' Marketing
Increased usage of tools with AI capabilities, such as Snazzy.ai for auto generated copy and Beautiful.ai to create presentations.
7. Demand for Both Slow and Fast
The Quartz curve, developed in 2014, determined that being between 500 and 800 words is not the best place to be. There are clear digital examples of this. For example, Facebook highlighted the importance of ensuring consumers are no more than five taps away from purchasing a product, yet users have the power to control their digital content consumption. For example, there is a growing trend towards people slowing songs down, but speeding podcasts and videos up.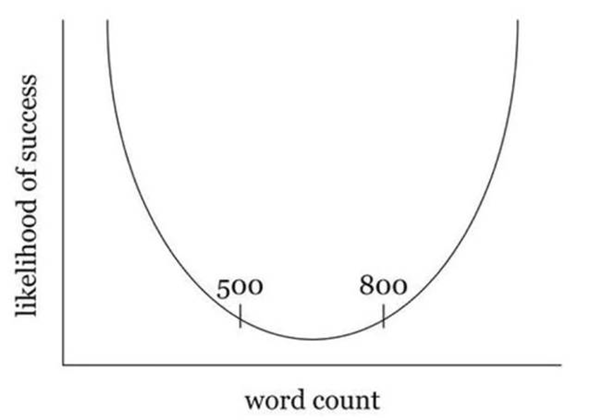 8. Movement Towards Live Commerce
A combination of live streaming and eCommerce, which emerged on Taobao, Tmall, Pinduoduo and Douying, could make its way across to the West in 2021.
9. Growth in the Importance of 'Marketing Bothism'
With greater consideration of short and long-term tactics to aid post-pandemic survival, there has been a significant focus on short-term sales activation focused marketing, yet having a strong SEO strategy and building email sender reputation are key to building long-term brand reputation.
10. The 'Inconvenient Truth' of Digital
Businesses are striving to operate more sustainably, and it is easy to think that digital naturally operates in this way. However, while digital helps to circumvent negative environmental impacts such as environmental pollution from large numbers of vehicles on the road for people to go shopping, over a billion trees were cut down even a year ago to produce the e-commerce packaging for the US.
The question remains whether eCommerce will emerge the winner in the long term, but at the expense of the environment?
US PROGRAMMATIC CTV VIDEO ADVERTISING SURGES FORWARD INTO 2021
eMarketer provide insights into how ever increasing video advertising has simultaneously fuelled a growth in programmatic display. The shift towards streaming video over lockdown has boosted video ad impressions, particularly on connected TV devices.
US advertisers spent an estimated $11.6 billion more on programmatic CTV ads in 2020 than in 2019. eMarketer forecast that this could grow to $2.31 billion in 2021.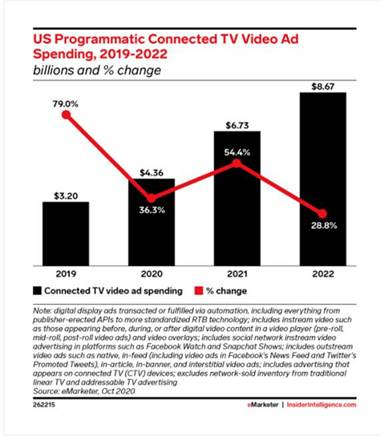 A survey conducted by the Interactive Advertising Bureau (IAB) in November 2020 indicated that 60% of US advertisers plan to shift their ad spend from linear TV to CTV or OTT in 2021, with 81% of respondents outlining targeting and efficiency as being key benefits. 55% indicated that incremental reach was a key draw.
Conversely, eMarketer conducted further interviews with experts into advertising on this channel and cited challenges with measuring CTV ad results as being barriers to uptake, as well as difficulties in reaching target market segments, as these devices are often shared by the whole household, so the ads may be reaching the wrong groups of consumers.
Additionally, commitments to spend tend to be upfront rather than real time, making it more challenging to reach target market segments when the timing may be more optimal to drive conversions.
Improvements to cross channel identity and measurement may assist to alleviate some of these concerns and the IAB have also developed solutions to reduce fear of fraud and fragmentation.
THE PANDEMIC AWAKENED A TREND TOWARDS MASS ADOPTION OF CLICK AND COLLECT
eMarketer investigate the extent to which the pandemic led to a swift movement to click and collect across a wide retail base. Initially this trend started out as a 'nice to have' for consumers to benefit from the convenience of shopping online while enabling them to pick up their orders on the way home from work or while just being out and about to run errands.
However, this switched to a necessity when the pandemic hit, as logistics firms hastily ramped up their capacity to cope with the overwhelming demand for home delivery and click and collect, curb side pickup in particular offered a solution for consumers, who could not secure home delivery slots.
Digital Commerce 360 reported that this led to a growth in US retailers offering curb side pickup, from 6.9% in December 2019 to 43.7% in August 2020.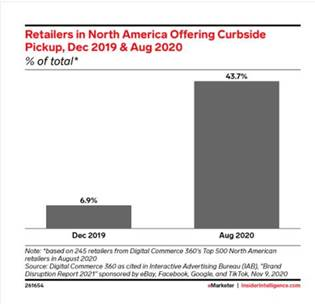 While the pandemic drove this trend, it looks set to continue to grow well into the future, as consumer behaviour continues to evolve.
BARNIER CITES THE NEW EU-UK TRADE ADMIN AS THE 'NEW NORMAL'
The Institute of Export & International Trade summarise the latest political development of the UK-EU trade deal featuring Michel Barnier's quote that the new cost and admin challenges faced by UK-EU importers and exporters will be the 'new normal' as the trade deal agreed on 31st December will not be open to negotiation and indicated that the current issues will be ironed out.
He also highlighted that divergence from EU regulatory standards could impact on the tariff and quota free deal. This is a heavy blow to Scottish seafood exporters, after the EU halted imports from Scottish farmers.
Health checks, IT glitches and the necessity for customs documentation heavily delayed imports for France and Spain, which led to cancelled orders and food being left to rot.
DB Schenker and DFD have continued to suspend shipments and parcel delivery from the EU to the UK due to post Brexit trading bureaucracy.
Barnier has now returned to France to his original position in the French political party Les Republicains.
STENA NEGATES POST BREXIT TRADE BUREAUCRACY BY RE-ROUTING THE LIVERPOOL-BELFAST ROUTE OF ITS NEW VESSEL TO ROSSLORE-CHERBORG
The Institute of Export and International Trade outline the action taken by the largest ferry operator of Great Britain-Ireland routes, Stena Line, to re-route its newest ship from Liverpool-Belfast to Rosslore-Cherborg to avoid the current delays on this route resulting from the new post Brexit procedures and checks involving ENS declarations as well as health certificates for agri-food consignments.
This was originally the quickest transport route taking only 12 hours pre-Brexit. The new Stena vessel increases the capacity of the Rosslare-Cherborg route to accommodate 50 more lorries, taking this to a total of 190 loads per shipment.
DFDS also started shipping from Rosslare to Dunkirk on 1st January to facilitate the ease of EU-Ireland imports and exports. Originally a port dominated by passenger traffic, Rosslare has seen a surge in freight traffic post Brexit.
Brexit has driven an uplift in demand for direct freight routes, particularly driver accompanies freight, which has been facilitated by temporarily re-routing the Stena Embla vessel.
If you want to discuss any of the stories included in this week's international marketing roundup, book in a conversation with us today.