Our Head of International Marketing, Alison Booth, is back with another roundup of the need-to-know global marketing stories. From top brands revolutionising their in-store experiences to pairing Crypto art with footwear, find out more.
International Marketing News: Top Global Brands Revolutionising In-Store Experiences
What's new, important and interesting in international marketing? This week we look at the evolution of the high street to encourage people to return to retailers' stores, the value US consumers hold in buying from retailers offering workers equal pay rights, the importance of scaling up investment in omnichannel strategies and much more.
HOW THE HIGH STREET is EVOLVING TO CONTINUE TO ATTRACT AND ENGAGE CUSTOMERS
Econsultancy outlines how stores from top brands around the world are evolving to bring people back onto the high street post pandemic.
Lush are piloting an app-first store in Japan to allow customers to discover the properties and benefits and check ingredients by scanning the bath bombs with their #LushLabs app, thus freeing up store staff's time to recommend products and answer non-features and pricing based questions.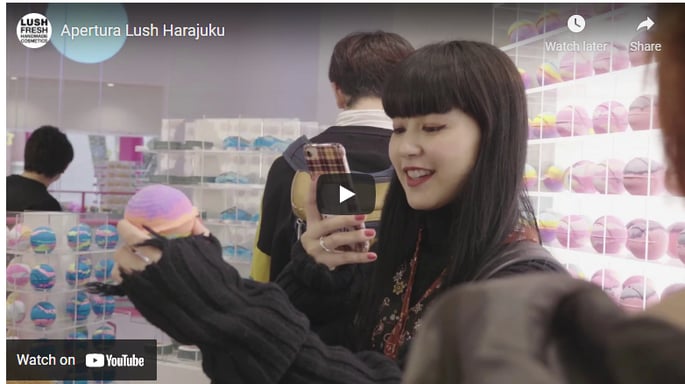 M&S is the first UK retailer to enable customers with a small number of items to check out in the queue with a member of staff - rather than waiting for a self-service or manned till.




Hema, Alibaba's first store located in China, helps customers to understand the origin of its products through enabling customers to scan QR codes to determine the exact date of when food was harvested, sourced and delivered. In addition to providing an in store dining experience where robots serve the meals when they are sent out from the kitchen.




Zara tested AR through setting up zones where customers could hold their phones up to a sensor to use it as a lens to see models wearing the latest collections in the space around them to see how the clothing and accessories look when they are worn. An effective way of combatting the current challenges of being unable to try clothing on!




Sam's Club partnered with A.I. company Brain Corp to use robotic floor scrubbers to ensure staff were free for customer service duties and manning checkouts. The retailer is also piloting a test to enable robots to analyse shelving to check pricing accuracy, ensure products are in the correct locations and to monitor stock levels.
EQUAL PAY IS THE TOP MOTIVATION FOR BUYING AMONGST U.S. CUSTOMERS
eMarketer report on a survey carried out by Morning Consult, which highlighted that consumers favour brands that are proactive in taking action and top priority was paying men and women equally.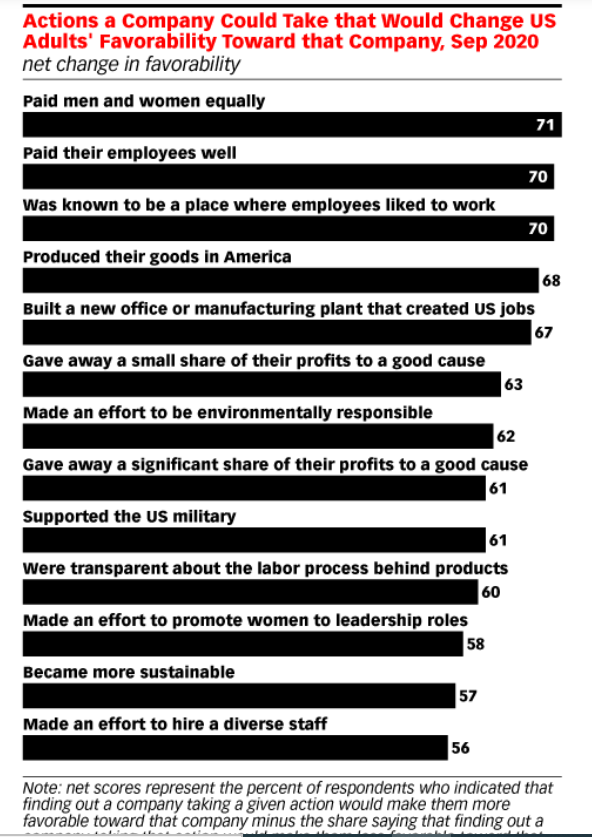 Digital spend on the rise as retailers develop omnichannel strategies
eMarketer investigates the growing importance of having a well planned omnichannel strategy to align with changing shopping habits.
A survey carried out by Rabin Research in conjunction with BDO USA in September 2020 highlighted that 50% of the US CFOs interviewed will be increasing investment in digital transformation in 2021 and 51% of respondents started to ramp up spend in ecommerce activity in 2020: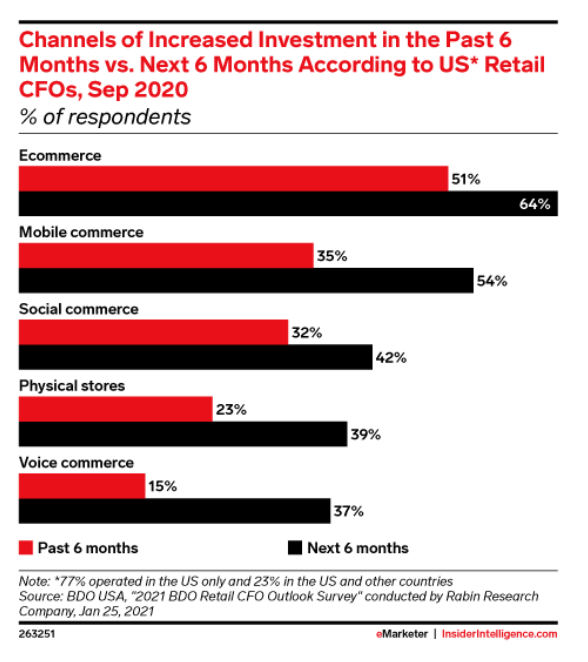 The growing demand for click and collect has led to investment in cashierless checkouts and contactless payments, which will enhance the omnichannel experience moving forwards.
US marketers are scaling up spend in omnichannel communications with establishing meaningful connections with customers being the top priority and increasing the personalisation of the experience being a secondary priority to enhancing investment in the omnichannel service.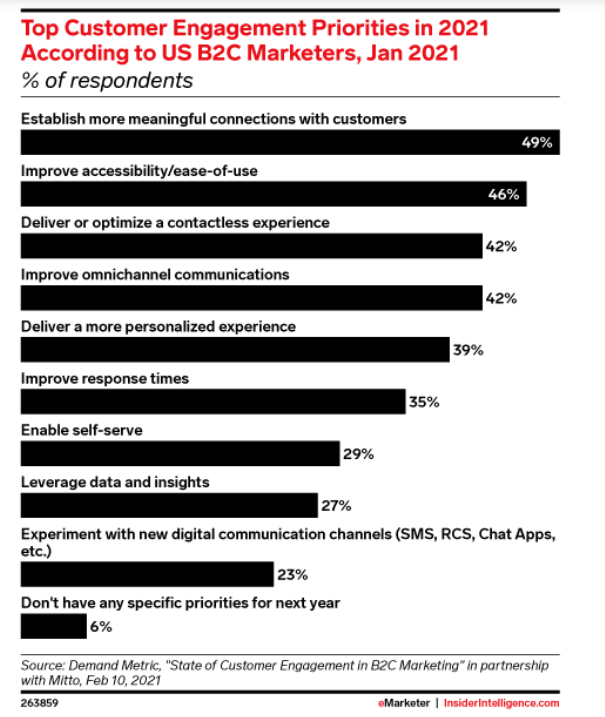 PANDEMIC-INDUCED IMPACTS ON UK EXPORTS in 2020 SHOW SIGNS OF REVERSING
The Institute of Export and International Trade report on the stark retraction of UK exports in 2020 with a drop of 14.7%
Cars, oil and gas, machinery and pharmaceuticals saw the biggest impacts with Germany, China and the US benefitting.




Bank of England (BOE) governor Andrew Bailey mooted that increasing productivity could assist in driving post Brexit success.




The BOE anticipate permanent scarring of around 1.75% of GDP and economic shrinkage of 4% in the first quarter of 2021.



Despite lockdown, retail sales for February have grown by 1% YoY, which may have been due to increased consumer optimism of an easing of lockdown following the opening of schools on 8th March 21.
COULD CRYPTO ART AND SNEAKERS BE A MATCH MADE IN HEAVEN?
Jing Daily investigate the unusual pairing of crypto art and sneakers and whether this is a trend that could gather momentum.
The non-fungible tokens (NFC) market encompassing digital collectibles, crypto art and gaming features was valued at $100 million last Summer and is now already worth $250 million.




Beeple sold one NFT for $6.6 million in December 2020 and Grimes sold an NFT art and music collaboration that sold for almost $6 million.




BCA, Asian crypto marketplace, is hosting the world's first physical exhibition of crypto art in March 2021 in Beijing featuring pieces from Winkelman and other block chain artists.




Artist 'FEWOCiUS' highlights the value of royalties with NFTs and the benefits this could bring to brands, for example you could buy a pair of Nike Jordans for $3,00 and then sell them on StockX for $3,000, Nike would not gain any benefit in terms of royalties. But if they were to buy a piece of NFT and start integrating it into their collection, they could benefit from the royalties from every sale of their footwear.




There is a huge market opportunity for NFT and luxury brand collaborations, as people may covet pieces featuring NFTs and pay high prices to buy them from the original owners enabling the luxury brands to benefit from royalties from the sale.
If you'd like to discuss any of the stories included in this week's International Marketing Round-up, book in a conversation with us today.