Head of International Marketing, Alison Booth, takes us through all of the latest news in international marketing, including US electronics ad spend. Read more.
iNTERNATIONAL mARKETING nEWS: us eLECTRONICS aD sPEND sET tO dOUBLE
In this week's International Marketing News Round-Up, there's coverage of US Electronics ad spend doubling in the next few years, trade deals with New Zealand, learnings from the most valuable luxury brands of 2021 and much more.
US Computing & Consumer Electronics Products Digital Ad Spend Looks Set To Double
eMarketer have found that following a surge in revenue in 2020 for the computing and consumer electronics products, digital ad spend could escalate for years to come.
The pandemic drove a heightened interest in the tech industry following mass purchases of computers and other devices for students and home workers.

eMarketer forecast US computing & consumer electronics spend to double from 2019 spend of $9.80 billion to $21.56 billion in 2023

Messaging has evolved away from a strong focus on brand to things that matter most to the post lockdown consumer.

In 2020, computing & consumer electronics display ad spend saw a 37.8% growth in ad spend and search by 21.8%.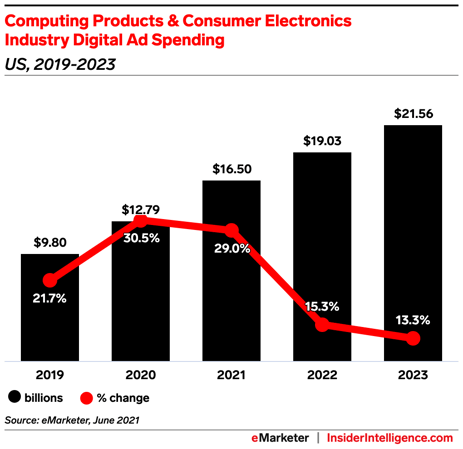 New Zealand Trade Deal Before August Looks Imminent
The Institute of Export and International Trade anticipate that a trade deal between the UK and New Zealand may be struck by the end of August
This is a lucrative export opportunity with trade between bother markets being worth £2.9 billion in 2019.

Greater flexibility on services, mobility and investment will be needed to reach a deal agreement.

Negotiations on wine and cars look set to slash tariffs for both industries further cementing the export agreement

Mutual recognition of professional qualifications is needed to ease the movement of professionals between the two countries.
Learnings From The Success Of The Most Valuable Luxury Brands Of 2021
Jing investigates how fashion brands arrived on Kantar's recently published most valuable luxury brands for 2021 list.
Focusing on brand story telling through building an incredibly strong brand positioning and orientating their sales strategy around flagship stores and pricing based on added luxury value rather than giving in to promotions.

Aligning their strategies with the requirements and expectations of Gen Z. Louis Vuitton exemplify this through reinventing staple items like trunks and weekender bags with new designs, colours and patterns to make them more covetable.

Honing in on digital initiatives, as per Chanel's approach using a K-Pop idol to make the brand image more favourable to Gen Z consumers in Asian markets through initiatives like the promotion of the "No. 5 Factory collection) to celebrate 100 years of Chanel by offering "a slice of the brand" at an affordable price.

These tactics showcase how the

most valuable luxury brands whip up a hunger for their products through a carefully considered focus on brand positioning and equity building.
If you've got any questions surrounding the news in this week's round-up, please do not hesitate to get in touch.