Jade Coleman joined us as an SEO Account Manager in 2012 and now heads up our client operations. Find out more about Jade's progression with ClickThrough.
JADE COLEMAN: MY CLICKTHROUGH GROWTH STORY – HOW FOLLOWING MY GUT LED ME TO LEADERSHIP
Jade Coleman is our Director of Client Services. Jade joined us as an SEO Account Manager in 2012 and has since grown to specialise in client operations. Jade progressed through ClickThrough by following her interests and identifying the areas she wanted to work in, leading her to use her knowledge to improve the services we offer our clients.
Time with ClickThrough: 8 years, 10 months
Joined As: SEO Account Manager
Current Role: Director of Client Services
Total Roles at ClickThrough: 6
Finding a career that fit
When choosing what I wanted to do at college, marketing wasn't even a thought for me. My original plan was to do a beauty science course, but when that was dropped at the last minute, I picked out some A Levels based on my love of English literature and writing. I followed this route to university and did my degree in journalism and editorial design, an ideal degree for any would-be marketer, even if they don't know it at the time! It was actually here that I discovered my interest in marketing as I saw all the working pieces of the industry come together and realised this would be a career that made sense for me!
Before ClickThrough I had a fairly typical marketing career of switching agencies to progress and find new challenges. I'd been working in marketing for three years and had worked at two different businesses – I never intended to stay anywhere long term as I wanted to vary my experience as much as possible. My role prior to ClickThrough was actually at a web development agency, which gave me insight into site migrations and the way SEO and web development could collaborate.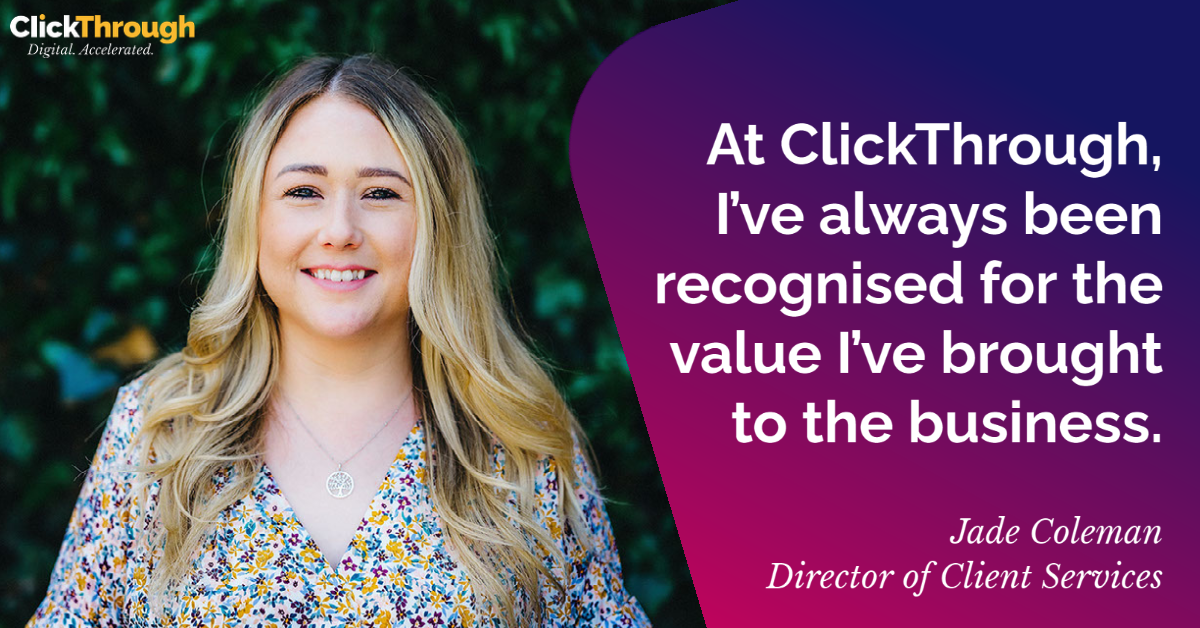 Since coming to ClickThrough as an SEO Account Manager, I've always felt challenged enough and kept on my toes, so I've never wanted to leave! In my previous roles, any form of promotion or progression was quite difficult to achieve as you had to be there a certain amount of time, or the person above you had to move on or be promoted themselves. At ClickThrough, I've always been recognised for the value I've brought to the business, meaning progression has been granted no matter how many people have been above me in the ladder! There's no red tape here – you create your own path rather than take someone else's and are promoted based on your desire to excel in what you do.
From SEO to client management
I initially had a typical progression path, going through the stages of being a Senior technical SEO specialist, to the Head of SEO, to Director of Organic Search. I always just wanted to do what I could for clients – progressing through these roles came from wanting to take on more responsibility for delivering the results that would make them happy! It was while I was the Head of SEO that I started to look more at the operational side of the department and think about what works well, and what we could improve or bring in to help things function better. I quickly realised how big an impact the different things we implemented had on our commercial achievements and the wider business as a whole, giving me a bigger picture beyond my day-to-day client work.
Then I moved into the Director of SEO role and, again, I had even more insight into the company commercials - I could see exactly what I was doing and how that was impacting the team and impacting the company culture and numbers. I grew this huge passion for the workings and the operations of the department and loving how you can do something that feels so small, and it will have such a big impact on ours and our clients' experience.
I couldn't help but feel that there was only so much I could do for the company while I was in the SEO department so, when Chris Roberts joined us as Director of Client Services (which has now become my role!), I expressed to him that I wanted to take my role across the agency and see how I could support operationally. And we made it happen! I pushed for it while Chris guided me and mentored me on what I needed to do to bring my skills agency wide as Client Operations Director and, when he became our Managing Director, it felt natural for me to take on his role. It was never a goal of mine to do the role I have now but being open to each new experience and having the determination to do more and take my skills further has got me here!
A passion for client experience
Client experience has always been a real passion of mine, going back to when I was an Account Manager. I always wanted our clients to praise us and I wanted to see good results and get that boost off the back of what we'd done. The positivity that comes from clients has always given me so much satisfaction and the more I progressed the more impact I could have on this. One small change in house for us can have a big impact externally to a client, so this is where we should be looking rather than just focusing on our team. We should be listening to our clients experience and making changes to improve what we can offer.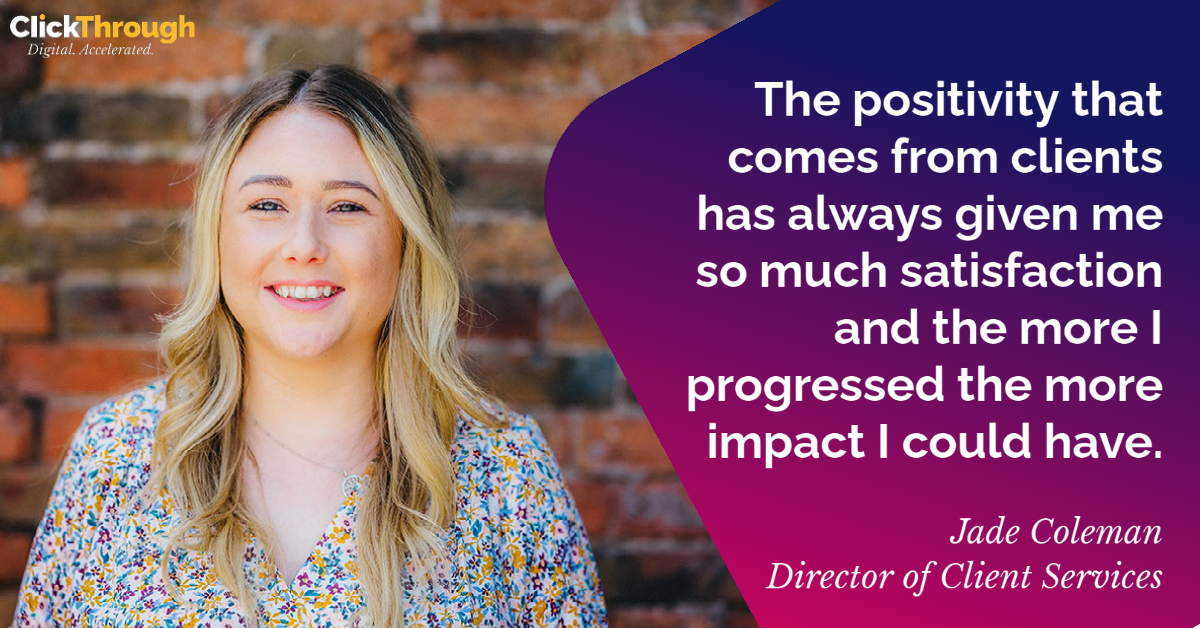 We now have an emphasis, more than ever, on the client experience. We've always cared so much for the client but it's been on an individual client basis and, what we've recognized as we've grown, is that you can't have an absolutely unique approach to each client. You have to have some processes that are in place to ensure that client satisfaction is universal, especially when you're managing multiple different clients - you have to have those processes so that there's some structure to the things that we do and we can replicate a job well done.
How living ClickThrough's values helped me progress
I have always been so determined in my life, which I think comes from my childhood. I've always wanted to accept everything that comes at me, while not being afraid to use my voice to challenge things in a constructive way. I like to think this trait has made me trustworthy – people know what to expect from me and being open and truthful has led me down this path. I have been really fortunate to be at a company that has recognised these qualities and enabled this progression for me.
One of my most hated questions is "where do you want to be in five years' time". The simple answer is, I just don't know! Following my interests and acting on opportunities as they've come up has always been my plan, and I'm so happy with where it's got me. I'm just going to continue pushing what I'm doing with client experience; I have so many plans that I want to see through and inspire people within ClickThrough to approach client experience with the same creativity and innovation that they do with their individual specialisms.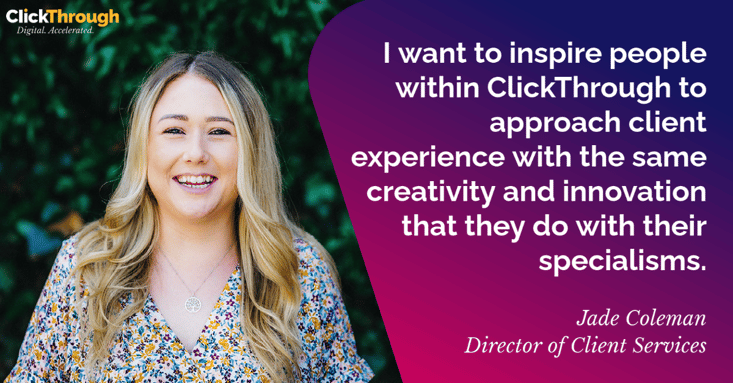 But, along with all this change and innovation that ClickThrough are driving as a whole, I think that the family feel that was here the day I joined is still here now. Yes, people have left and moved on and we've had new people start but we've always kept that that feel within within the company, which I have always loved to be part of.
Do you want to partner with a marketing agency that celebrates your successes as much as their own?